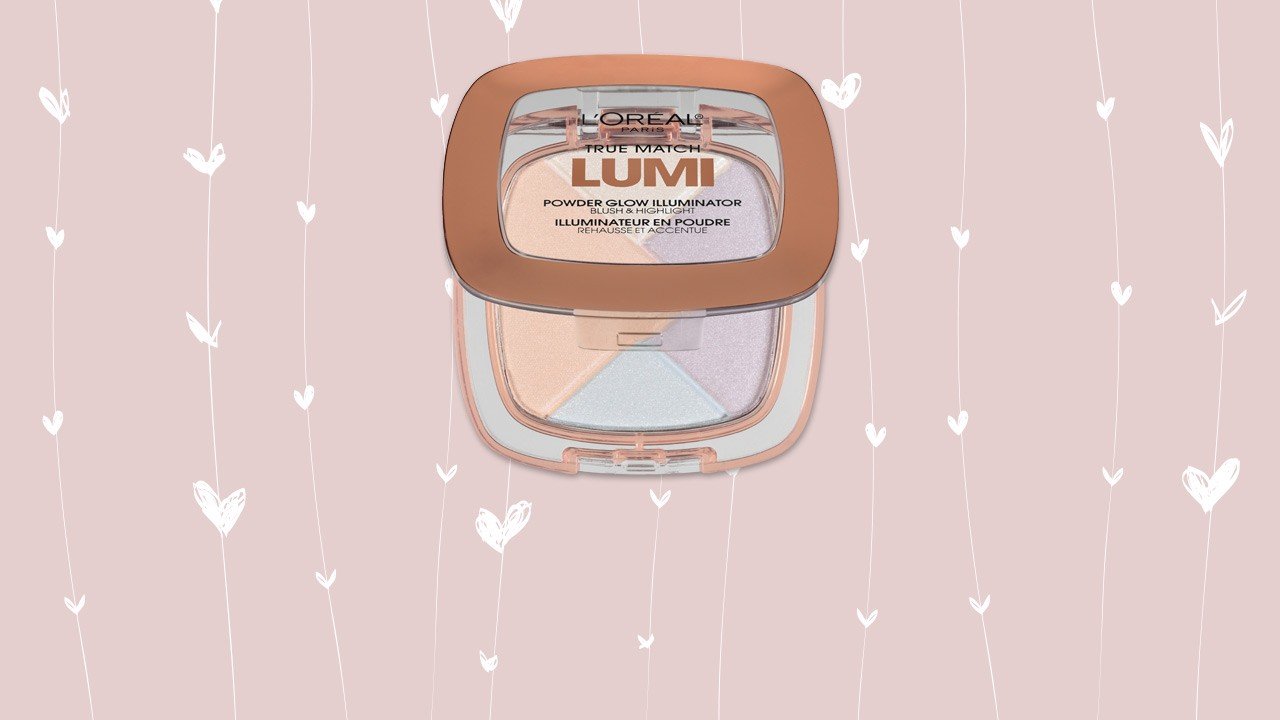 face makeup
How to Get a Rainbow-Inspired Highlight
If you've scrolled through your social media feeds recently (and we know you have), then you've probably—more like definitely—seen the multi-colored rainbow highlighter makeup trend that everyone is swooning over. While applying a multi-colored highlighter to your face might make you nervous, we're here to tell you that the look can be totally office appropriate—if you know how to do it right. And lucky for you, we've got a tutorial that'll help you get a gorgeous rainbow highlight look that is seriously eye-catching. All you need is the L'Oréal Paris True Match™ Lumi Powder Glow Illuminator in Ice, which features four pastel rainbow shades in a handy compact, and a little imagination. Ready to shimmer in the colors of the rainbow? Follow the step-by-step instructions below.
Step 1: Prime Your Face
Before creating breaking out your rainbow highlighter, it's a good idea to put on a primer to help create a smooth canvas on which to apply the rest of your makeup. To complete this step, just dab the L'Oréal Paris Studio Secrets™ Professional Magic Perfecting Base all over your face or to targeted areas (like your T-zone). Read our guide to every type of makeup primer.
Step 2: Color Correct
Get your rainbow on early by using color correcting concealers to help hide any skin flaws. The L'Oréal Paris Infallible Total Cover Color Correcting Kit has four color correcting shades (green to help neutralize the look of redness; peach to help disguise dark circles; yellow to help hide discolorations; and lavender to help brighten the look of dullness). Apply your shade(s) of choice sparingly—a little definitely goes a long way when it comes to color correcting concealer.
Step 3: Apply Foundation
Next up is foundation. Since using a rainbow highlighter is all about embracing a radiant look, reach for a dewy foundation, like the L'Oréal Paris Infallible Pro Glow Foundation. Of course, how you apply your foundation matters, too. Blend it onto your skin with theL'Oréal Paris Infallible Blend Artist Foundation Blender for a seamless finish.
Step 4: Conceal Any Remaining Imperfections
If you notice any remaining imperfections peeking their way through your foundation, reach for the L'Oréal Paris Infallible Total Cover Concealing and Contour Kit, which comes with four flesh-toned concealers so you can mix and match your perfect shade. Apply your concealer with the L'Oréal Paris Infallible Blend Artist Concealer Blender.
Step 5: Get to Work with Your Highlighter
Ah, you're so close to achieving that rainbow highlight! It's time to reach for the L'Oréal Paris True Match™ Lumi Powder Glow Illuminator in Ice. Take a dense makeup brush, swipe it across the powder, then sweep the colors across your cheeks. You can also swirl the colors together if you'd like—it's up to you. You've now got a pretty rainbow highlight—go ahead and show it off!
Step 6: Add Some Color to Your Eyes and Lips
Keep your eye makeup simple—apply a coat of the L'Oréal Paris Voluminous Lash Paradise Mascara to your lashes and draw on a thin line of the L'Oréal Paris Infallible Paints Eyeliner in Black Party. If you want to really help make your colorful rainbow highlight pop, pair it with an equally as dreamy pastel lip—try layering colors from the L'Oréal Paris Colour Riche La Palette Lip in Pink or L'Oréal Paris Colour Riche La Palette Lip in Plum.
Step 7: Finish with Setting Spray
Once you're done, spritz on the strong>L'Oréal Paris Infallible Pro-Spray & Set Makeup Extender Setting Spray to help set your look.
Step 8: Take Everything Off with Micellar Water
Sadly, the time will come when you'll have to remove your beautiful rainbow highlighter. Keep your vanity stocked with the L'Oréal Paris Micellar Cleansing Water Complete Cleanser Waterproof – All Skin Types. Just saturate a cotton pad with the micellar water, wipe the pad across your face, and you're good to go.
Want more colorful makeup inspiration? Try this unicorn lip tutorial.
Discover more tips & tricks
Keep your skin happy
See all articles
Shop Featured Makeup products
Discover More