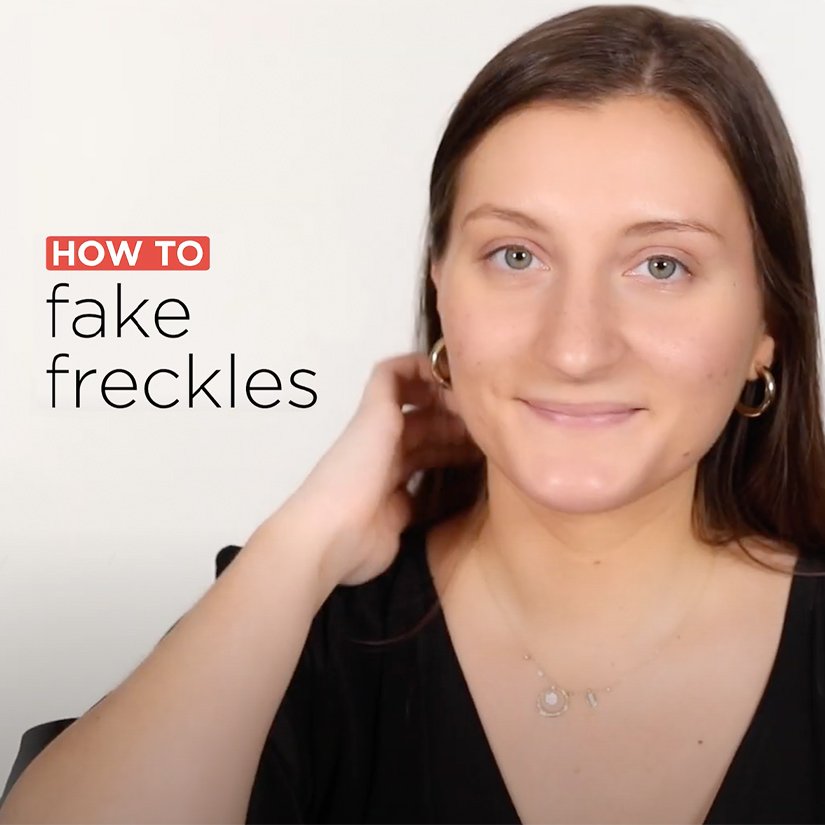 face makeup
How to Get Fake Freckles With Makeup
How great would it be if you could go back in time and tell your younger self just how coveted your freckles would be 10 years down the road? After fake freckles made appearances on major runways the past few seasons, freckles have become the must-have beauty look of the moment. That's great news for the naturally-speckled ladies of the land—but what about those who weren't born with freckles? If you're wondering how to get freckles, you're not out of luck. Just like straight-haired gals can rock a head full of curly hair, you can sport a face full of freckles even if you don't have them naturally!
We'll walk you through the process of getting faux freckles, detailing both the techniques and the face freckles makeup products you'll need to bring this trendy look to life. Freckled face, here you come!
HOW TO GET FRECKLES WITH MAKEUP
Jealous of all your friends with freckles? There's no need to be! Join in on the fun by following our faux freckles video tutorial to create a freckled masterpiece.We're also breaking down all of the steps in detail below.
What you'll need:
L'Oréal Paris Infallible Pro-Matte Lock Makeup Primer
L'Oréal Paris Infallible Pro-Matte Foundation
L'Oréal Paris Infallible Blend Artist Foundation Blender



Fluffy makeup brush





L'Oréal Paris Infallible Pro-Sweep & Lock Loose Setting Powder





L'Oréal Paris Infallible Pro-Last Waterproof, Up to 24HR Pencil Eyeliner in Brown





L'Oréal Paris Infallible Pro-Spray and Set Make-Up Oil-Free Setting Spray





Get the look by following these simple steps:





STEP 1: CREATE AN EVEN CANVAS

Prep your skin for your fake freckles makeup with a matte face primer, which will help to make your makeup last while keeping it free of shine.





STEP 2: APPLY FOUNDATION

Next up? Your complexion! Use a matte foundation to score a flawless visage. For the most seamless finish, apply foundation with a makeup blender in rolling and dabbing motions until even.





STEP 3: ADD FACE POWDER

Using your fluffy makeup brush, cover your face with a thin layer of translucent face powder; this will serve as a base for your faux freckles.





STEP 4: BRING ON THE FAKE FRECKLES

It's time for the star of the show—the freckles! Your eyeliner is what will be key when it comes to how to make fake freckles. Start by taking your brown pencil liner and lightly dot across your nose and cheeks, reaching up to your cheekbones—all the areas that would naturally freckle if you spent more time in the sun. After you've covered those main areas, apply a few stray freckles here and there, so it looks super-natural.





After you've dotted everywhere you want with eyeliner, gently pat each individual freckle to blend them a little bit—this will help make the spots look a bit more authentic. Be careful not to drag your fingers; you don't want to smudge your freckles and expose that they're fake!





STEP 5: SEAL THE DEAL WITH SETTING SPRAY

Once each freckle is perfectly in place, finish your look with a spritz of setting spray in 'X' and 'T' motions over your face to lock it all in. And you're done! See, wasn't that easy?





THE BEST MAKEUP TO PAIR WITH YOUR FAKE FRECKLES

When you're donning freckles makeup for the day, you want them to be the star of the show. So, keep your eye and lip makeup simple. Wear a volumizing mascara, like the L'Oréal Paris Bambi Eye Mascara, Lasting Volume. Place the brush at the base of your lashes and gently sweep it upward to completely coat your fringe.





When it comes to your pout, try the L'Oréal Paris Colour Riche Plump and Shine Lipstick, Sheer Lipstick in Guava Plump. Bonus: This lip plumper will give your pout an instant volumized look and moisturized feel.





HOW TO REMOVE YOUR FRECKLES AT THE END OF THE DAY

Of course, once you're back at home, you'll want to take off all your fake freckles before hopping into bed for the night—you don't want to end up with a speckled pillowcase. Opt for a gentle waterproof makeup remover, like the L'Oréal Paris Micellar Cleansing Water Complete Cleanser Waterproof – All Skin Types. Saturate a cotton pad with micellar water, then wipe it across your face to remove your makeup.





Next up: Now that you know how to make faux freckles, why not fake another popular beauty look. Here's How to Wear a Faux Lob Hairstyle.
Discover more tips & tricks
Keep your skin happy
See all articles
Shop Featured Makeup products
Discover More