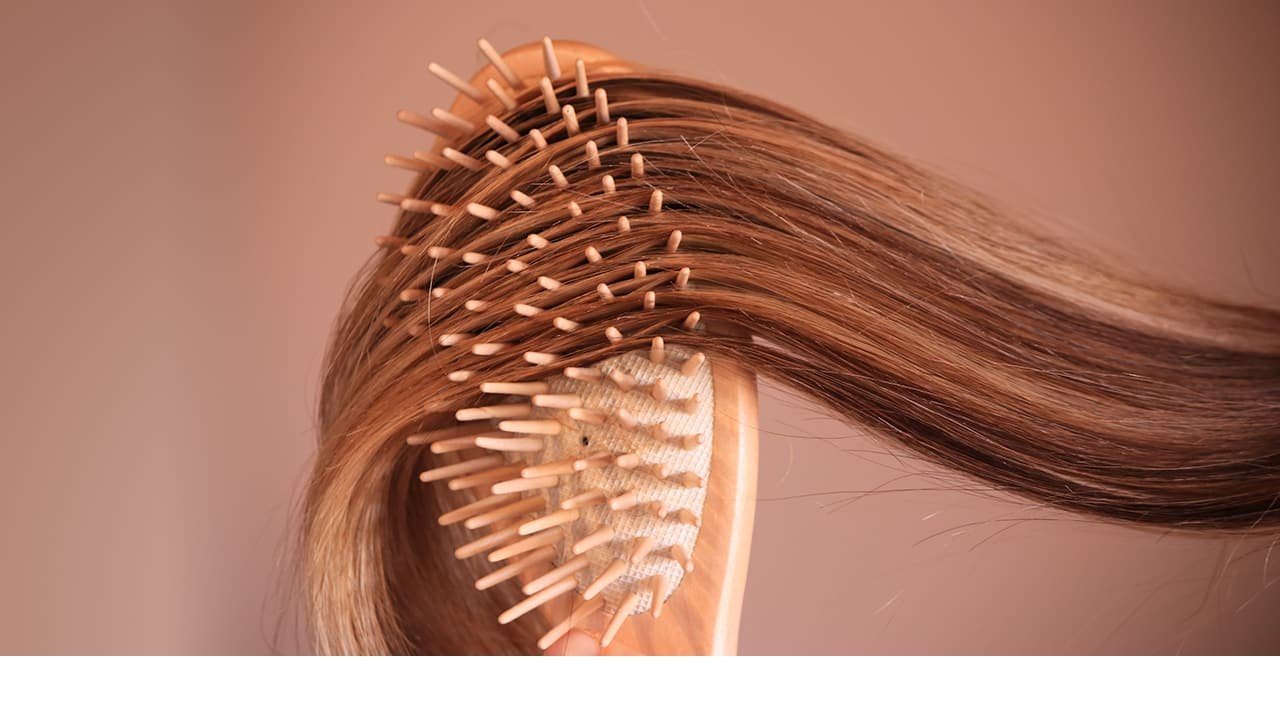 all hair types
How To Clean a Hairbrush
We'll be the first ones to say that cleaning can be a bit of a drag. From cleaning your makeup brushes to cleaning your sheets, it seems as though there's a never-ending list of things that need to be sudsed up and scrubbed down. However, there's one thing you may have forgotten to add to your cleaning checklist—your hairbrush! If you've been going about life not knowing how to clean a hairbrush—or thinking it's unnecessary—that needs to change. While adding one more thing to your to-do list may not be the goal, you'll be grateful once you learn the benefits. Below, we're sharing everything you need to know about how to clean a hairbrush (and even how to clean a comb), starting with why keeping this hair-styling necessity squeaky clean is worth your while.
WHY YOU SHOULD CLEAN YOUR HAIRBRUSH
Have you ever wondered why your hairbrush catches lint? Think about it: You use your hairbrush on the daily, distributing your hair's natural oils, as well as any hair-styling product you may have put on your hair. Over time, these oils and products build up on your brush. Not only that, but strands of hair that naturally fall out and dead skin cells accumulate, too. Even bits of dust and other environmental debris can end up on your strands—and on your brush when you comb it through your mane. This buildup may affect how well your brush works, not to mention it'll end up dirtying your strands. If your strands have been looking greasy as of late, it could be that your brush is transferring buildup to them.
HOW TO CLEAN A HAIRBRUSH
So, how does one deep clean a hairbrush? It's as easy as 1-2-3! First, remove any excess hair from your brush. Then, create a cleaning mix to remove the buildup and scrub away. Rinse and let your hairbrush air dry for a tool that's squeaky clean—it's that easy. Below, we're breaking down the whole process in a bit more detail.
STEP #1: REMOVE EXCESS HAIR
Of course, you'll want to remove any strands that have built up on your hairbrush. This is the same for all types of brushes, whether you tend to reach for a round brush or a paddle brush. You can begin to do this by simply pulling the hair away with your fingers. Any strands that seem to have latched on and are a little more difficult to remove, you can use a pair of scissors to cut loose. You'll want to do this about once a week, or when you notice your hair starting to build up on your brush. As with most cleaning, the more often you do it, the less you'll have to do next time.
STEP #2: MAKE YOUR MIX
Once you've removed all excess hair from the brush, you'll want to make a cleaning mixture. When it comes to giving your brush a thorough washing, your best bet is to create a concoction of shampoo and water. You can throw a bit of baking soda into the mix as well. Stir up your creation in a cup when you're ready to clean.
STEP #3: SCRUB AWAY
Reach for a clean toothbrush—yes, a toothbrush! This will be your sidekick when it comes to cleaning your hairbrushes, as it'll allow you to gently scrub away any buildup without being too harsh. Dip the toothbrush in your mix of shampoo and water, then gently scrub between the bristles of your hairbrush. After you've given your brush a thorough cleaning, rinse the bristles with water and allow your hairbrush to air dry.
Editor's note: If you're working with a wooden brush, make a mixture that remains as dry as possible. Keep water to a minimum. This will help avoid over-saturating the brush and help prevent damage.
HOW TO CLEAN A COMB
Wondering how to clean a comb? It isn't all that different from cleaning a brush. There are just a few simple steps to follow.
STEP #1: REMOVE THE HAIR
Just like cleaning a hairbrush, you'll want to remove all excess hair from your comb.
STEP #2: MAKE YOUR MIX
Grab your shampoo and water! Make a mix just like you would for cleaning your hairbrushes.
STEP #3: SOAK
Since combs are typically made fully of plastic, with no cushion or wooden part to worry about, you can usually just let it soak to remove any debris. Simply place your comb(s) into the mix and allow it to sit for a half-hour to an hour.
Editor's note: You can use this soaking method to clean hairbrushes that are made completely of plastic, too!
STEP #4: DRY YOUR COMB
When time is up, remove your comb from the mix and pat it dry with a clean towel. All done!
Discover more tips & tricks
Keep your skin happy
See all articles
Improve your routine
Show your new look more love:
makeup