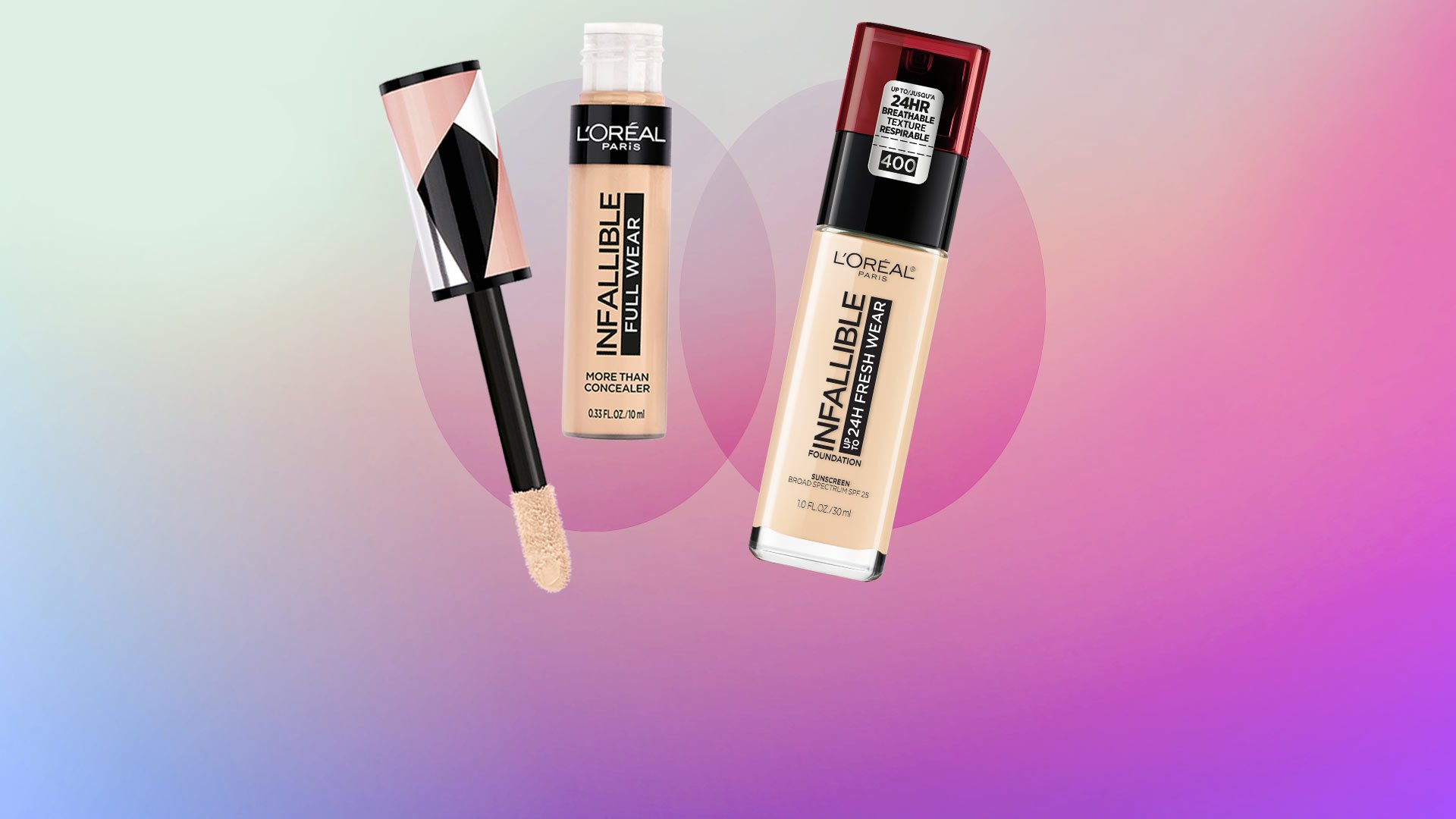 face makeup
The Best Foundation and Concealer Duos for Your Skin Type
We all have unique skin types, and therefore, unique skin concerns. The same way you have a skin care regimen tailored to your skin, it's equally as important to pick a foundation and concealer duo that will help your skin look and feel its best. That can be as simple as choosing the combo based on your skin type. With so many options to choose from it can get tricky, not to mention overwhelming. So we did the work for you and narrowed down our three favorite foundation and concealer duos for your skin type, ahead.
L'Oréal Paris Infallible Foundation and Concealer
If you have acne-prone skin, we understand the desire to hide a breakout. But, you don't want to wear a foundation that clogs your pores, either. Look no further than the L'Oréal Paris Infallible 24 Hour Fresh Wear Foundation and the L'Oreal Paris Infallible Full Wear Concealer Waterproof. Each has a lightweight texture that allows for the skin to breathe while providing full-coverage of any blemishes or discoloration. The foundation is non-comedogenic so it won't clog your pores and even includes SPF, which is particularly important for acne-prone skin since many acne treatments can cause sun sensitivity. We love the concealer because it offers full coverage of blemishes, and can also be used as a contour or a highlighter. We recommend using the shade closest to your skin tone to conceal blemishes, one or two shades darker to contour and one or two shades lighter to highlight.
L'Oréal Paris Age Perfect Radiant Serum Foundation and Concealer
For flawless looking skin at any age, finding the right foundation is essential. For mature skin, you'll want to look for a duo that keeps skin hydrated while providing the coverage you want without settling into fine lines. We recommend the L'Oréal Paris Age Perfect Radiant Serum Foundation With SPF 50 and the L'Oréal Paris Age Perfect Radiant Serum Concealer With Hydrating Serum duo. Both products contain illuminating ingredients like vitamin B3, or niacinamide, and hydrating serum. The foundation and concealer work together to hide dark circles and other blemishes while keeping skin looking youthful and glowing.
L'Oréal Paris True Match Foundation and Concealer
If you have sensitive skin, you most likely want a foundation and a concealer that will even out the appearance of your skin while keeping inflammation at bay. Allow us to introduce you to the L'Oréal Paris True Match Super Blendable Foundation and L'Oréal Paris True Match Eye Cream in a Concealer 0.5% Hyaluronic Acid duo. The foundation easily glides onto the skin for medium coverage and gives a natural finish that's so blendable it's like you can't tell where your foundation ends and where your skin begins. Perfect for calming irritated skin, the non-comedogenic concealer contains 0.5 percent pure hyaluronic acid to instantly hydrate and depuff the under-eye area while covering the darkest circles.
Photo Credit: Sarah Duvivier
Discover more tips & tricks
Keep your skin happy
See all articles
Shop Featured Makeup products
Discover More