face makeup
15 Makeup Mistakes You Could Be Making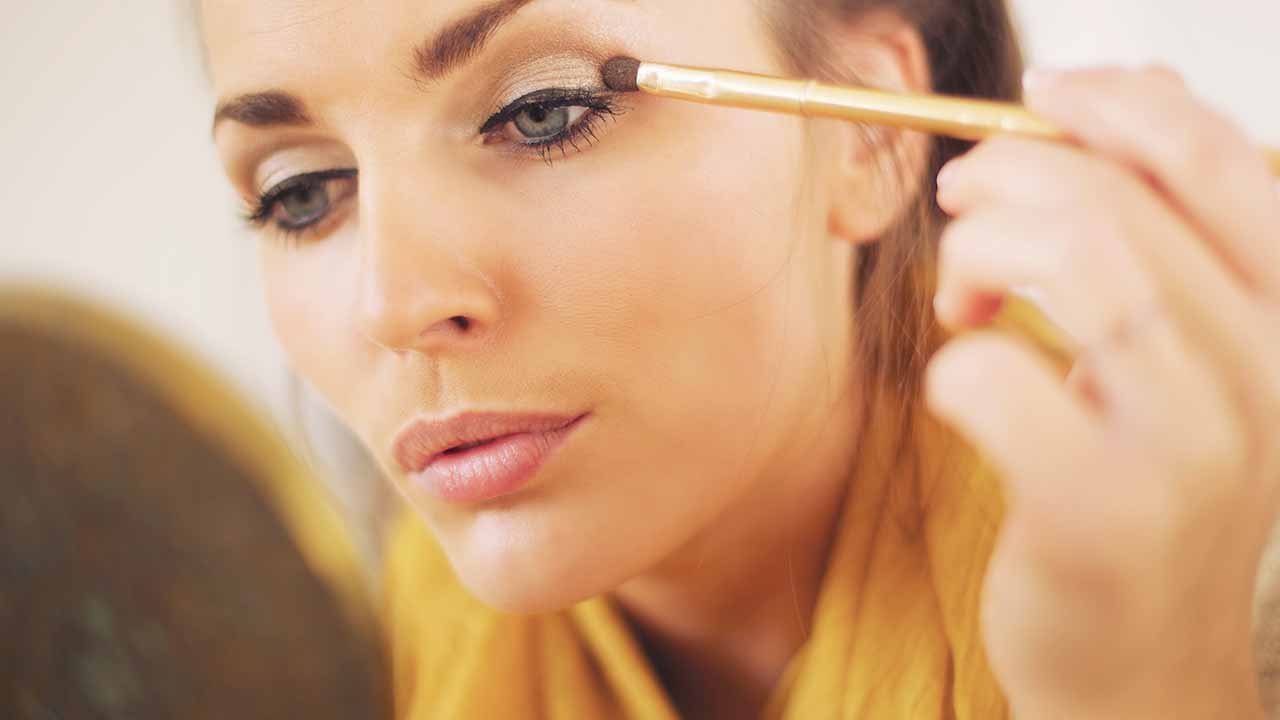 At this point in your life, chances are good you have a morning makeup routine that you follow on a daily basis. In fact, you probably have a group of go-to products that work for you—and even though your bathroom cabinet may look like a complete mess to some, you could navigate through it to find your favorites with your eyes closed if you had to.
Still, despite your best efforts, there are some common makeup mistakes that plenty of people make—and you might not even know you're doing them! From skipping out on primer to forgetting to exfoliate your lips before swiping on a highly-pigmented shade of lipstick, here are 15 makeup mistakes that could result in a bad makeup look. Here's to better makeup looks going forward!
#1: NOT APPLYING A PRIMER
Do you always reach for your concealer and foundation immediately after moisturizing? It's time to take a step back and consider primer as the first step in your makeup routine. A good primer can help act as a base for the rest of your makeup, allowing for your foundation, concealer, blush, and bronzer to go on smoothly. Plus, it can also help to keep your makeup in place—and if you've got oily skin, you know how difficult that can sometimes be!
The L'Oréal Paris Studio Secrets™ Professional Magic Perfecting Base has a silky, lightweight formula that glides onto skin, leaving it feeling velvety-smooth. What's more, it smooths lines and hides pores. After moisturizing, apply the primer dot by dot and blend it in a gentle circular motion over your entire face or onto key problem areas (think your under-eyes to smooth over fine lines, your nose and cheeks to minimize the look of pores, and your T-zone to reduce the look of shine). You can wear this primer alone for a matte (aka, shine-free) finish or under your foundation.
#2: FORGETTING TO EXFOLIATE YOUR LIPS
Applying lipstick to dry lips may not give you the pretty results you're after. If you know you're going to be wearing a highly-pigmented lipstick hue, make it a point to exfoliate your pout beforehand. Sloughing off dead skin cells from the surface of your lips can help your lipstick go on smoothly. You can exfoliate your pout with the L'Oréal Paris Pure-Sugar Nourish & Soften Cocoa Scrub, applying the scrub onto dry lips and massaging in circular motions with wet fingers. After exfoliating, swipe on a moisturizing lip balm and then move on to applying lipstick.
#3: SKIPPING INVISIBLE LIP LINER
Does your lipstick feather or bleed out soon after you put it on? The makeup mistake to blame is probably that you've skipped using an invisible lip liner. If this always seems to happen to you, try lining your lips with an invisible wax liner before moving on to lipstick. An invisible lip liner can grab on to color, helping it last longer and preventing it from feathering. Start by lining the outside of your lips with the invisible liner to help fill in any fine lines. Then, fill in the rest of your lips with a liner in a shade that matches your lipstick. Finish off by applying your lipstick, and you're good to go!
#4: RUBBING YOUR FACE WITH A MAKEUP SPONGE
We all know the amazing things a makeup sponge can do when it comes to makeup application. But if you want that flawless-looking airbrushed effect, it's all about your technique. Instead of rubbing your face with a makeup blender, try "stippling" your foundation on with the L'Oréal Paris Infallible Blend Artist Foundation Blender. This entails gently tapping the sponge onto your skin and blending using quick, patting motions.
#5: FORGETTING TO CLEAN YOUR MAKEUP BRUSHES
Hey, we've all been guilty of this one before, especially when we're in a rush to get out the door, but you should never use a dirty makeup brush. Dirty makeup brushes can collect dead skin cells, oil, and bacteria—and you don't want to put those on your face, now do you? Make sure you regularly wipe your makeup brushes off with a cleansing solution to help avoid this. For a more detailed tutorial, here's How to Clean Makeup Brushes and Blenders.
#6. WEARING THE WRONG FOUNDATION SHADE
This may seem pretty obvious, but hear us out! Many of us are guilty of wearing the wrong foundation shade, and the culprit is usually a lack of taking your undertones into account. Yup, your undertones are the key to finding the perfect foundation match. Flip your wrists over and look at your veins, to determine your undertones. Those that have cool undertones have veins that look blue, whereas those with greenish veins have warm undertones. Once you know which you have, here's How to Find Your Foundation Color Match.
#7. NEGLECTING TO BLEND ONTO YOUR NECK
Another foundation mistake that can lead to bad makeup? Not blending your makeup onto your neck! Your foundation shouldn't be applied solely to your face, that's a surefire way to end up with a mismatched face and neck. To avoid a harsh line of demarcation, make sure to blend the formula past your jawline and partway down your neck for a seamless look.
#8. OVER-LINING YOUR LIPS
We mentioned the invisible liner technique, but you can also use lip liner to create the illusion of fuller lips. That said, it's easy to overline your lips and end up with a pout that veers toward being clown-like. Yikes, we'd bet that isn't the look you're going for. When lining your lips, do so just outside your natural lip line. This will boost the appearance of your pout without having an adverse effect.
#9. USING THE WRONG BLUSH COLOR
Speaking of going overboard, it's all too easy to do so when it comes to blush. While you may be tempted to reach for the prettiest shade you set your eyes on, it's important to choose a blush that's suited for your skin tone. This means not choosing a shade that's too dark if you have fair skin and avoiding shades that are too light if you have a deep complexion. Just like foundation, you'll want to take your undertones into account. Here's How to Find the Best Blush for Your Skin Tone.
#10. SKIPPING YOUR BROWS
You may think you don't need to apply eyebrow makeup, but it can make all the difference! Even if you have naturally full brows, a bit of grooming can take your look to the next level. If you choose to wear eye makeup like eyeshadow and mascara, showing your brows a little love is a necessity to balance things out. For a quick and easy option, sweep on a bit of the L'Oréal Paris Brow Stylist Boost & Set Brow Mascara.
#11. APPLYING IN BAD LIGHTING
We've all been guilty of this—expertly applying makeup (or so you think) only to leave the house and realize your look is the definition of bad makeup. Whether you've neglected to blend properly or layered on too much product, bad lighting can give you the false impression of a flawless makeup look. To avoid this in the future, here's How to Find the Best Lighting for Doing Your Makeup.
#12. WEARING CAKEY FOUNDATION
It can be all too easy to pile on too much makeup, which results in a cakey makeup look. No thanks! Take care to use buildable formulas, and embrace the mantra that less is more. Use your makeup to enhance your natural beauty, not cover it!
#13. RACCOON EYES
There's a fine line between sultry, smudged eyeliner and raccoon eyes. To avoid the latter, be sure to use waterproof formulas that won't budge or drip throughout the day. Our rec? The L'Oréal Paris Le Liner Signature Easy-Glide Mechanical Eyeliner, Waterproof.
#14. NEGLECTING TO BLEND YOUR EYESHADOW
By now, you probably know that a classic eyeshadow look involves a lid, crease, and highlight color. But, are you blending each of your shades properly? One of the most common makeup mistakes is not adding a blending brush to your collection. This staple tool—with proper use—will ensure a seamless transition between each shade you layer onto your lids.
#15. SLEEPING WITH MAKEUP ON
Sleeping in makeup is an absolute no-no! No matter how tired you are, make sure you remove your makeup before bed. Not doing so can clog your pores, which can lead to breakouts and other skin concerns. For a no-rinse removal option you can leave by your bedside, use the L'Oréal Paris Micellar Cleansing Water Complete Cleanser Waterproof - All Skin Types and a cotton pad.
Next: 8 Shaving Mistakes You Could Be Making—and What to Do Instead
Discover more tips & tricks
Keep your skin happy
See all articles
Shop Featured Makeup products
Discover More