face makeup
Our Best Drugstore Highlighters for Every Skin Tone
The ultimate guide to achieving your perfect glow.
February 21, 2020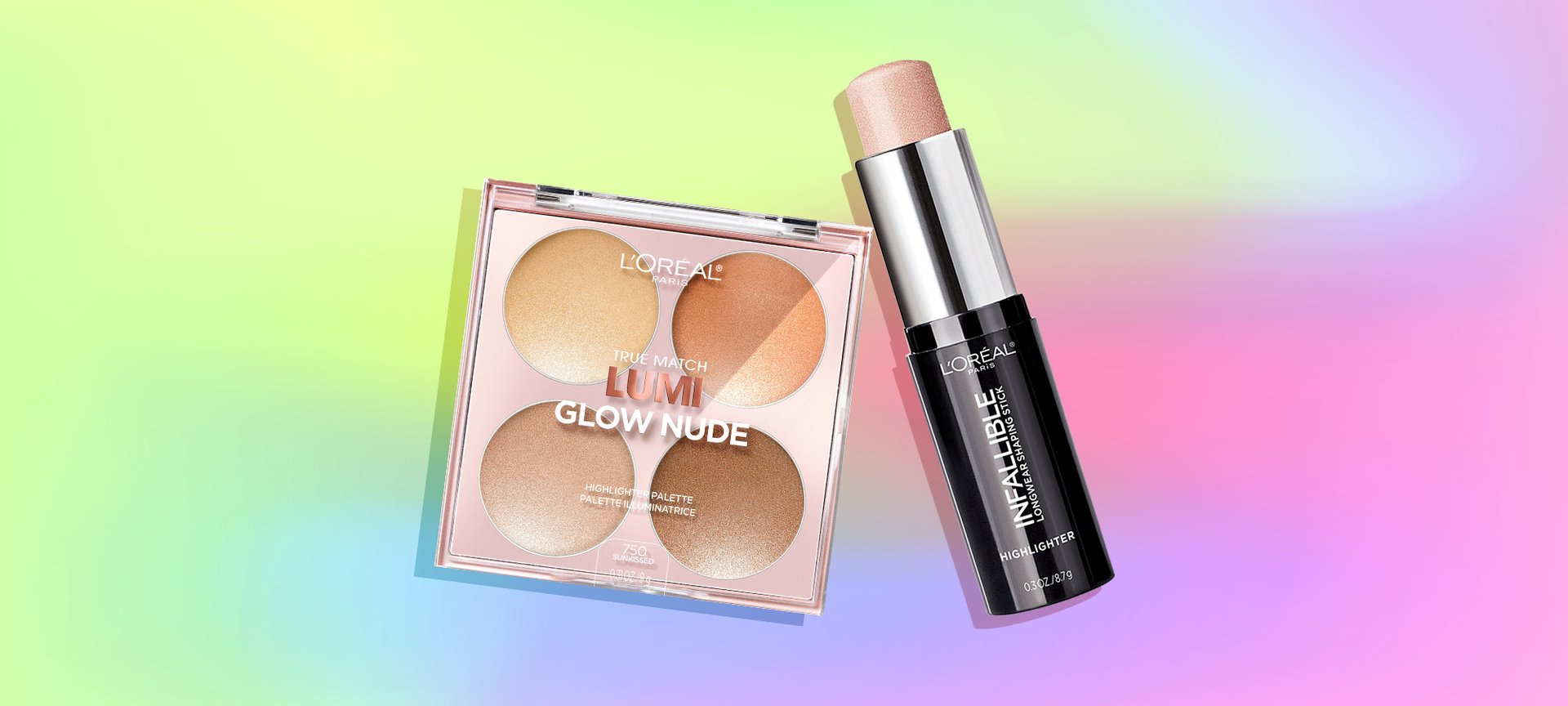 A touch of highlighter can make a world of difference in completing your makeup look. Just like choosing your favorite blushes and bronzers, knowing how to pick the best highlighter for your skin tone and type is the first step to adding it to your makeup routine.

From shimmering glitter to a natural golden glow, the best makeup highlighter for pale skin might not be the same as the best makeup highlighter for darker skin tones. Additionally, someone with oily skin might choose a powder-based highlighter, while someone with dry skin would fare better with a more dewy or moisturizing option. So you'll also want to consider your skin type when determining the right highlighter makeup to use.

Not quite sure where to begin? Here, we're sharing our picks for the best drugstore highlighters for 2021 in this ultimate guide to choosing the best illuminating face makeup for your individual skin tone and type.
The Best Highlighters For Oily Skin
Have no fear oily skin types, there's no need to shy away from highlighter's shine. But when it comes to brightening your visage, picking the right illuminator will ensure you have the right kind of glow. To do that, stick with powder formulas that won't slip and slide on your oily complexion.
Opt for the L'Oréal Paris True Match Lumi Powder Glow Illuminator. This powder highlighter is specifically crafted to highlight key features or illuminate all over. The lightweight formula blends easily and has an option for every skin tone and undertone.
How to use highlighter on oily skin: Just remember, a little goes a long way. Sweep on too much product, and yes, you might end up looking extra oily! Dust your illuminator onto your cheekbones and avoid your T-zone, where you likely tend to get shiny all on your own.
The Best Highlighters For Dry Skin
Dry skin can sometimes look dull—but a liquid or cream highlighter can help create the appearance of glowing skin. Not only is using a highlighter with added moisture good for your skin, but it's also a great way to get in on the dewy skin trend!

Give the L'Oréal Paris True Match Lumi Glow Amour Glow Boosting Dropsa try. These drops of highlighting pigment instantly illuminate skin for a dewy, glowing look. The ultra-lightweight formula has a thin, non-greasy texture that blends seamlessly onto skin to build luminosity. Infused with shea butter, the glow drops go on smooth and provide rich hydration.
How to use highlighter on dry skin: Apply your liquid highlight after your foundation and don't set with powder. Instead, dab the illuminator on with a makeup blender then spritz with a setting spray to lock things in.
The Best Highlighters For Pale Skin
For those with a lighter pigment, finding a highlighter that brightens and illuminates your complexion is all about the shade. If you pick a highlighter that's too dark, warm or red-based, your highlight can end up looking too flushed and even muddy. To achieve the appearance of light luminosity, look for highlighters that are pearlescent, almost white, icy-silver, or champagne in color. Try these:
L'Oréal Paris True Match Lumi Glow Nude Highlighter Palette: This highlighter palette creates the perfect multi-dimensional glow. The collection of four highlighting powders in one makeup kit is the perfect way to instantly awaken your complexion. Layer or mix and match highlighter shades or wear them separately for a natural-looking illuminated look.
L'Oréal Paris True Match Lumi Shimmerista Highlighting Powder: This loose highlighting powder illuminates your complexion to create a natural glow with a prismatic finish. The lightweight formula blends seamlessly onto skin, allowing the light to naturally reflect from the highpoints of your face and body. It's ultra-buildable and easy to apply.
How to use highlighter on lighter skin tones: A little shimmer can make a major statement, but it isn't the only thing that can elevate your makeup look. To complete your look, use a soft pink blush to warm up your cheeks, adding a natural-looking touch of color that is often missing from fairer complexions.
The Best Highlighters For Medium Or Olive Skin Tones
When you're right in the middle, picking the wrong makeup highlighter can leave you with skin that looks less fresh and more frosty. To avoid the icy look, medium and olive skin tones will find highlighters that have peach and gold undertones to be the most flattering. Think golden goddess instead of ice queen, with these:
L'Oréal Paris Infallible Longwear Highlighter Shaping Sticks: The shimmery pigments in these highlighting sticks deliver a naturally glowing look that will flatter any complexion. The stick format makes this take-anywhere tool perfect for glowing on-the-go, and the radiant look will last from day to night.
L'Oréal Paris True Match Lumi Glotion Natural Glow Enhancer: This liquid highlighter instantly hydrates and luminizies skin for an all-over, fresh, glow. The highlighting formula delivers an illuminating color tint to enhance your skin's natural glow for a brighter and healthier-looking complexion. The glotion is infused with glycerin and shea butter for all-day, continuous hydration.
How to use highlighter on medium skin tones: Take your golden look to the next level by spreading the gilded glitter to other parts of your face. Add a wash of gold eyeshadow to your lids and give a metallic lipstick a chance.
The Best Highlighters For Dark Skin Tones
Picking a highlighter that's majorly different from your skin tone can make for a dramatic glow, but using a highlighter that's too light and opalescent can make dark skin tones look gray—not exactly what you're going for. Your highlighter should liven up the appearance of your complexion, so stick with shades that pack a serious punch of pigment, in rich rose gold and bronze hues. Opt for one of the following:
L'Oréal Paris True Match Lumi Glow Amour Glow Boosting Drops: Add a drop of glow to your complexion with these lightweight illuminator drops. Available in two universal shades, these versatile highlighting glow drops can be worn by all skin tones.
L'Oréal Paris True Match Lumi Liquid Glow Illuminator: This liquid highlighter can be used to highlight key features or to illuminate all over. The lightweight formula can be worn alone or mixed with foundation.
How to use highlighter on darker skin tones: After you've gotten your glow on, finish off your look with a bronzer that suits darker skin tones. The bronzer will add extra dimension and warmth to your cheeks—it's a win, win!
Photo Credit: Sarah Duvivier
{ "@context": "https://schema.org/", "@type": "WebPage", "speakable": { "@type": "SpeakableSpecification", "cssSelector": ["speakable-content"] }, "url": "https://www.lorealparisusa.com/beauty-magazine/makeup/face-makeup/best-highlighter-for-every-skin-tone" }
Discover more tips & tricks
Keep your skin happy
See all articles
Shop Featured Makeup products
Discover More
{ "@context": "http://schema.org", "@type": "BreadcrumbList", "itemListElement": [ { "@type":"ListItem", "position": 1, "item": { "@id": "/", "name": "Home" } } , { "@type":"ListItem", "position": 2, "item": { "@id": "https://www.lorealparisusa.com/beauty-magazine", "name": "Beauty Magazine" } } , { "@type":"ListItem", "position": 3, "item": { "@id": "https://www.lorealparisusa.com/beauty-magazine/makeup", "name": "Makeup Tips For Every Look" } } , { "@type":"ListItem", "position": 4, "item": { "@id": "https://www.lorealparisusa.com/beauty-magazine/makeup/face-makeup", "name": "Face Makeup" } } , { "@type":"ListItem", "position": 5, "item": { "@id": "https://www.lorealparisusa.com/beauty-magazine/makeup/face-makeup/best-highlighter-for-every-skin-tone", "name": "best-highlighter-for-every-skin-tone" } } ] }