eye makeup
How to Glue Down Eyebrows
January 31, 2019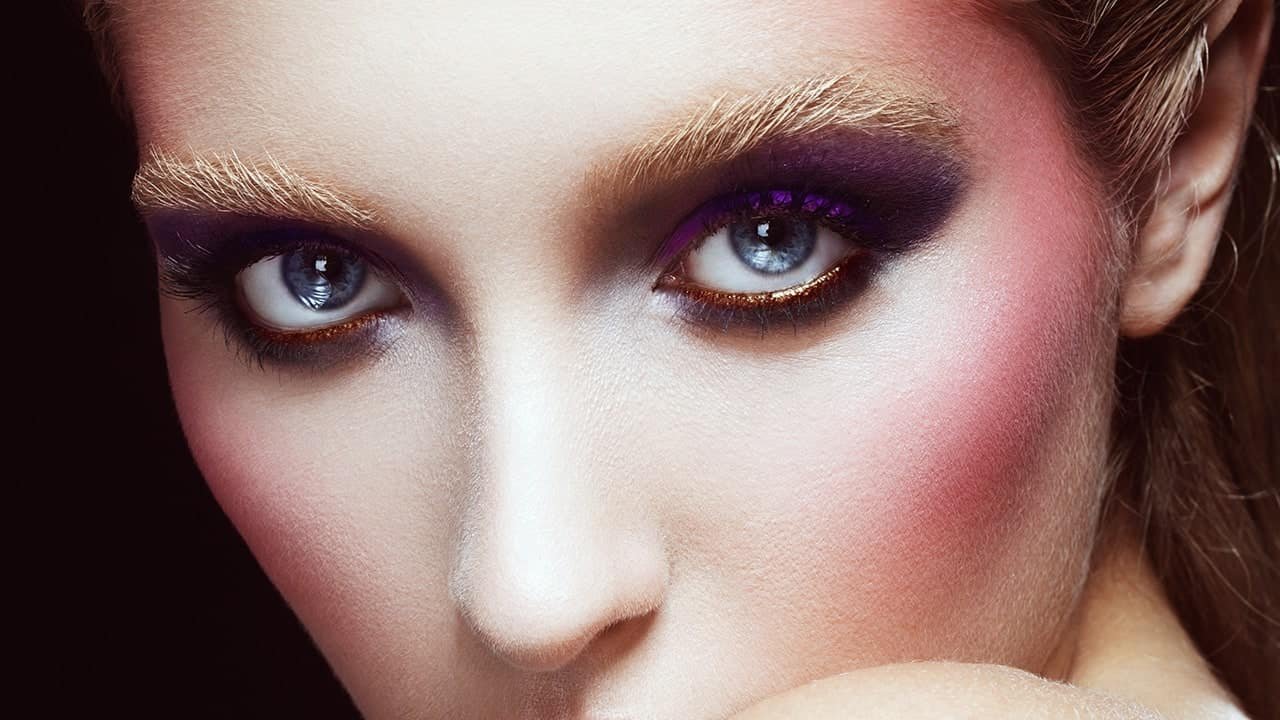 Let's get right to it: Why would you want to glue down your eyebrows? If you meticulously groom your arches and have spent time mastering the art of applying brow mascara, you're likely to balk at the idea, but gluing down eyebrows has a very real purpose. For most, it isn't an everyday activity, but it can come seriously in handy if you're going all-in with costume makeup. Imagine this: You're dressing up as your favorite fairy tale villain, but their eyebrows are completely different from your own. The shape isn't even close to similar. Since you obviously don't want to shave off your brows for a costume, you can use glue to help cover up your brows and draw a new shape on overtop. Here, we're sharing the process of how to glue down eyebrows for a major makeover.
How to Glue Down Eyebrows in 6 Easy Steps
Ready to see what you look like without brows? Then it's time to learn how to glue yours down!
1. Prep Brows
Thankfully, there's only a bit of prep work involved in gluing down your brows. First, you'll need to clean your brows. You don't want any lingering eyebrow or face makeup to get in the way. Saturate a cotton pad with the L'Oréal Paris Micellar Cleansing Water Complete Cleanser Waterproof – All Skin Types and sweep it over your brows. Then, all that's left is brushing your brows upward. Use a spoolie to comb through your brows, pushing all of your brow hairs up.
2. Get to Gluing
Now, it's time for the part you're really curious about: the glue. You'll need a washable glue stick that dries clear—and make sure it's safe for use on the skin. Once you have one in hand, rub the glue onto your brows. You can apply the glue stick directly to your brows or use a cosmetics spatula to transfer the glue.
3. Smooth into Place
When your brows are completely covered with glue, you'll want to break out your spoolie once more. While the glue is still tacky, brush them back into their natural position. Then, smooth another layer of glue over your brows.
4. Pack with Powder
Gluing down eyebrows can't be all about the glue—face makeup plays an important role, too. After all, you wouldn't want to leave wet glue exposed on your face, which is why your next step is to layer powder over your brows. Use a brush to really pack a loose powder, like the L'Oréal Paris Infallible Pro-Sweep & Lock Loose Setting Face Powder, on top of the glue.
Editor's note: If you have particularly unruly brows, you may need to apply another layer of glue and powder (repeating steps two through four) before moving on.
5. Apply Concealer and Foundation
Your brows should be starting to disappear at this point, but you can still see a bunch of powder where your arches should be. That's where a heavy-duty concealer comes into play. We recommend reaching for a waterproof formula that won't budge all day and night. Apply the L'Oréal Paris Infallible Full Wear Concealer Waterproof over your entire eyebrow area and use a makeup blender to blend, being careful not to disturb your eyebrow covering efforts.
To truly get a seamless look and make your brows appear invisible, follow your concealer with foundation, applying it not only over your eyebrow area but all over your face. Try the L'Oréal Paris Infallible Up to 24HR Fresh Wear Foundation, which has a longwear formula and a natural finish.
6. Draw on New Brows
Once you've said bye, bye to your brows, you're free to draw on whichever shape you please. Of course, this step is optional—after all, an alien makeup look (and a number of other beauty looks) can really work without any brows whatsoever. If you are planning to draw on a new and improved arch, try the L'Oréal Paris Unbelievabrow Longwear Waterproof Brow Gel. This eyebrow gel is the perfect pick thanks to its long-lasting formula that allows you to build and sculpt your dream brows.
Need a little eyebrow inspiration? Here are 3 Brow Looks for Achieving On-Trend Arches.
Discover more tips & tricks
Keep your skin happy
See all articles
Shop Featured Skin Care products
Discover More