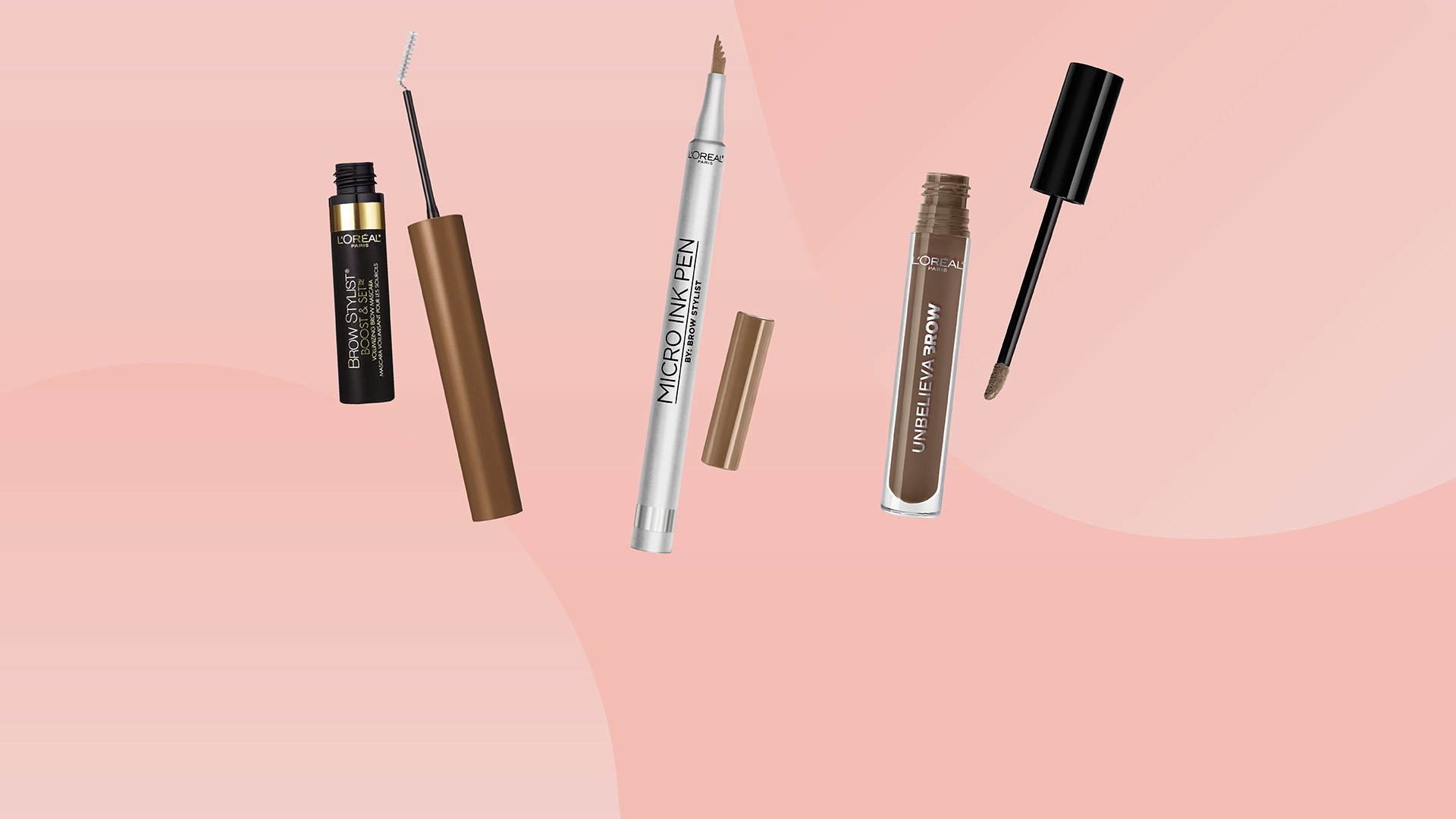 eye makeup
Get A Laminated Brow Look At Home With These Products
If the eyes are the windows to the soul, that makes your eyebrows the awnings, and they can say a lot about you, too. From sharp and sculpted to feathery and full, eyebrows are an ever-changing feature on our faces. If you're looking to achieve even and fuller-looking eyebrows, you might have considered getting your eyebrows laminated at the salon. This non-invasive alternative to microblading can give you the look of instant hair-growth in a quick and easy process. But if you're unable to make an appointment or simply don't want to shell out big bucks for your brows, you can DIY the look with these drugstore eyebrow products. Your faux-laminated brows will look so good, people will be asking where you got them done!
For big and bold eyebrows, reach for this brow must-have. It's our first longwear, waterproof eyebrow gel that can stay put for up to 48 hours. Its gel formula includes longwear polymers that help create a waterproof film on your eyebrows to seal in the pigment, giving it a natural-looking color. Use the doe-foot applicator to lightly fill in any sparse areas and brush through with a spoolie after. Similar to how laminated brows help cover up sparse areas from overplucking, this brow gel will give your eyebrows a thicker and fuller look by seamlessly filling in areas that need more coverage.
Editor's Tip: Make sure to contour your eyebrows after using a concealer to give them a sharp and crisp look.
This top-rated mechanical brow pencil is a tried-and-true eyebrow icon. It has an ultra-fine tip that allows you to create the perfect tiny brow hairs and fill in areas that seem a bit sparse while keeping a natural look. On the opposite end of the pencil, you'll find a spoolie that you can use to blend out the product into your brows and groom them out evenly. Those tiny hairs can be styled to look slicked up and straight, giving off the appearance of a freshly done brow lamination.
Editor's Tip: Starting off with tweezed (but never overly-tweezed) eyebrows will help create a flawless laminated look. So pluck away any hairs that are out of place before filling in your brows.
For days when you find yourself pressed for time or in need of a waterproof eyebrow tool, reach for this tinted brow pen. Its formula is long-lasting (up to 48 hours), and it won't transfer. It comes equipped with a comb-tip applicator to give your brows a natural-looking, hair-like effect, which is great for achieving a laminated look. Use the pen to create tiny defined hairs and then place the comb-tip applicator at the anchor of your brow. Brush upward and out towards the tail of the brow in a vertical direction to get that streamlined, super-smooth shiny laminated finish.
We love how well gel formulas work to keep every hair in place all day like a professional laminated brow job, and if you're in need for a good one, this is your pick. It's a brow gel that comes in a mousse formula, which allows the product to glide across your eyebrows easily. It will also help boost the volume of your brow hairs and create a thicker look. Be sure to start by brushing your eyebrows upwards with the applicator to help add volume and smooth out your hairs and then brush across your brows to set them into place. You'll have an instant faux-laminated look without the real laminated price.
Cream brow pomades are the best products to use when it comes to creating defined and enhanced brows. This waterproof pomade comes with a dual-sided brush you can use to draw in individual hairs, outline your entire brow, and blend out the product evenly across your brows. It's great to use for creating a faux-laminated look because you can customize how defined you want your brows and hide small gaps by applying product in targeted areas. Laminated brows also give off the effect of thick and fuller hair. By using this brow pomade you can recreate that same look.
Editor's Tip: After dipping the included makeup brush into the pomade, lightly dab it onto your hand or a tissue to remove excess product.
{ "@context": "https://schema.org/", "@type": "WebPage", "speakable": { "@type": "SpeakableSpecification", "cssSelector": ["speakable-content"] }, "url": "https://www.lorealparisusa.com/beauty-magazine/makeup/eye-makeup/eyebrow-products-for-laminated-brows" }
Discover more tips & tricks
Keep your skin happy
See all articles
Shop Featured products
Discover More
{ "@context": "http://schema.org", "@type": "BreadcrumbList", "itemListElement": [ { "@type":"ListItem", "position": 1, "item": { "@id": "/", "name": "Home" } } , { "@type":"ListItem", "position": 2, "item": { "@id": "https://www.lorealparisusa.com/beauty-magazine", "name": "Beauty Magazine" } } , { "@type":"ListItem", "position": 3, "item": { "@id": "https://www.lorealparisusa.com/beauty-magazine/makeup", "name": "Makeup Tips For Every Look" } } , { "@type":"ListItem", "position": 4, "item": { "@id": "https://www.lorealparisusa.com/beauty-magazine/makeup/eye-makeup", "name": "Eye Makeup" } } , { "@type":"ListItem", "position": 5, "item": { "@id": "https://www.lorealparisusa.com/beauty-magazine/makeup/eye-makeup/eyebrow-products-for-laminated-brows", "name": "eyebrow-products-for-laminated-brows" } } ] }