hairstyle trends
15 Pinterest Hairstyles We're Obsessed With Right Now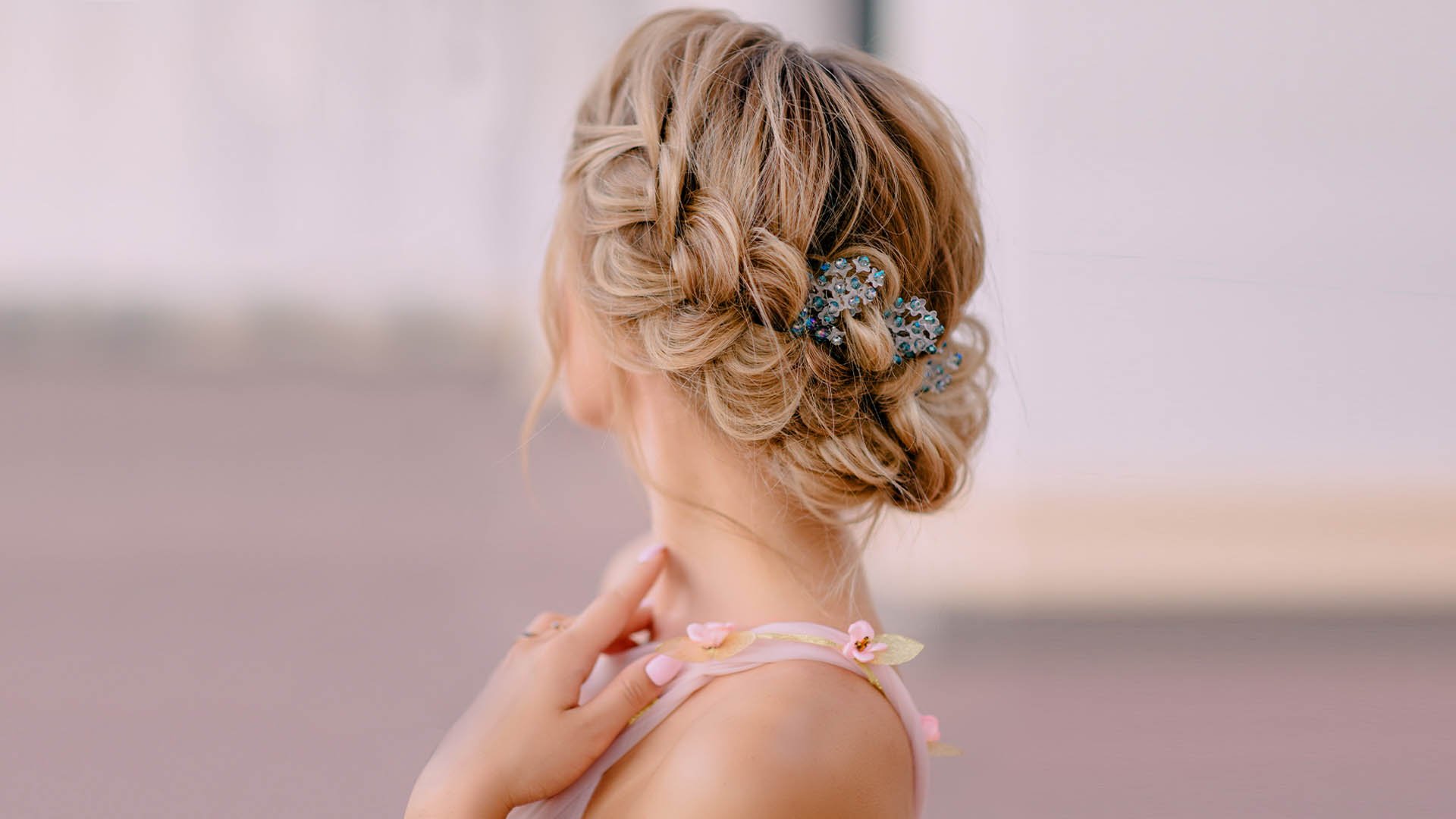 When looking for beauty inspiration, Pinterest is an automatic go-to for most people these days. From makeup looks to nail art designs and of course, hairstyles—it's safe to say there's no shortage of ideas on this social media site. And while you may be guilty of spending way too much time scrolling through the rabbit hole that is Pinterest (we've been there), it's not the most efficient way to spend your time. To make your life easier and save you a few hours of scrolling, we've compiled a list of gorgeous hairstyles you should try. You can even pair them with a new hair color for a seriously trendsetting 'do. Ready to get some mane inspo? Check out our favorite styles below along with the hair products you can use to create each look.
Hairstyle #1: High Ponytail With Flipped Ends
Consider rocking a half-up ponytail with flipped ends. This trendy '60s inspired hairstyle has taken over our social feeds and we Stan for it! Use a flatiron to create flips towards the end of the hair and repeat this process across all the sections until you are done. Finish off the look by spraying your ends with the L'Oréal Paris Elnett Satin Hairspray Extra Strong Hold Volume Spray to help add volume to the style and keep it in place.
Hairstyle #2: Triple Bubble Ponytails
For a fun and trendy hairstyle, try opting for a triple bubble ponytail. Create a side part and section off your mane into three quadrants. Then gather each section of hair into a separate ponytail. Finish off the look by adding in multiple bobble hair ties an inch apart down the length of your ponytails and gently tug at a few pieces of hair to give it a bubble effect.
Hairstyle #3: Half And Half Ponytails With Wispies
Half and half hair is a thing, and we're totally here for it! To pull off this style, you'll need to create a crisp, clean line down the center of your head for a symmetrical look. Book an appointment with your colorist or DIY the look using two contrasting shades from the L'Oréal Paris Colorista Semi-Permanent Hair Color line. After coloring your hair, section off two pieces at the crown of your head and create two ponytails. Be sure to leave out a few face-framing wispies at the front for some added charm to the look.
Editor's Tip: For expert tips and advice on hair color, check out the L'Oréal Paris Haircolor Concierge site. The Haircolor Concierge serves as a hub that can put you in contact with professional colorists, direct you to video tutorials, and more.
Hairstyle #4: Half-Up Space Buns
In case you haven't heard, space buns have gone from primarily being a festival hairstyle to taking over your Pinterest feed as a trendy spring and summer look. The upgraded version involves parting your hair from ear-to-ear and twisting the top half into half-up space buns. To complete the look, add some loose waves with a wide-barrel curling iron and spritz with the L'Oréal Paris Elnett Precious Oil Satin Hairspray.
Hairstyle #5: Wavy Bob
A sassy, wavy bob is an excellent style for any occasion. There's no wonder why this style will not only dominate your Pinterest boards, but it'll show up in your Instagram timeline again and again. Rub a small amount of the L'Oréal Paris Dream Lengths Frizz Killer Serum Leave-In through your strands to smooth out any hair flyaways. If you plan on using hot tools to add some waves to your mane, be sure to use a frizz-taming heat protectant, like the L'Oréal Paris Elvive Dream Lengths Heat Slayer Pre-Iron Spray Leave-In. It has a lightweight formula that will offer up to 450-degree heat protection and works as a leave-in spray to reduce frizz.
Hairstyle #6: Double Dutch Braided Ponytail
As far as Pinterest braids go, one look we keep seeing pop up is a double Dutch braided ponytail. The style involves creating a Dutch braid on either side of your head and weaving the hair to the nape of your neck. Then, each braid is secured with an elastic, and the remaining hair is left loose to create two traditional pigtails. We love the contrast in texture!
Hairstyle #7: Side Accent Braid With A Low Messy Bun
A side accent braid is a great way to spruce up your traditional bun. Take a two-inch section of hair at the front of one side of your mane. Then, create a French braid going back so that the braid ends just behind your ear. Gather all your lengths into a messy bun, secure with bobby pins, and fluff the braid to your liking.
Hairstyle #8: Waterfall Braid
This intricate hairstyle is nothing new, but we happen to think that Pinterest had a major impact on making it popular. Pair it with loose, voluminous curls to create an ethereal and romantic look. For a step-by-step tutorial on how to achieve it at home, read our article, How to Do a Beautiful Waterfall Braid.
Hairstyle #9: Center Part With Hair Tucked Behind The Ears
Center part hairstyles are known to frame the face and highlight facial features. Use a rat tail comb to create an even part starting at the front of your forehead and along the crown of your head. Tuck two small sections of hair from the front, behind your ears, and use a few bobby pins to keep your strands in place. Finish off by rubbing a small amount of the L'Oréal Paris Dream Lengths Frizz Killer Serum Leave-In throughout your strands to smooth out any hair flyaways.
Hairstyle #10: Dino Braid
In search of Pinterest hairstyles that work with both short and long hair? The dino braid is just what you're searching for. To begin, create a section of hair at the crown of your head, using the arches of your brows as guidelines for the width. Then, create a Dutch braid that goes toward the back of your head and stops at the end of your crown. Secure with a hair elastic to create a mini pony, and let the rest of your lengths hang free.
Hairstyle #11: Bob Faux Locs
Faux locs are a great protective hairstyle for those with Afro-textured hair and this short hairdo is easy to style and maintain. We recommend booking an appointment with a locs specialist to get the best results. And don't forget to add a few faux loc bangs to the front of your mane to jazz up the style even more.
Hairstyle #12: Four Large Braids
For a simple and easy braided hairstyle, try creating four large braided ponytails across your entire head. It's like an adult version of the pigtails you might have rocked as a little girl. After you've created your four braids, gently pull apart some of the strands to give them a bit of texture.
Hairstyle #13: Crown Braid Updo
If you're a big fan of updos, you'll most likely love the romantic crown braid hairstyle. The look involves weaving your length into a braid that goes around the entirety of your head. After styling your hair, be sure to spritz it with the L'Oréal Paris Elnett Satin Hairspray Extra Strong Hold Volume Spray to keep all your strands in place. For step-by-step instructions, read our article, How to Create a Beautiful Crown Braid.
Hairstyle #14: Wavy High Ponytail With Wispies
Jazz up your traditional ponytail by adding in body and texture with waves. Grab the L'Oréal Paris Elvive Dream Lengths Heat Slayer Pre-Iron Spray Leave-In and spritz your entire mane. Use a curling wand to create loose waves throughout all your lengths. Then section off a few face-framing strands at the front and gather the rest of your mane into a high ponytail.
Hairstyle #15: High Messy Bun With Pearl Accents
Looking for another take on the messy bun? This version requires a bit more finesse. First, gather your strands at the top of your head as if you were creating a high ponytail. Then, twist your length into a bun and secure with bobby pins—remember, messy is okay here. Pull a few face-framing strands loose to enhance the carefree, romantic vibe. Add some pearl bobby pins throughout the bun for a glamourous accent.
Photo Credit: Maddie Carson, @maddie_carson
Discover more tips & tricks
Keep your skin happy
See all articles
Shop Featured Hair Style products
Discover More