hairstyle trends
3 Hairstyles You Can Create with a Flat Iron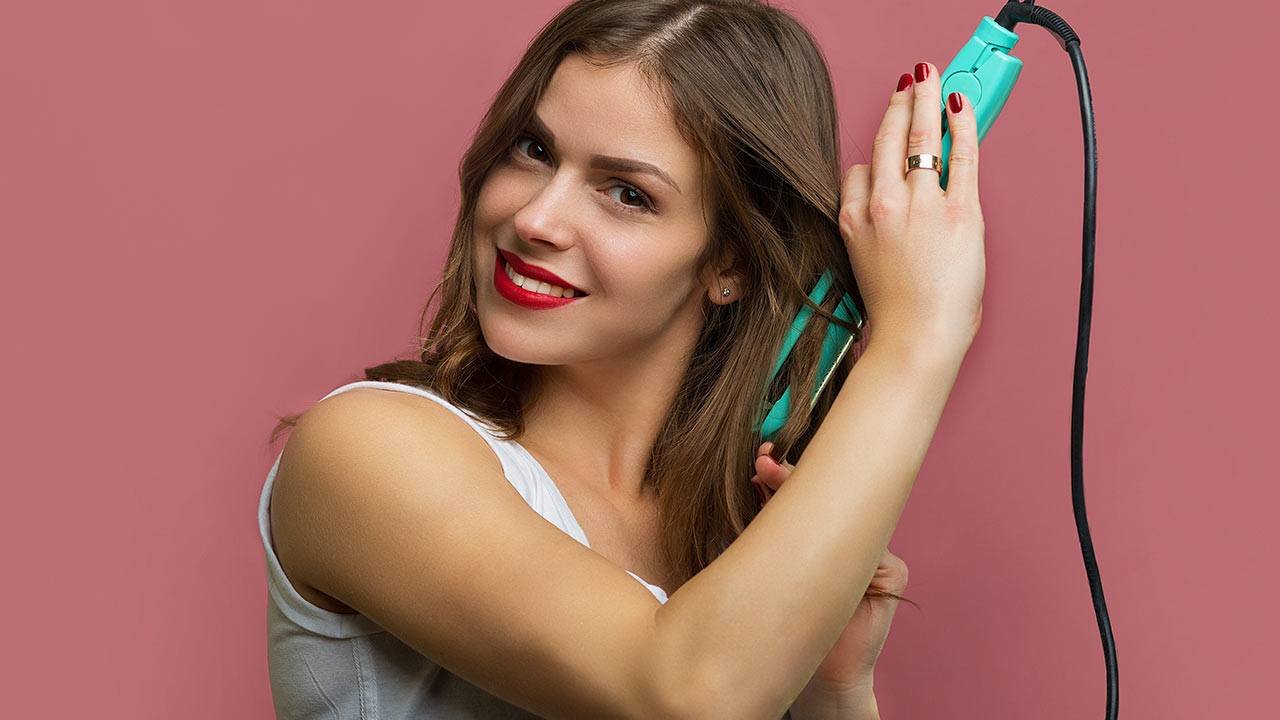 When you think of a flat iron, there's a good chance that the only image that comes to mind is super-sleek strands. Makes sense. But did you know that you can actually achieve quite a few hairstyles with this particular heat tool? Want to know the best part about this? All of the looks are super-easy to do and shouldn't take you more than a few minutes to complete. All you'll need to style your hair is your trusty flat iron and a heat protector, like the L'Oréal Paris Advanced Hairstyle SLEEK IT Heatspray which you should use before getting started on any of the following styles.
Flat Iron Hairstyle #1: The Perfect Slicked-Back 'Do
Let's start with the basics, meaning the style you should be pretty accustomed to by now—and that would be straight hair. While you already know how to run your hair through a flat iron to help create sleek-looking strands, there's a good chance that you don't know all the ways you can work this style to your benefit.
Have you looked at any photos from runways and red carpets lately? Slicked-back 'dos are all the rage. The best way to achieve it? With a flat iron, of course! Just remember to spray your hair with a heat protectant before you begin straightening your mane. Once you're done flat ironing, apply a dollop of strong hold gel, like the L'Oréal Paris Advanced Hairstyle LOCK IT Extreme Style Gel, from your hairline back to your crown. Next, use a rat tail comb to move your top section of hair out of the way and smooth the sides back and secure them in place with bobby pins. Before brushing your top section of hair back to perfect your slicked-back style, tease the underside of the section for added volume and flare. Voila—Hollywood-inspired hair perfection. Now that's a look to add to your weekly line-up!
Flat Iron Hairstyle #2: Crimped Hair
The '80s called and they want to share their trendiest hairstyle! Flash back to crimped hair's past for a hair revival like no other. Just in time for summer and festival season, crimped hair has reemerged on the fashion scene, seen on celebs and everyday gals alike. To get the look, just grab your flat iron instead of digging through boxes to find your old crimper! Here's how to use your flat iron to crimp your hair: Start by parting your hair however you want, then, as always, spray it with a heat protectant. Next, gently press your flat iron along your strands while pulling your hair towards your head, moving further down your strand and pulling your hair away from your head. Continue this process all the way to your ends and you'll have a pumped up, retro 'do that's considered one of the must-wear looks of the moment.
Flat Iron Hairstyle #3: Beachy Waves
If you've been spraying your hair full of salt spray and hoping for the perfect bouncy beachy waves, we're here to let you in on another way to get this summer-y look. If you want a beach babe 'do, reach for your flat iron. Simply spray your hair with a heat protectant before twisting and tugging your hair between the tongs. To create the wave, you'll want to clamp a small section of hair between your flat iron plates, twist it around the closed iron a full turn, and gently tug your iron down to the ends. Lo and behold, you'll start noticing semi-bent waves. Who says you have to be anywhere near the ocean to rock this surfer girl-inspired hairstyle?
Not so hard, right? Now you have three gorgeous styles that you can add into your weekly hair lineup for a change of pace on the daily. Wear these styles as is—or pair them with accent braids, buns, or half-up ponytails for a touch of serious style whenever you choose.
Discover more tips & tricks
Keep your skin happy
See all articles
Shop Featured Hair Style products
Discover More