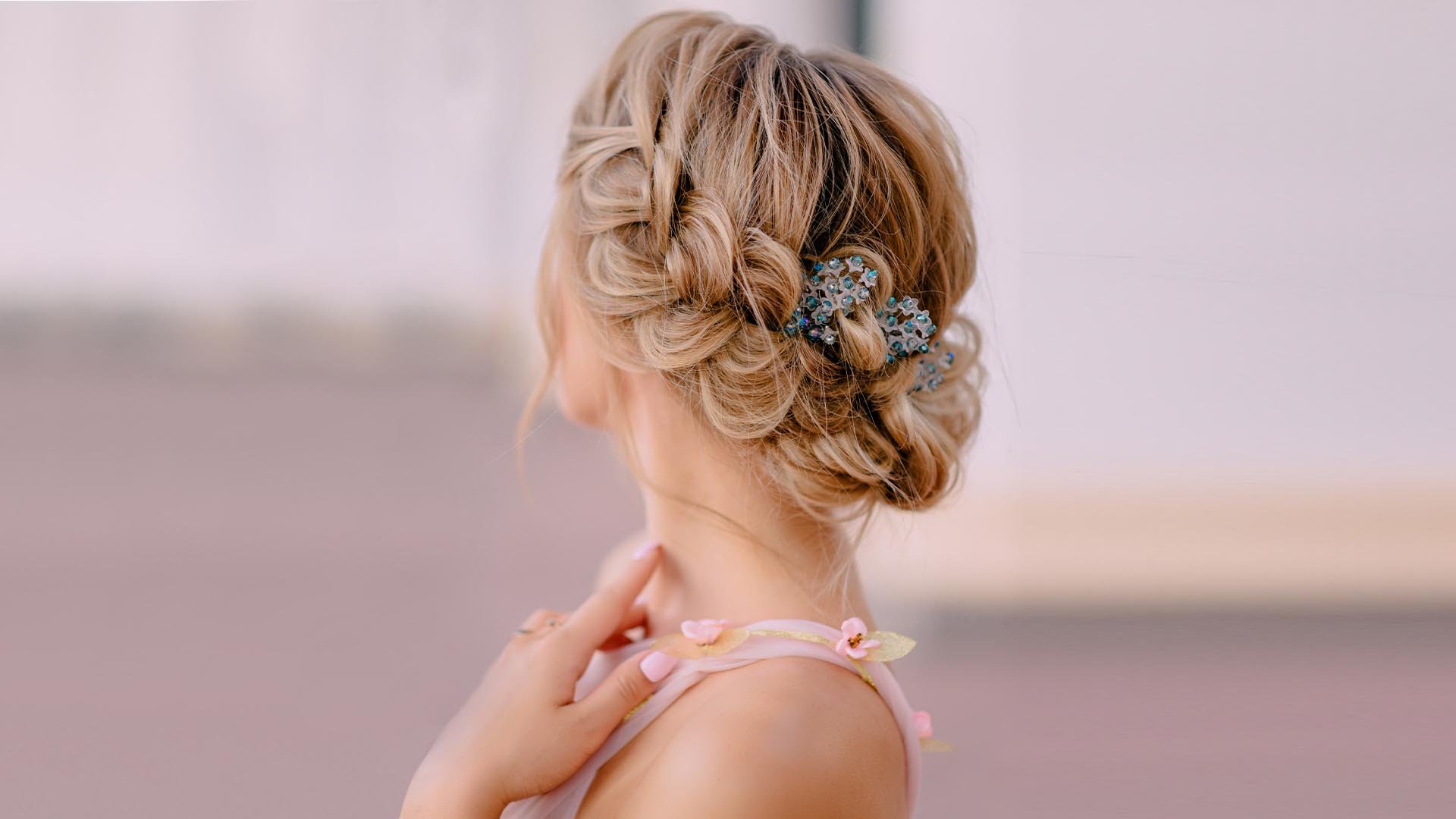 hairstyle trends
22 Stunning Hair Ideas for 2020
If you find yourself scrolling through Pinterest for hours in search of new hair ideas, you're not the only one. There's something about switching up your tresses with a new hairdo that can instantly upgrade your overall beauty look. Whether you're hoping to reinvent a classic hairstyle or give one of the latest hairstyle trends a try, any new 'do is a win in our book! If you're on the hunt for some mane inspo, look no further. Below, find 22 stunning hair ideas for 2020.
#1. CROWN BRAID
It's hard not to love a hairdo that makes you look positively royal, hence why we're kicking this list off with the crown braid. It's gorgeous, it gets your hair up and out of the way, and it's 100 percent Pinterest-worthy. Plait your hair, weaving your strands around your head, then tug at the pieces of your braid to give your look added texture and style. For a complete tutorial, here's How to Create a Beautiful Crown Braid.
#2. HALF-UP SPACE BUNS
Space buns are known for being quirky and cute, but when you use them to create a half-up hairstyle, they get a whole new vibe. Part your hair from ear to ear and use the top half to create your space buns. Then, add some texture to the rest of your hair with the help of a curling wand. The result? A seriously gorgeous and unique half-up hairstyle that's guaranteed to rake in the compliments!
#3. VOLUMINOUS MESSY BUN
Sometimes, the most stunning hairstyles don't require much effort at all! Cue the voluminous messy bun. As you can probably imagine, this take on the classic messy bun is all about creating a big bun at the top of your head. Rather than the bun itself being messy, the imperfect part of this look involves loose strands that frame your face. Keep the bun itself sleek for a best-of-both-worlds updo.
#4. CRIMPED HAIR
Crimped hair has officially resurfaced, and there's no denying this textured look is absolutely beautiful. In fact, it seems as though hair crimpers and wavers have often been taking the place of curling irons as of late. Want to give the trend a try? Check out our article, Crimped Hair Is Back! Here's How to Do It Right.
#5. HALF-UP FISHTAIL BRAID
Another half-up hairstyle that's sure to turn heads? A half-up fishtail braid. While this hairdo looks super complicated, it's actually super easy to recreate! Simply split your hair into two sections and weave the top half into a fishtail braid that flows down the back of your head. Curl the bottom half with a curling iron for a romantic touch, then seal in your style with the L'Oréal Paris Elnett Precious Oil Satin Hairspray.
#6. SLEEK HIGH PONYTAIL
For an elegant-meets-edgy style, we love a sleek high ponytail. This look will only take a few minutes to create, and it's perfect for both the office and after-work drinks.
What you'll need:
L'Oréal Paris Advanced Hairstyle SLEEK IT Iron Straight Heatspray
L'Oréal Paris Advanced Hairstyle LOCK IT Clean Style Gel
Hair brush
Hair elastic
Clean toothbrush
Get the look:
STEP #1. STRAIGHTEN YOUR HAIR
After spritzing your strands with a heat protectant, use a flat iron to straighten them.
STEP #2. SLICK YOUR HAIR BACK
Apply a dime-size amount of hair gel to your roots, slicking your hair backward in the process. Use more gel as needed to slick your hair back. Notice a few stray baby hairs and flyaways? Use a clean toothbrush to comb them into place!
STEP #3. CREATE YOUR PONYTAIL
Gather your length and smooth your hair into a high, sleek ponytail. Take care to make sure there are no bumps or tangles that could take away from your sleek look!
STEP #4. CONCEAL YOUR HAIR TIE
Take a small piece of hair from the bottom of your ponytail and wrap it around its base. Secure at the bottom with bobby pins.
#7. VOLUMINOUS CURLS
As far as stunning hairstyles go, it doesn't get much more gorgeous than voluminous curls. This classic hairdo has been worn by celebs and influencers alike for a good reason! Even better, the look can be created regardless of your hair type or texture. Check out our article, How to Create Voluminous Curls on Any Hair Type, to learn the details.
#8. TUCKED HAIR
You read that right—tucking your hair behind your ears may be the simplest hair idea we have on our list, but that doesn't make it any less eye-catching! While tucking your hair behind your ears may normally be a nervous habit or a way to get your strands out of your face, this unconscious movement has garnered quite the stylish reputation in the beauty world.
#9. DUTCH BRAID
This couldn't be a list of stunning hair ideas if we didn't include a few classic braids! If you're looking for an intricate hairdo that'll never go out of style, allow us to point you in the direction of the Dutch braid. Consider weaving it to one side for an undeniably romantic look.
#10. BRAIDED BUN
Speaking of braided hair ideas, here's another one for you! The braided bun aka the brun. This look features a bun with a braid wrapped around it, and did we mention it's oh-so-pretty? For a step-by-step tutorial, head over to our article, Braid Meets Bun: How to Get a Brun Hairstyle.
#11. MESSY PONYTAIL
Perfection is overrated, but we'll be the first ones to say that this imperfect hairdo is perfect in its own right. A messy ponytail is packed with personality and effortlessness, making it an ideal complement to your look for a dressed-to-the-nines night. There's just something about an undone hairstyle paired with a dressy outfit that we can't get enough of.
#12. CHIGNON
If you're all about sleek, polished hair ideas, this one's for you. The chignon is a sophisticated updo that's been around for years and isn't going out of style any time soon. This classy hairstyle is capable of making you look as though you have everything together—your hair and your life.
#13. SPIRAL CURLS
As beautiful as voluminous curls are, they aren't for everyone. If you're still keen on adding some ringlets throughout your mane, perhaps another curl type will better suit your preferences. How about spiral curls? These tight, bouncy curls will have people wondering (and guessing) what your natural hair texture is.
#14. DUTCH FISHTAIL BRAID
Ever wonder what would happen if you combined two classic braids into one? Well, if you pair Dutch and fishtail braids, you end up with a seriously stunning braided hairstyle. This one calls for a bit of practice, but with the help of our article, How to Create a Dutch Fishtail Braid, you'll be a pro in no time at all!
#15. VOLUMINOUS SIDE BRAID
We aren't done with braided styles quite yet. To upgrade a traditional, three-strand braid, add some volume and a side part into the mix. Here's what to do.
What you'll need:
Rattail comb
L'Oréal Paris Advanced Hairstyle BOOST IT High Lift Creation Spray
Hair elastic
Get the look:
STEP #1. PART YOUR HAIR
Use a rattail comb to give yourself a deep side part.
STEP #2. ADD SOME VOLUME
Spritz with volume spray to give your roots and hair extra volume. Spray it throughout your mane, focusing on the crown of your head.
STEP #3. BRAID YOUR HAIR
Bringing your hair to one side, weave your length into a classic three-strand braid. Secure with a clear hair elastic.
STEP #4. AMP UP THE VOLUME
Then, gently tug at the sides of each weave of the braid to give your style a voluminous final look.
#16. FOUR STRAND BRAID
As you can probably guess, this intricate hairstyle involves weaving four sections of hair instead of three, and the result is seriously stunning! For step-by-step instructions, follow this hairdo tutorial: How to Do a 4-Strand Braid.
#17. SLICKED-BACK BUN
Sometimes, simplicity is key. If you're all about a minimalistic beauty look, consider smoothing your strands into a low, slicked-back bun. All you need to do is apply a bit of hair gel to your roots, then smooth your hair backward and twist the length of your mane into a tight ballerina bun at the nape of your neck. (P.S. We love this hairdo even more if you pair it with a middle part!)
#18. BOX BRAID BUN
Speaking of buns, if you have box braids, you're in luck! Gather your box braids and twist them into a high bun at the top of your head, securing with bobby pins. Your twisted box braids will give you a hairdo that has all the texture—something we'll never get enough of!
#19. BRAIDED HEADBAND
A contrast in textures makes for a stunning hair idea, and the braided headband is just the ticket. Whether you wear the rest of your locks down or in an updo, adding a braided headband into the mix will add the perfect amount of detail to your hairstyle.
#20. PINEAPPLE UPDO
Calling all ladies with natural hair—this one's for you! If you've yet to rock a pineapple updo, you're in for a treat. Not only is this hairstyle a beautiful way to show off your curly texture, but it's also a protective hairstyle. Talk about a win-win! To get the look, bend forward and let your length fall down past your forehead. Gather your strands and secure them with a hair elastic at the top of your head. Stand upright and gently tug at the base of your ponytail so that your curly locks fall forward, hanging over your forehead. Easy, right?
#21. HALF-UP BRAIDED TOP KNOT
There's a reason why most of us are so obsessed with half-up hairstyles: They're the perfect compromise when you're torn between an updo and wearing your hair down. So, of course, we had to add another best-of-both-worlds hairdo to our list! Enter the half-up braided top knot. A half-up hair idea that features an intricate braid and the classic top knot—need we say more? Here's How to Weave a Half-Up Braided Top Knot.
#22. BEACH WAVES
With summer upon us, perhaps you'd like to embrace all things sand and sun. Lucky for you, it doesn't have to be beach weather for you to get stunning, straight-from-the-beach waves. All you need is a wave spray to add just the right amount of imperfect texture to your strands! Not to mention, this hairstyle is ideal for those who love to air dry their tresses.
Want more hair ideas? Here are 21 Haircuts for Wavy Hair That Are So Chic for 2020.
Discover more tips & tricks
Keep your skin happy
See all articles
Shop Featured Hair Style products
Discover More