hair color tutorials
How to Add Dimension to a Braid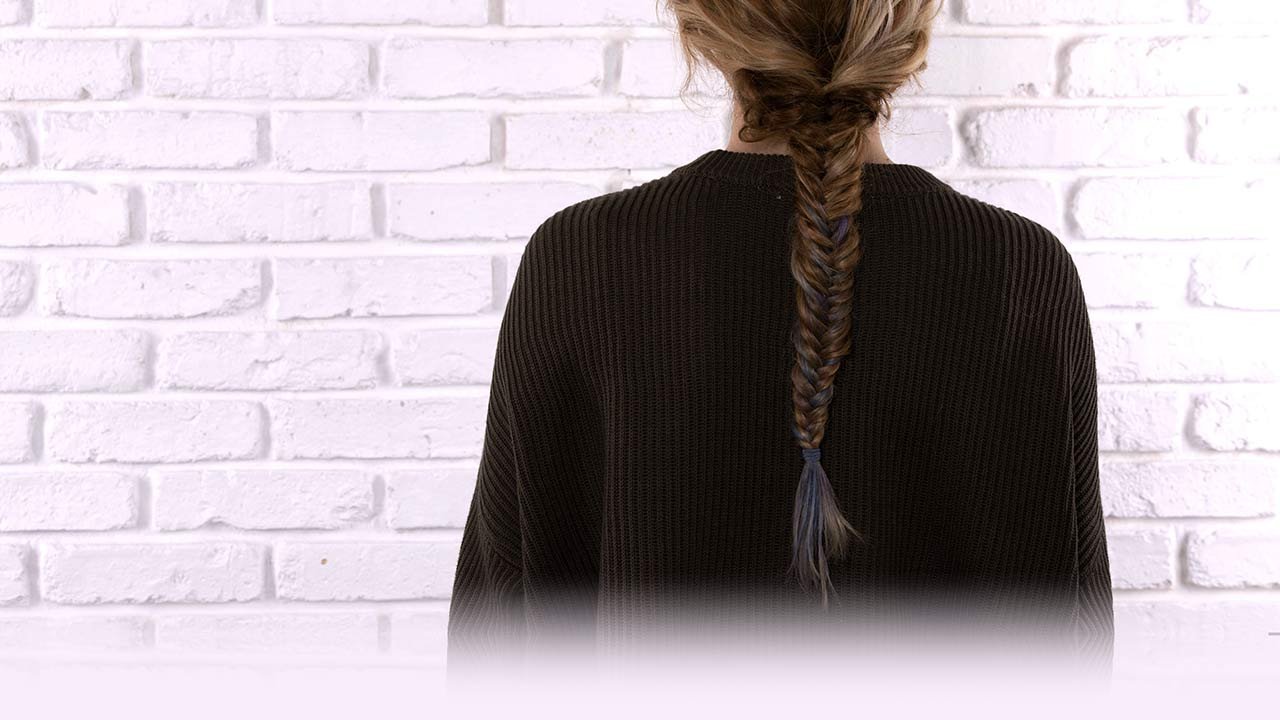 There are few hairstyles that showcase dimension and texture better than a braid. Whether you have short hair, medium hair, or long hair, a braid hairstyle is the perfect way to add some detail to your beauty look! The only problem is, if your hair color doesn't feature highlights or lowlights, the sections of your braid can all blend together and no one will know just how pretty your plait is. Of course, there's always room for improvement—which is why we've compiled three ways to add even more dimension to a braided hairstyle. Keep reading to learn how to add dimension to a braid.
Dimensional Braid Technique #1: Add some color
One of the easiest ways to add dimension to a braid is to add some color to your locks! We know what you're thinking—why would you change your hair color for a hairstyle you're unlikely to wear every day? Luckily, there's no need to commit to a new 'do—all you have to do to get a braided hairstyle with highlighted dimension is use a wash out hair color! A wash out or temporary hair color will disappear after just one shampoo, making it the perfect option for weaving a contrasting color through your braid.
Step #1: Braid your hair
While you can put your color in before or after you braid, we recommend braiding your hair prior to applying your temporary hair color! This will give you more flexibility when braiding and also allow you to see exactly where your color will be placed.
Step #2: Grab your color
Pick your favorite shades of the L'Oréal Paris Colorista Hair Makeup 1-Day Color and use a hair color brush (or even a clean paintbrush) to paint your strands. You can choose to coat each section of your braid in a different color, add thin, colorful highlights throughout your hairstyle, or do pretty much anything else you can think of!
Editor's note: Want to replicate the look in the image above? Our model is wearing three shades of hair makeup: blue, purple, and silver blue.
Dimensional Braid Technique #2: Use a scarf
Another easy way to add dimension to your braid is to intertwine a scarf with your hair. This technique can also be done with a ribbon and you can choose whichever color, texture, or fabric you like—so, there's plenty of room to get creative.
Step #1: Attach your scarf
Separate your hair into three equal sections in preparation for your braid. Take the middle section of hair and attach a scarf of your choice at the root of the strand using a clear elastic. Make sure to use a scarf that's about the same length as your hair, or one you're comfortable trimming later.
Step #2: Braid away
Braid as you normally would, including the scarf as part of your middle strand. Once you get to the bottom, secure the braid with a clear elastic and pancake the braid to boost volume. Hello, instant dimension!
Dimensional Braid Technique #3: Braid within a braid
Since braids have so much texture and visual interest already, it's no question that creating a braid within your braid is a surefire way to reach your desired level of dimension. And don't worry, beginners are welcome here—you can make this hairstyle as simple or as complicated as you please.
Step #1: Section your hair
Section your hair into three equal sections.
Step #2: Choose your braid
To create your braid within your braid, set two of the sections aside and focus on one. This will be the initial braid that you create. You can choose to create a traditional braid, a fishtail braid, or another braid of your choice—it's totally up to you!
Step #3: Add more braids
Next, braid the other two sections of your hair into the braids of your choice. You can braid each section in the same style, or switch each one up.
Step #4: Finish your braid
Once you're satisfied with your three braids, it's time to combine them all to create one dimensional hairstyle. Simply weave your braids into a traditional braid. You'll be left with a final look that's full of texture and looks much harder to create than it actually was.
Want more braided hairstyles to try? Head on over to our article, Braid Meets Bun: How to Get a Brun Hairstyle, to learn how to create a beautiful (and easy!) brun hairstyle.
Discover more tips & tricks
Keep your skin happy
See all articles
Shop Featured Hair Color products
Discover More