hair color trends
How to Get Mint Green Hair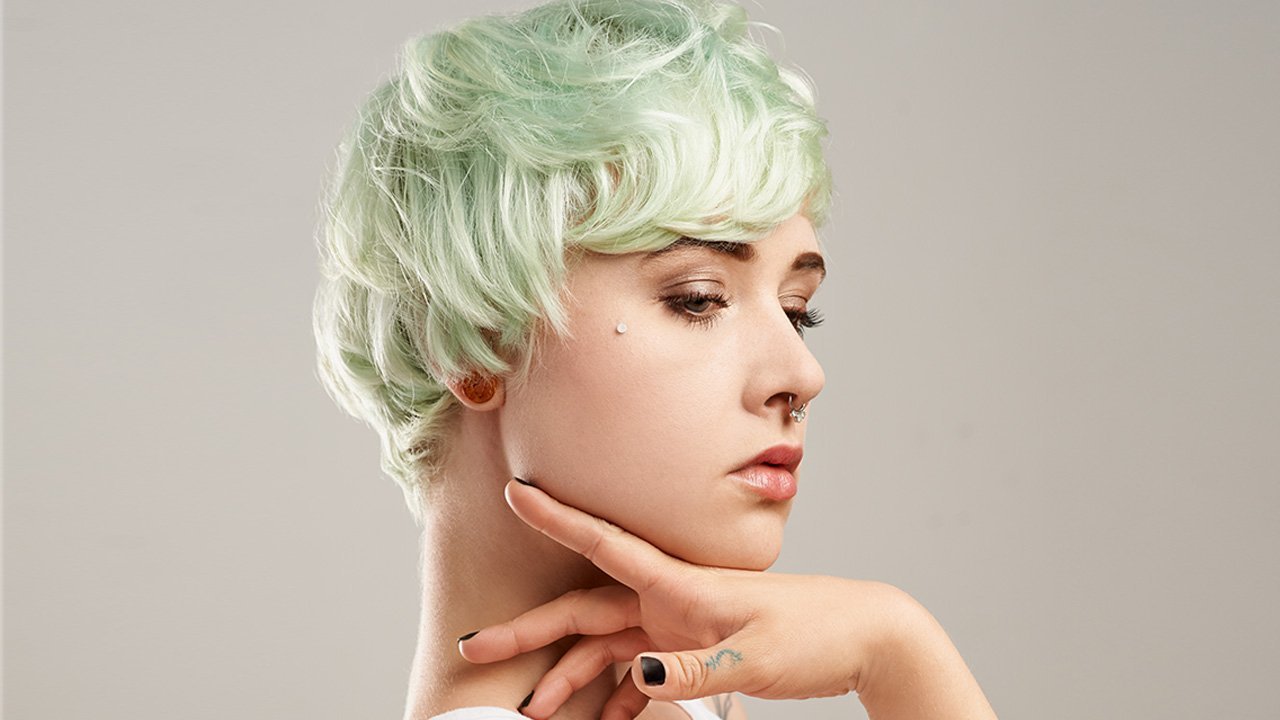 Pastel hair colors are simply stunning—so it makes sense that they've been trending like crazy in the beauty world lately. Whether you sport an all-over pastel shade, like soft pink or lavender, or you use multiple pastel hair colors to create unicorn hair, it's safe to say that these light hues are nothing short of beautiful on their own or when paired together. And one of our favorite pastel shades just so happens to be mint green! Below, find out how to get a mint green hair color for a super-trendy beauty look.
WHO SHOULD TRY MINT GREEN HAIR?
There are a lot of shades within the green family, and mint green is one of the prettiest. But will it really look good adorning your head? Allow your undertones to be your guide. Mint green is a cool color—and we mean that both literally and figuratively. Reminiscent of one of our favorite ice cream flavors (we love you, mint chocolate chip!), mint green is a cool shade that'll flatter those with cool undertones most. Pairing a cool hair color with cool undertones can help brighten your overall appearance, just as pairing a warm hair color with warm undertones can do the same.
How can you tell if you have cool undertones, though? Well, it's pretty easy, actually! Just flip your wrists—if your veins appear blue, then you're cool, whereas if your veins appear green, then you're warm. If you want something just a tiny bit subtler than mint green hair, then consider seafoam green, which is similar but more subdued, thanks to the color's blue tones.
Editor's note: Still not sold on either green hue? Here are 9 Green Hair Color Ideas to consider.
WHAT SHOULD YOU KNOW BEFORE GETTING MINT HAIR?
As with all pastel hair colors, mint green hair may take some time to achieve, depending on your starting shade. Dyeing your hair a mint green shade requires bleaching—and the darker the color you're beginning with, the more sessions may be needed in order to achieve your desired mint green hair color. Keep in mind that if you're going for an all-over mint green hair color, then you'll likely have to get regular root touch-ups. If you're looking for a hair color that's not quite as high maintenance, consider coloring just the ends of your hair for a pretty mint green ombré or dip dye effect.
HOW TO GET MINT GREEN HAIR
If you're going the permanent hair color route, then you'll have to bleach your hair first. You have the option of coloring your hair at home or hitting up the salon to have a pro colorist do it for you. Another route you can take is using a temporary hair color spray, like the L'Oréal Paris Colorista Hair Makeup Temporary 1-Day Hair Color Spray in Pastel Mint, which washes out in one shampoo. That way, you can take mint green hair for a test drive before making a more permanent commitment. Here's how to use it.
STEP 1: SHIELD YOUR CLOTHES
Take a towel and place it around your shoulders to protect your clothing before you start spraying on your mint green hair color.
STEP 2: SHAKE THE CAN
Before spritzing, make sure to shake your temporary hair color spray well.
STEP 3: SPRAY, SPRAY, SPRAY!
Hold the can four to six inches away from dry hair and spray on your mint green hair color. Don't over-spray your hair, as this may cause your hair to feel dry. If an all-over mint green hair color is your goal, you may need to use more than one can.
STEP 4: CHILL
Your mint green hair color will take a few minutes to completely dry, so be patient!
Ready to move on from mint green hair? We've got another tutorial just for you! For another trendy pastel hair color idea, check out our article, Pretty in Pink: Learn How to Pull Off Pastel Pink Hair.
Discover more tips & tricks
Keep your skin happy
See all articles
Shop Featured products
Discover More