all hair types
What Are The Vitamins In Your Hair Care Products?
Grow long, healthy strands.
July 28, 2021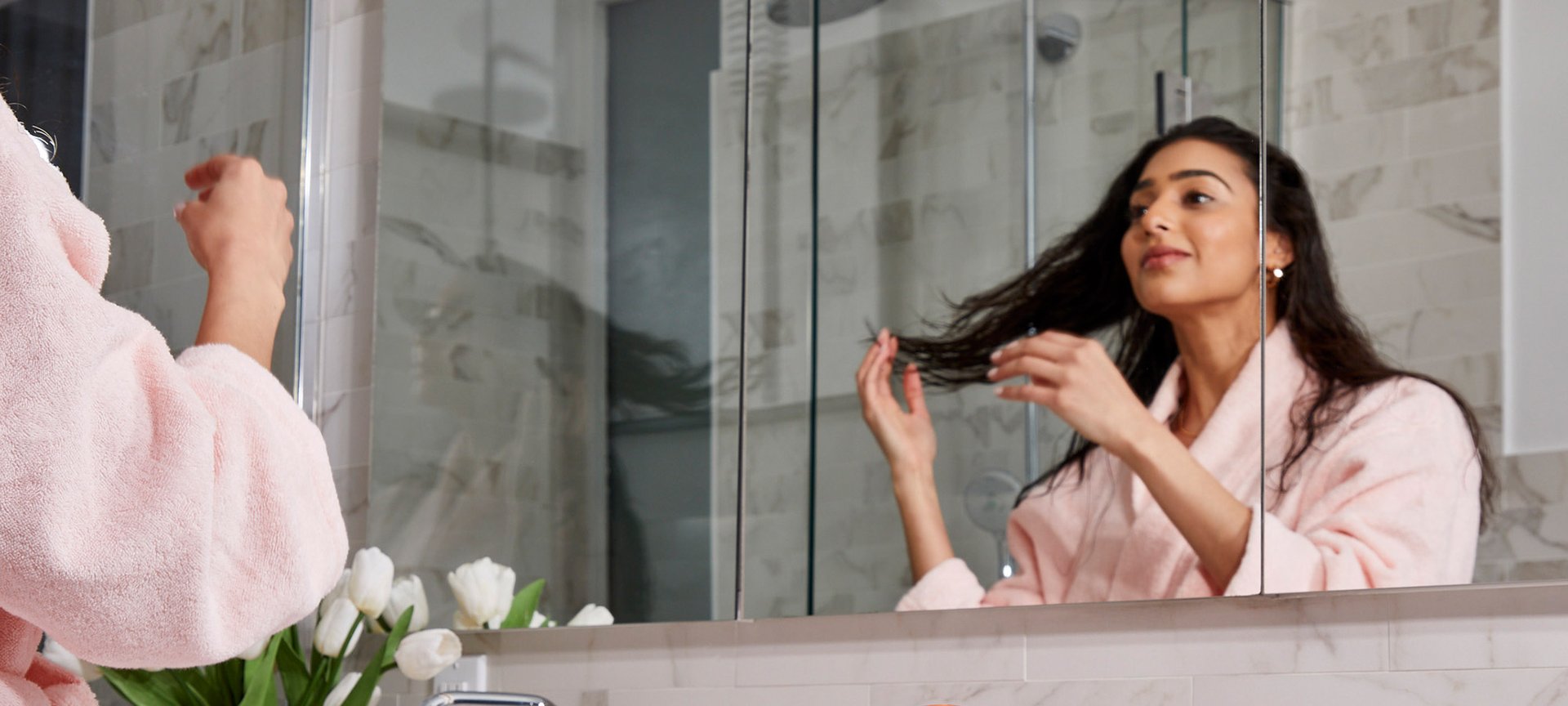 We love exploring new products but we also know how intimidating it can be with so many offerings on the market. And when it comes to hair care—specifically hair growth—it doesn't seem to be slowing down any time soon. At this point you've likely stumbled across vitamins for hair being advertised on your social media feeds, with influencers boasting about supplements that have helped them to grow hair faster and (seemingly) thicker. While we're not here to talk about supplements and the like, we're here to fill you in on hair products formulated with vitamins. It turns out there are quite a few vitamins for the hair you're likely to find in products designed to improve its look—and they can easily be incorporated into your hair care routine. Keep reading for what you need to know about adding products with vitamins to your hair care regimen.

What Vitamins Are Found In Hair Products?
If you want to know more about vitamins you may notice in your hair products, we've got you covered. Find out how products formulated with vitamins for the hair can help improve the look of your strands.

HAIR VITAMIN #1: B3 (NIACIN)
Vitamin B3 is also known as niacin or niacinamide, if you're checking the label on your hair products. A study from the National Center for Biotechnology Information(NCBI) tested the topical application of two niacin derivatives—octyl nicotinate and tetradecyl nicotinate—and found that these derivatives demonstrated a significant increase in the appearance of hair fullness in female alopecia.
Aside from hair fullness, another study from the NCBI found a leave-on technology containing niacinamide resulted in increased hair suppleness and a better ability to withstand force without breaking.
If you're interested in products formulated with niacinamide, try the L'Oréal Paris Elvive Dream Lengths Restoring Shampoo for Long, Damaged Hair. This shampoo for long, damaged hair helps to seal split ends while adding shine, protecting lengths, and strengthening hair. Use as a system with the L'Oréal Paris Elvive Dream Lengths Conditioner for Long, Damaged Hairand L'Oréal Paris Elvive Dream Lengths No Haircut Cream Leave In Conditioner, which are also formulated with B3.

HAIR VITAMIN #2: B5 (PANTOTHENIC ACID)
Also called panthenol or pantothenic acid, vitamin B5 is another hair vitamin worth noting. According to the NCBI, pantothenic acid has been studied for its ability to help prevent early hair graying, restore natural hair color, encourage proper hair growth, and give hair moisture.
If you're looking for hair products formulated with B5, we recommend the L'Oréal Paris Excellence Creme Permanent Triple Protection Hair Color. This permanent hair color kit includes a conditioning treatment formulated with panthenol. Our exclusive Triple Protection System provides rich, radiant color while deeply caring for your hair before, during and after coloring.
Editor's note: If you want more B5, the Dream Lengths trio mentioned above is also formulated with pantothenic acid.

HAIR VITAMIN #3: B9 (FOLIC ACID)
Another B vitamin, B9 (also referred to as folate or folic acid) is also a key hair vitamin. Folates help with stimulating the hair follicle cells and regulating sebum gland function, according to the NCBI.

HAIR VITAMIN #4: VITAMIN E
Next on your hair vitamin list is vitamin E—more specifically, tocopherol, which is part of the vitamin E family. Per an NCBI study, this type of vitamin E is found in Moroccan argan oil, which is known for its ability to keep the hair moisturized.
Looking for products formulated with tocopherol? We thought so! Check out the
L'Oréal Paris Elvive Color Vibrancy Protecting Shampoo
, which is formulated with tocopherol. Our Color Vibrancy system for
color-treated hair
works to keep hair color healthy-looking and vibrant thanks to a formula with antioxidants (UV) and ceramides. Use as a system with the
L'Oréal Paris Elvive Color Vibrancy Protecting Conditioner
, which is also formulated with tocopherol.
Photo Credit: Matthew Kelly, Art Director: Hannah Packer, Creative Producer: Becca Solovay
{ "@context": "https://schema.org/", "@type": "WebPage", "speakable": { "@type": "SpeakableSpecification", "cssSelector": ["speakable-content"] }, "url": "https://www.lorealparisusa.com/beauty-magazine/hair-care/all-hair-types/hair-vitamins-in-products" }
Discover more tips & tricks
Keep your skin happy
See all articles
Shop Featured Hair Care products
Discover More
{ "@context": "http://schema.org", "@type": "BreadcrumbList", "itemListElement": [ { "@type":"ListItem", "position": 1, "item": { "@id": "/", "name": "Home" } } , { "@type":"ListItem", "position": 2, "item": { "@id": "https://www.lorealparisusa.com/beauty-magazine", "name": "Beauty Magazine" } } , { "@type":"ListItem", "position": 3, "item": { "@id": "https://www.lorealparisusa.com/beauty-magazine/hair-care", "name": "All Things Healthy Hair" } } , { "@type":"ListItem", "position": 4, "item": { "@id": "https://www.lorealparisusa.com/beauty-magazine/hair-care/all-hair-types", "name": "All Hair Types" } } , { "@type":"ListItem", "position": 5, "item": { "@id": "https://www.lorealparisusa.com/beauty-magazine/hair-care/all-hair-types/hair-vitamins-in-products", "name": "hair-vitamins-in-products" } } ] }