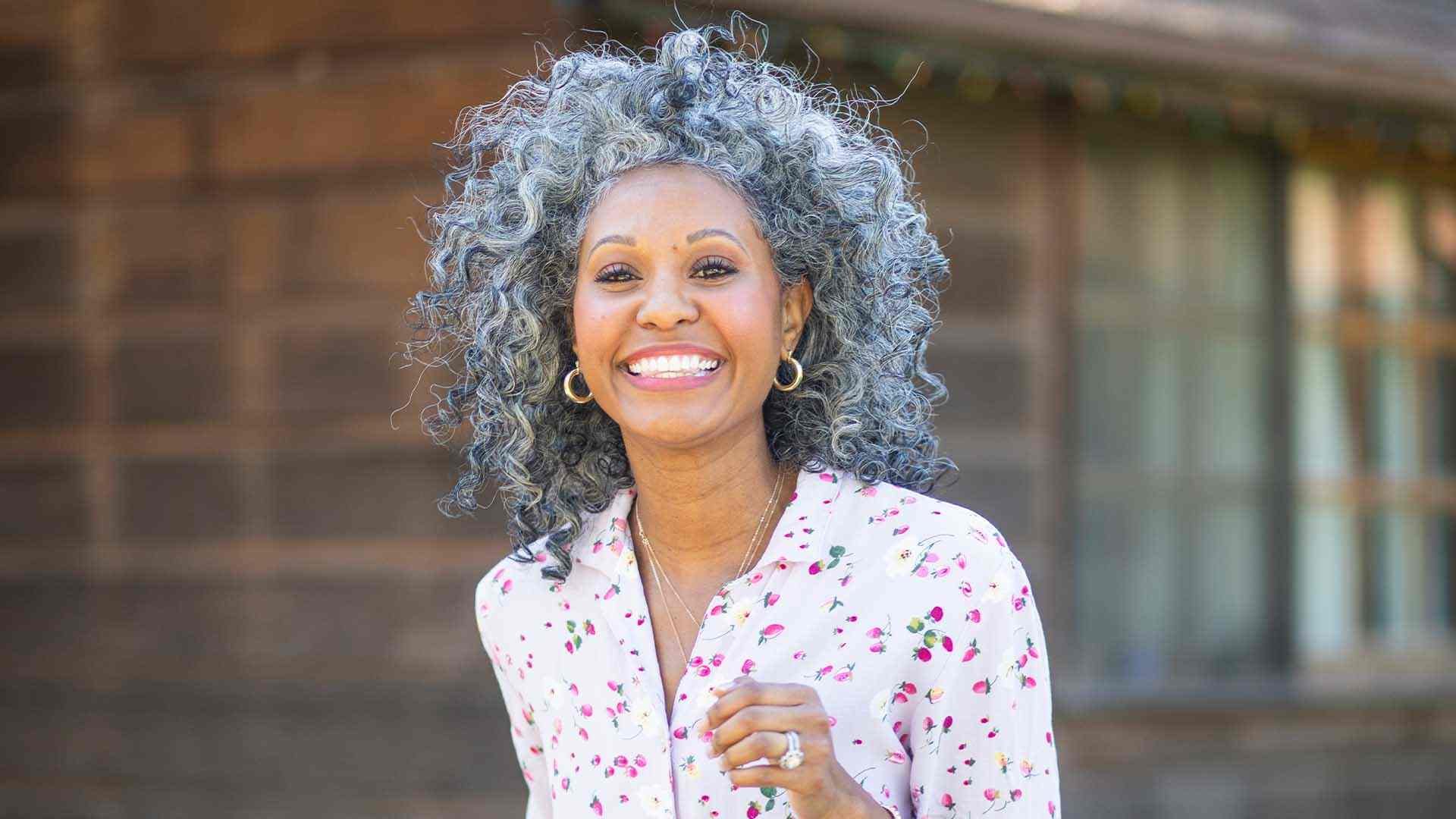 It's not breaking news that curly hair comes with its own set of guidelines. If you find that gray curly hair has become your new normal, it's essential to step things up to preserve a healthy-looking mane. And that means locking down the right grey curly hair-care routine to show your locks some TLC. After all, what may have worked for your strands in the past may not be suitable for your gray hair now. Thankfully, we know how to navigate the world of caring for gray curly hair. Follow along as we give you the lowdown on tips and product recs so you can keep your gray curly hair in tip-top shape.
WHY SHOULD YOU FOLLOW A GRAY CURLY HAIR ROUTINE?
Before you learn about the best hair-care routine for gray curly hair, you need to know why it's an absolute must. Simply put, gray hair is a clear indicator of aging. According to the Cleveland Clinic, you may also find that your hair naturally changes its texture over time. Not to mention, the Cleveland Clinic also notes that aging can lead to a decrease in oil production. In turn, this can leave you with dry strands—and curls and dryness do not mix. So, in order to maintain vibrant and healthy-looking grey curly hair, you'll need to stay consistent on the hair-care front. Speaking of which…
5 TIPS TO HELP YOU CARE FOR GRAY CURLY HAIR
If you're ready to get the ball rolling on your gray curly hair-care routine, we've got you covered! Keep reading for five tips to help you manage your strands properly.
TIP #1: REACH FOR A NOURISHING HAIR-CARE SYSTEM
No matter what hair type you're working with, it's essential to start your wash day on the right note with a shampoo and conditioner best suited to your needs. For gray curly hair, you'll want to use a nourishing hair-care system that can provide your locks with the moisture they need. Try the L'Oréal Paris EverPure Moisture Shampoo and L'Oréal Paris EverPure Moisture Conditioner. This sulfate-free duo deeply replenishes dry hair with hydration and gives your strands a soft and luminous finish.
TIP #2: WASH WITH LUKEWARM WATER
Hot water can feel like the ultimate delight in the shower, but it's not the best option for grey curly hair. Super-hot H2O can strip hair of its natural oils, which can leave you with drier locks—the last thing that you need. Stay ahead of the game and turn down the dial.
TIP #3: KEEP A PURPLE SHAMPOO HANDY
We've already explained the wonders of a nourishing hair-care system, but gray curly hair requires a bit more than that. Silver strands can become brassy, and we're willing to bet that the look is not your idea of healthy-looking hair. This is where a purple shampoo, like the L'Oréal Paris EverPure Brass Toning Purple Sulfate Free Shampoo, can work its magic. This sulfate-free pick can neutralize brassy tones while hydrating your hair. Be sure to follow up with the L'Oréal Paris EverPure Brass Toning Purple Sulfate Free Conditioner two to three times a week to reduce the look of brassiness.
TIP #4: MAKE LEAVE-IN CONDITIONERS YOUR BFF
Another glorious way to show your grey curly mane some love is by adding leave-in conditioners into the mix. These hair-care staples go the extra mile to provide your mane with moisture and shine. They also come in handy to ensure a seamless detangling process. In other words, they're the perfect addition to any wash day. See what all the hype is about with the L'Oréal Paris EverStrong Break Proof Lotion. This lightweight offering hydrates and leaves you with added slip for easy manageability. Distribute a dime-sized amount of the leave-in conditioner through your entire mane. No rinsing necessary.
TIP #5: EXPERIMENT WITH HEAT-FREE STYLING PRODUCTS
Instead of reaching for hot tools to enhance your curls, shake things up with heat-free styling products. These essentials are an ideal match for gray curly hair since you don't have to worry about heat damage. After all, too much heat can take a toll on your strands. Apply a generous amount of the L'Oréal Paris Advanced Hairstyle CURVE IT Elastic Curl Mousse to your strands, scrunch, and let air dry. Once complete, you'll be able to enjoy soft and bouncy curls.
Of course, some hairstyles require the use of heat-styling tools. So, be sure to use a heat protectant, like the L'Oréal Paris Advanced Hairstyle SLEEK It Iron Straight Heatspray, before applying heat. Aside from protecting your hair from heat damage, this essential calms frizz, conditions, and seals in shine.
{ "@context": "https://schema.org/", "@type": "WebPage", "speakable": { "@type": "SpeakableSpecification", "cssSelector": ["speakable-content"] }, "url": "https://www.lorealparisusa.com/beauty-magazine/hair-care/all-hair-types/gray-curly-hair-care" }
Discover more tips & tricks
Keep your skin happy
See all articles
Shop Featured Hair Care products
Discover More
{ "@context": "http://schema.org", "@type": "BreadcrumbList", "itemListElement": [ { "@type":"ListItem", "position": 1, "item": { "@id": "/", "name": "Home" } } , { "@type":"ListItem", "position": 2, "item": { "@id": "https://www.lorealparisusa.com/beauty-magazine", "name": "Beauty Magazine" } } , { "@type":"ListItem", "position": 3, "item": { "@id": "https://www.lorealparisusa.com/beauty-magazine/hair-care", "name": "All Things Healthy Hair" } } , { "@type":"ListItem", "position": 4, "item": { "@id": "https://www.lorealparisusa.com/beauty-magazine/hair-care/all-hair-types", "name": "All Hair Types" } } , { "@type":"ListItem", "position": 5, "item": { "@id": "https://www.lorealparisusa.com/beauty-magazine/hair-care/all-hair-types/gray-curly-hair-care", "name": "gray-curly-hair-care" } } ] }