frizzy hair
Frizz Control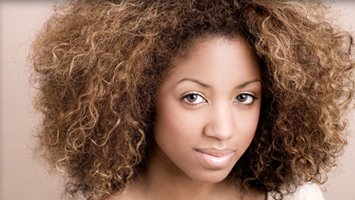 Dry hair isn't easy to manage. It's prone to breakage and split ends and can look dull; however, this shouldn't hold you back from having a stunning style. Here are a few easy ways you can get absolutely gorgeous, luscious locks without a hint of dryness.
Grab Nature's Best
Dry hair lacks moisture, which is why it is important to make the most of your natural oils. Pores in your scalp produce sebum, a natural oil that keeps the hair cuticle hydrated and smooth. To open up your pores, massage your scalp when you wash your hair. Doing this will stimulate your hair follicles and loosen dirt and dandruff that may be clogging your pores. Condition your hair with products designed to smooth your strands and keep them moisturized, like EverPure Cleansing Balm or EverCrème Deep Nourish Shampoo and Conditioner. If you have colored-treated hair, use EverPure Moisture Shampoo and Conditioner to protect your color while you hydrate your locks. To help boost your body's natural oils, drink lots of water and add a healthy portion of olive oil to your diet to make sure you get the most natural hydration and shine.
Wipe Out Frizz
To beat frizz, take care to avoid breaking your strands at all costs. To seal moisture in, wash your hair with lukewarm water and rinse with ice cold water. Never rub your hair with a towel or twist it in a turban; instead, pat your hair dry gently. Apply EverSleek Frizz Taming Crème Serum and separate your strands with a wide tooth comb. Also try to let your hair air-dry as much as possible to help retain moisture before you turn on the blow dryer.
Prepare with Products
Dry, frizzy locks need more attention than other hair types. Give your hair what it needs with products that help smooth cuticles, add shine, and make hair more manageable and supple. Invest in products like EverSleek Super Sleek Intense Serum to fight frizz, and smooth unruly strands, Studio Line Out of Bed to gain manageability and texture, and EverSleek Finishing Crème to finish your look with a glossy shine that keeps flyaways in check.
Banish Burnout
The best way to maintain smooth, supple locks is by keeping styling to a minimum. Blow-dry with cool air only to avoid dehydrating hair. Direct the air down your strands to protect your cuticles and always use a soft boar-bristle brush during your blowout.
Discover more tips & tricks
Keep your skin happy
See all articles
Shop Featured Hair Care products
Discover More