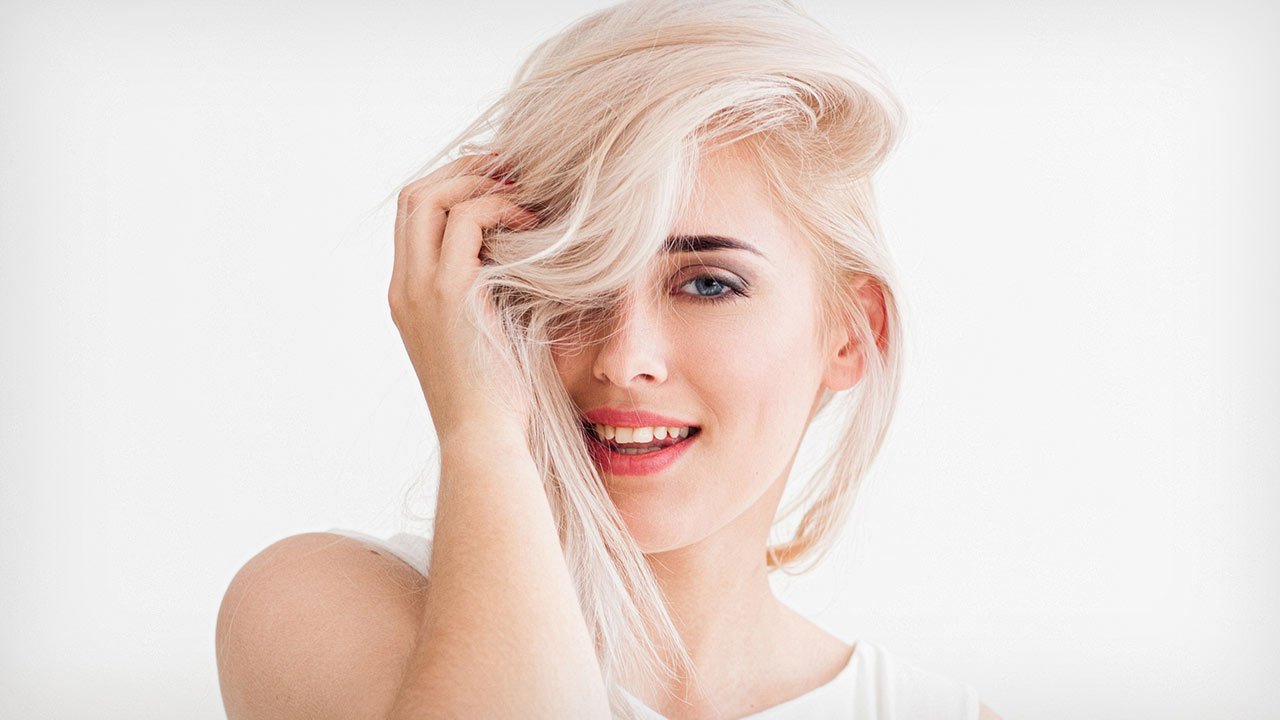 all hair types
What Is a Cowlick and How Can You Hide One
Frizzy hair, thin hair, curly hair, color-treated hair—when it comes to hair types, the options are endless. But there's one hair characteristic that's practically universal, meaning it can occur regardless of your hair type or other hair care concerns. What is it? Cowlick hair. Perhaps you've heard of it, or maybe you have one and don't even realize it! Either way, today we're talking all things cowlick: what is a cowlick, how you should style hair with a cowlick, and how to get rid of a cowlick temporarily. Keep reading to learn more about cowlicks, including our best hair styling products and tips to tame them.
WHAT IS A COWLICK?
First things first, let's cover the definition of a cowlick. Here's a hint—it has absolutely nothing to do with cows—or licking, for that matter. A cowlick is a small section of hair that grows at a different angle than the rest of the hair on your head. Hair cowlicks are caused by genetics and are typically located at the crown of your head. They can also appear near the front of the hairline in the middle of the forehead. And despite what you may think about cowlicks, plenty of famously attractive people have them. Think of some of the hunkiest male actors in Hollywood—many of them have a natural cowlick in their hairline.
Because cowlicks often grow straight upward, they also add a bit of lift to the hair—so while they can be annoying when they're hindering a hairstyle you want to try, they definitely aren't all bad. And no, cowlicks don't indicate balding! You can have a cowlick and a full head of hair; the two are far from mutually exclusive.
HOW TO HIDE A COWLICK
Can you get rid of a cowlick? Yes—temporarily, that is. As much as you may start to love your cowlick at times, there will certainly be other times when you'll want to hide it. The hair that forms a cowlick is known to be very stubborn to style—the strands grow vertically, for goodness sake. Even though it might seem like an uphill battle, there are certain styling tips, techniques, and products that can help you get rid of a cowlick, pronto. Yes, it is possible to hide a cowlick! Keep reading for our best suggestions.
COWLICK STYLING TIP #1: WET THE AREA
If you need to tame your cowlick but aren't due to wash your hair, try wetting just the area that needs to be restyled. Simply wet a comb or brush, then run it through your cowlick a couple of times to seal it back into place. This is an especially important tip if you're working with cowlick bangs.
COWLICK STYLING TIP #2: BLOW-DRY IN THE OPPOSITE DIRECTION
Here's a little trick to try and outsmart your cowlick: When your hair is damp, blow-dry your cowlick in the opposite direction that it naturally grows. If it grows straight up, then try blow-drying the section of hair in all different directions. Use a round brush to help maneuver your strands.
Editor's note: Before you reach for that blow-dryer, it's important to protect your strands—regardless of your hair type—with a heat protectant spray, like the L'Oréal Paris Advanced Hairstyle SLEEK IT Iron Straight Heatspray.
COWLICK STYLING TIP #3: USE PRODUCTS WITH STRONG-HOLD FORMULAS
This one may seem obvious, but when you have a stubborn cowlick, you'll want to use hair styling products that have extra strong holding power. When restyling your cowlick and patting it down to keep it from sticking straight up, use a strong-hold hair gel, such as the L'Oréal Paris Advanced Hairstyle LOCK IT Extreme Style Gel. If you're putting the finishing touches on your hairstyle, use a strong hold hair spray, like the L'Oréal Paris Elnett Satin Hairspray Extra Strong Hold.
COWLICK STYLING TIP #4: FINISH WITH A COOL BLAST
While blow-drying, when you finally have your hair where you want it, switch to the cool-temperature setting for a few seconds. This cold blast to finish things off will help lock in your look. Top it off with a few spritzes of hair spray for good measure, and you're good to go.
COWLICK STYLING TIP #5: CLIP IT DOWN
After you're done heat styling, use a small hair clip to hold your cowlick in place while you finish up the rest of your makeup routine and get dressed. We all know the awful feeling of spending time blow-drying, then going about the rest of your business only to come back 10 minutes later to find that your entire hairstyle has become a mess. Use a small clip that won't leave any kinks behind, such as a bobby pin.
COWLICK STYLING TIP #6: CHANGE YOUR PART
While you shouldn't think of your cowlick as being in control, they certainly can impact where it's best to part your hair. If your cowlick is super noticeable and you wish it weren't, try switching up your part. We love a deep side part! If you do too, consider one of these 15 Side-Swept Hairstyles That Slay.
Next, let's cover another common hair concern. Here's How to Get Rid of Split Ends.
Discover more tips & tricks
Keep your skin happy
See all articles