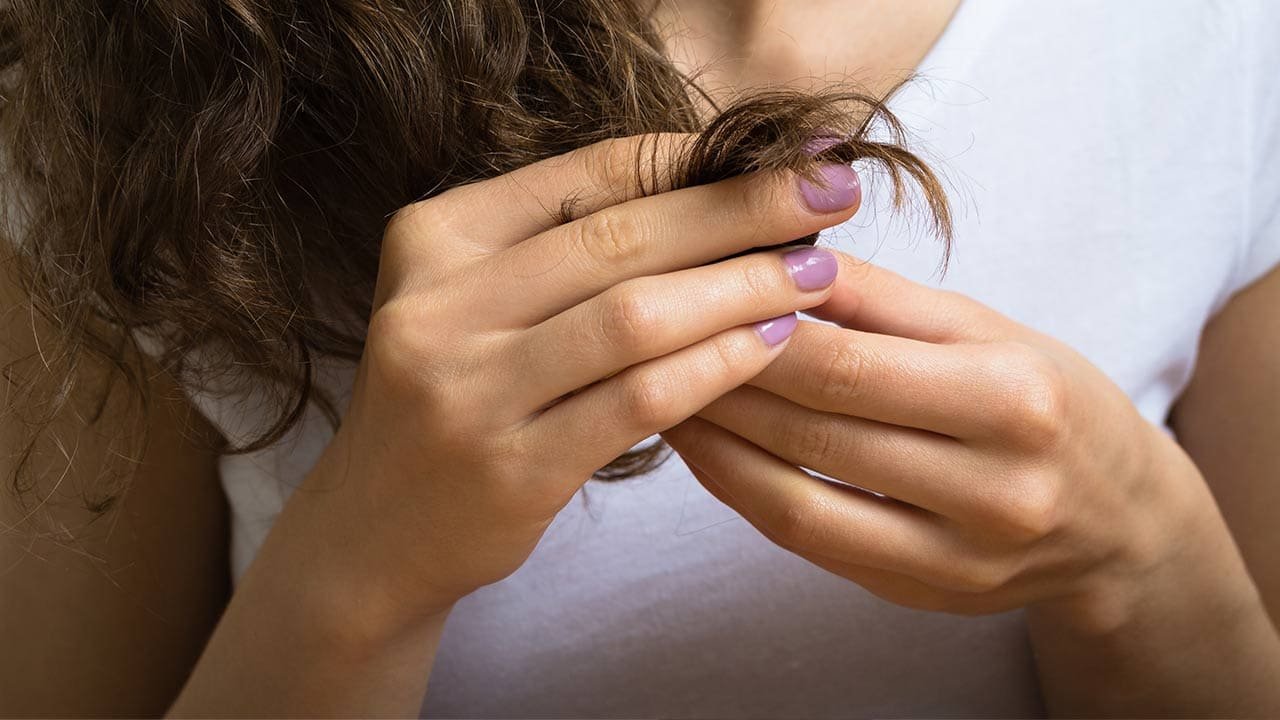 damaged hair
How to Fix Damaged Hair
There's nothing worse than realizing that damaged hair has become your reality. And the truth is, damaged hair requires special care. So, if you find yourself battling dry strands, brittle hair, and split ends, whether because of heat damage or bleaching, it's important that you learn how to fix damaged hair via a proper hair care routine. If you're game for restoring your strands, below, we're sharing damaged hair repair tips (no matter what level of hair damage you have), including using our best shampoo for damaged hair and adding a damaged hair treatment to your routine. Healthy-looking, amazing-feeling hair, here you come!
HOW TO FIX DAMAGED HAIR
There are a few ways you can care for your strands to help repair damaged hair. We're sure you're curious about the steps you can take toward getting a healthy mane, so let's dive right in with 12 ways to fix damaged hair.
1. USE A SHAMPOO, CONDITIONER, AND HAIR MASK FOR DAMAGED HAIR
If you have damaged hair, look for a hair care system consisting of a shampoo, conditioner, and hair mask that are formulated for your hair type. Just like you probably wouldn't use a facial cleanser for oily skin if you had dry skin, you shouldn't use hair care products for a hair type other than your own.
Try the L'Oréal Paris Elvive Total Repair 5 Repairing Shampoo, L'Oréal Paris Elvive Total Repair 5 Repairing Conditioner, and L'Oréal Paris Elvive Total Repair 5 Damage Erasing Balm. The Total Repair 5 system is formulated specifically for damaged hair. Massage the shampoo onto wet hair, then rinse. Follow up by applying the conditioner and leaving it on for one to three minutes before rinsing again. Use the hair mask once or twice a week after shampooing. Leave it on for three to five minutes, then rinse out.
2. WASH YOUR HAIR WITH LUKEWARM WATER
Steamy showers feel great on your skin, but all that heat can do a number on your hair, especially if you have damaged strands. Super-hot water can strip your hair of essential oils, which can make it feel even drier. So, turn the dial down and rinse your hair off in lukewarm water the next time you shower.
3. USE A DEEP CONDITIONER
If you're not already using a deep conditioner in your regular weekly hair care routine, you need to start stat! That's because deep conditioning treatments work to repair strands from the inside out, making them stronger in the long run and—you guessed it—less damaged. Also, today's formulas take less time to use than you might expect. The L'Oréal Paris Elvive Total Repair 5 Rapid Reviver Deep Conditioner works in just one minute to help condition, fortify, and repair hair! If you have colored or bleach damaged hair, try the L'Oréal Paris Elvive Color Vibrancy Rapid Reviver Deep Conditioner instead—it also works its magic in one minute. You can use either deep conditioner after you shampoo, in place of your conditioner. These deep conditioners can be used daily, making them an ideal choice for those with significantly damaged locks.
4. TRY A LAMELLAR HAIR TREATMENT
If you feel that your strands need a little extra TLC, it may be time to level up on the hair treatment front with a lamellar hair treatment. Our favorite one? The L'Oréal Paris 8 Second Wonder Water Lamellar Hair Treatment. This lightweight rinse out hair treatment transforms into a light froth that saturates the hair with moisturizing agents and amino acids and helps target damaged areas. The formula smooths the surface of your strands sans the weighed down feel that can come with heavier treatments. Best of all, its smart technology works based on the amount of damage your hair has, depositing the right amount of care to restore your mane's health.
To use, apply the wonder water treatment after you rinse out your shampoo. Distribute it evenly on your hair from the mid-lengths to the ends, massage it onto your strands for eight seconds and rinse out. As a result, your mane will be left with a shiny, silky, and overall healthy appearance.
5. COMB YOUR HAIR BEFORE SHAMPOOING
Are tangles getting the best of you? You may want to comb your hair before washing it. According to the American Academy of Dermatology (AAD), most people should handle wet hair as little as possible. That's because hair is more fragile when it's wet. The more you know!
If you have to brush your hair when it's wet, towel-dry your locks (or reach for an old tee—more on that later) before brushing and be sure to use a wet brush or wide-tooth comb, as they will be gentler on your strands. Pair either with a hair detangler so you can avoid creating additional tears and split ends! Need a product rec? Take a walk down memory lane and spritz your mane with the L'Oréal Kids Burst of Sweet Pear Tangle Tamer for All Hair Types, which has a spray-on conditioning formula that detangles any hair type in a flash.
Editor's note: Need more in the way of tangled hair tips? Here's How to Detangle Knotty Hair.
6. BLOT HAIR DRY WITH A T-SHIRT—NOT A TOWEL
Remember when we mentioned reaching for an old tee? We meant it! Don't throw out that old, faded T-shirt just yet. When you hop out of the shower, instead of aggressively rubbing your hair dry with a towel, grab a cotton T-shirt. Cotton tees can be gentler on your strands—and remember, gentle is the name of the game when it comes to caring for damaged hair.
7. PRIME YOUR HAIR FOR HEAT STYLING
Before you think of creating voluminous curls or a sleek blowout, you should always apply a heat protectant to your hair. This should be the first step in the heat styling process if you have heat damaged hair (or any hair type, really)! Try the L'Oréal Paris Advanced Hairstyle SLEEK IT Iron Straight Heatspray. Apply evenly to damp hair, holding the bottle six to eight inches away as you spritz. Bonus: This heat protectant not only helps protect against heat damage but also calms frizz, seals in shine, blocks humidity, and conditions for a sleek style that lasts. Score!
8. TURN DOWN THE TEMP ON HEAT TOOLS
Heat tools like blow-dryers, curling wands, and flat irons can get seriously hot, hot, hot. But when you have heat damaged hair, the less heat you use, the better it will be for your mane. A rule of thumb: Put your heat tools on the lowest temperature possible that still allows you to get your desired results without having to make multiple passes over each section. It may take a few tries to master, but your hair will thank you in the end!
9. EMBRACE YOUR HAIR'S NATURAL TEXTURE
Texture is in. In fact, the here and now is the perfect time to rock what you've got—whether that's straight hair, wavy hair, curly hair, or anything in between. Put down that blow-dryer and let your damaged hair air dry to showcase some serious style. Here are five ways to air dry your hair:
1. Apply hair mousse. Use a hair mousse to help enhance your hair's natural shape. Apply an egg-sized dollop of hair mousse to clean, damp hair, evenly distributing it from roots to ends. Scrunch your hair, and you're good to go.
2. Create effortless, beachy waves. Who says you have to spend time in the ocean to get this hairstyle? Simply braid your hair and mist a hold spray like the L'Oréal Paris Advanced Hairstyle Boost It High Lift Creation Spray evenly over your mane. Let it sit for a few hours or overnight and unravel to flaunt soft waves.
3. Go for a natural-looking style. Try a hair cream, applying it evenly to wet hair from roots to ends. When your hair has dried, you can also apply a teeny bit of hair cream to the ends for a little extra smoothness.
4. Rock some messy bedhead. There's no rule saying you always need to have a perfectly styled mane. Sometimes a perfectly imperfect look is just what you need. Allow your hair to air dry sans product, then brush through your mane. Reach for a pomade or paste, like the L'Oréal Paris Studio Line Overworked Hair Putty, and work a dime-sized amount through your strands. Scrunch and add product as you go, defining your layers and adding texture. Just keep in mind that less is more—you can add more product if needed, but it's much harder to take excess product away.
5. Put hair accessories to use. Think a headband is only for the daytime? Think again! You can use a comfy, cloth loop headband to create a gorgeous heat-free hairstyle overnight! First, put on the headband as you normally would. Then, take a one-inch section of hair and wrap it around the headband until there's no more length to wrap. Continue this with the rest of your length. Catch some Z's and allow your hair to air dry. When you wake up and your strands are dry, gently unwind your hair from around the headband to reveal heat-free curls!
10. ROCK A BRAID
Fishtail braids, braided crowns, braided buns, or pretty much any type of braid hairstyle you fancy, will always come in handy for keeping damaged strands out of your face. And braids happen to look gorgeous when they have a bit of texture, so this is the perfect style to create sans any heat. One of our favorite styles of the moment happens to be the fishtail braid thanks to its beautiful herringbone pattern. It might look complicated, but it's decidedly not. Here's how to do it: Gather your hair to one side and divide it into two parts. Take a half-inch section from one side and cross it over the other, repeating this process until you reach the bottom of your hair. Secure your plait with a clear elastic. Yep, it's that easy!
Editor's note: Struggling to create your fishtail? Gather your hair into a ponytail and secure with an elastic before braiding. This gives you more control—which is much appreciated when you're just a beginner at braiding. When you're finished braiding, you can leave the elastic in your hair or snip it away with a pair of scissors. That way, this styling tip can remain our little secret.
11. HEAD TO THE SALON FOR A CUT
Why not use this opportunity for a fresh start? With so many cool haircuts gaining popularity—like layered bobs, lobs, and pixies, to name a few—there's never been a better time to experiment and try something new. This is a great option if your hair is very damaged, as it'll eliminate any split ends that may be taking a toll on your overall beauty look.
Too timid to make an extreme change? That's OK! Sometimes, even getting a trim can make a world of difference in how damaged hair looks and feels. Plus, who doesn't love spending some time at the salon—you get to sit back, relax, and be pampered for a couple of hours before leaving feeling super-confident. It's a win-win!
12. BRUSH LIGHTLY
That old saying about brushing your hair for 100 strokes before bed? Yeah, it's not true at all, and according to the AAD, it will actually make your hair more damaged in the long run. While your hair definitely does need brushing, it doesn't need that much brushing! Just a few very gentle strokes will do.
We have more tips for damaged hair to share with you. Check out our article on 20 Hairstyles for Damaged Hair, next.
Discover more tips & tricks
Keep your skin happy
See all articles
Shop Featured Hair Care products
Discover More