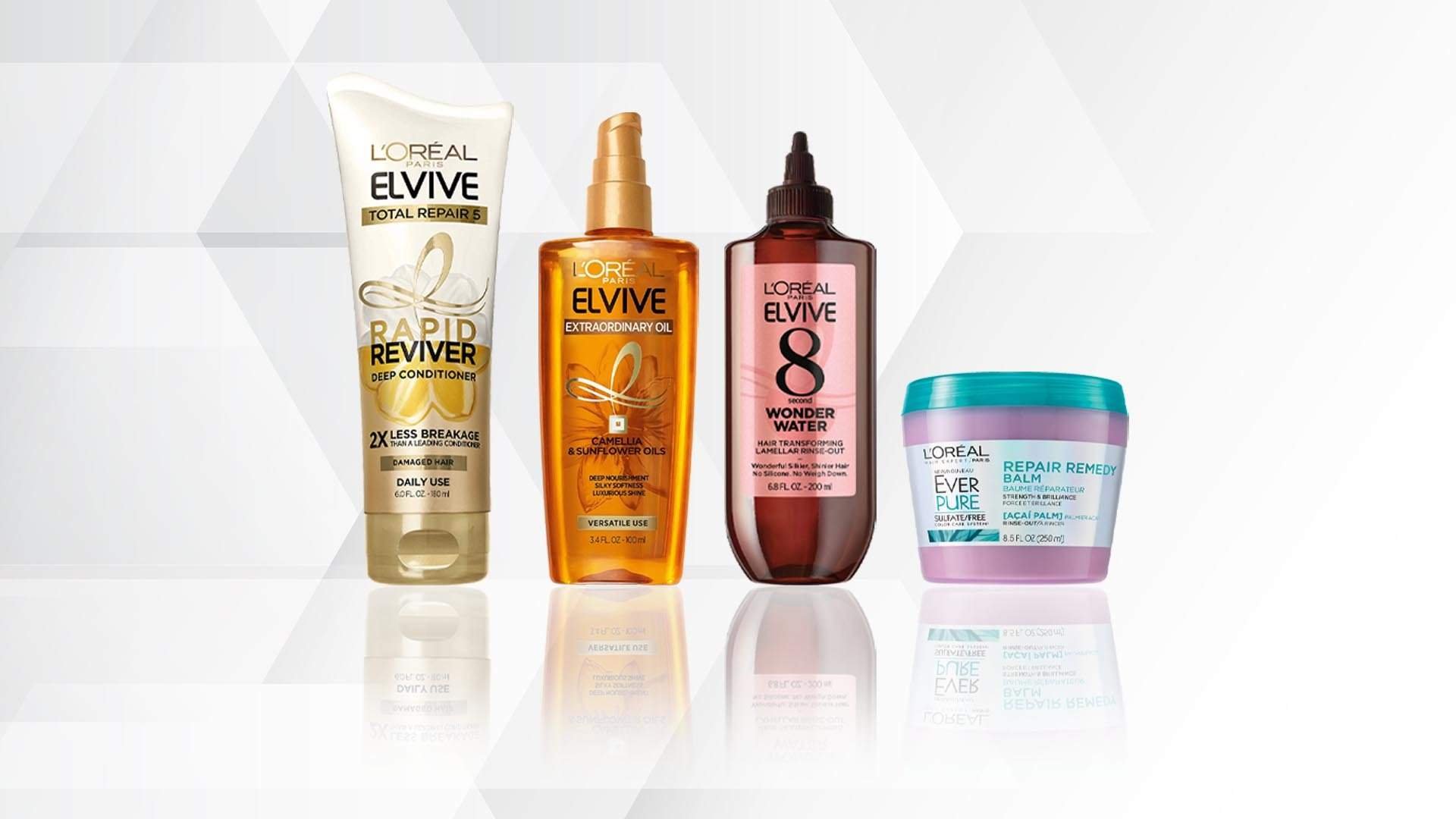 damaged hair
11 Products for Hair That Looks Healthier
We can all agree that healthy hair tops the list of sought-after beauty traits. Whether you're working with straight hair, wavy hair, or a curly hair texture, it's safe to say that you go above and beyond to give your mane the TLC that it needs. From hair masks and treatments to deep conditioners and everything in between, having a variety of healthy hair products is key for bringing your hair dreams to life. That being said, you want to make sure you're using the right products. Here we've rounded up 11 hair care products from L'Oréal Paris that are worth adding to your hair care arsenal if healthy-looking hair is your goal.
1. LAMELLAR HAIR TREATMENT
By now, you likely know that not all hair treatments are created equal. If you've tried your hand at various treatments to no avail, you may think that this essential doesn't live up to the hype. Well, the L'Oréal Paris Elvive 8 Second Wonder Water Lamellar Hair Treatment is here to make you a believer. Formulated with lamellar technology, this rinse-out treatment works in just eight seconds to target damaged areas of hair and smooth your strands for a healthy-looking result. In turn, you'll enjoy smooth, shiny, and silky strands after every use.
How to use it: Use two to three times a week on wet hair after shampooing. Apply directly to wet hair, massaging it through your strands for eight seconds. Rinse out, avoiding contact with eyes. Follow your normal conditioning routine.
2. DEEP CONDITIONER
Have you noticed that your hair is looking a little on the dull and lackluster side? Chances are good, you may need to level up in the conditioning department. Sure, a nourishing conditioner is standard for a solid hair care routine, but it could be necessary to go the extra mile with a deep conditioner to give your mane a hydrated and healthy appearance. The L'Oréal Paris Elvive Total Repair 5 Rapid Reviver Deep Conditioner can perfectly fill this role. Formulated with a 20 percent conditioning serum, almond, and protein, this offering fortifies each strand, reinforcing the hair fiber to repair your hair.
How to use it: After shampooing and rinsing, apply a generous amount onto wet hair from the roots to the ends. Leave on for one minute and rinse thoroughly with lukewarm water.
3. NOURISHING SHAMPOO
Of course, no healthy hair product arsenal is complete without the right shampoo. You want an offering that will not only remove dirt, oil, and other impurities from your hair but also take your overall hair care to the next level. The L'Oréal Paris EverPure Repair & Defend Shampoo is formulated with acai, goji, and a UV filter to help protect your strands, defend against daily color aggressors, and repair damage. Pair it with the L'Oréal Paris EverPure Repair and Defend Conditioner to reap all of the benefits.
How to use it: Apply the shampoo to wet strands, gently massaging it through your hair, then rinse with lukewarm water. Finish the job by applying conditioner to wet hair and massage gently. Leave on for one to two minutes, then rinse.
4. HAIR MASK
If damaged hair has become the bane of your existence, knowing how to take care of your hair properly is the foundation for welcoming healthier strands. While you may have a shampoo, conditioner, and hair treatment that you rely on, you're leaving one important product out: a hair mask. Hair masks are great for addressing a variety of hair concerns, including dryness, damage, brassiness, and more. So, if you want to get your locks back in mint condition, it's time to make room in your collection for a hair mask. The L'Oréal Paris EverPure Repair Remedy Balm is a rich offering that works to instantly penetrate your hair strand by strand to restore strength and brilliance for stronger, shinier strands.
How to use it: Massage a generous amount onto damp hair from the roots to ends. Leave on for three to five minutes and rinse thoroughly with lukewarm water. Use twice a week or as needed. Be sure to use this offering with the L'Oréal Paris EverPure Repair & Defend Shampoo and L'Oréal Paris EverPure Repair & Defend Conditioner to get your desired results.
5. HAIR SERUM
Believe it or not, there are plenty of ways to provide your strands with moisture. While you may only be familiar with the essentials, a hair serum can totally transform your strands when used the right way. Aside from providing hydration, hair serums can add shine, protect against humidity, help with damage, and more. One of our favorites is the L'Oréal Paris Elvive Extraordinary Oil Treatment, which does a great job of instantly transforming dry, dull hair into a nourished and silky mane.
How to use it: Rub a few drops in-between your palms and apply the serum throughout damp hair concentrating on the ends. You can also use the serum as a finishing touch for your desired style or before shampoo to nourish hair. Pair it with the L'Oréal Paris Elvive Extraordinary Oil Shampoo and L'Oréal Paris Elvive Extraordinary Oil Conditioner to create a complete routine.
6. SCALP SCRUB
Your hair may get all of your attention, but what about your scalp? If you don't give your scalp the proper attention, dirt, oil, and products can begin to build up, making it super easy for your hair to sport a flat and weighed down appearance. That's why it's essential to exfoliate your scalp to keep your mane in order. The L'Oréal Paris EverFresh Micro-Exfoliating Scrub is a sulfate-free option that's formulated with apricot seeds to help gently remove impurities, flakes, and buildup from dirt and excess oils that can cause hair to become weighed down.
How to use it: Wet your hair and apply the scrub, gently massaging it onto your scalp and the rest of your hair. Once complete, follow up with the L'Oréal Paris EverFresh Anti-Dandruff Shampoo to help maintain a healthy-looking mane.
7. LEAVE-IN CONDITIONER
As you can see, you can't go wrong with nourishing your strands with moisture. If you find that your hair type has difficulty maintaining moisture and other healthy hair products don't seem to cut it, you could benefit from a leave-in conditioner. Similar to deep conditioners, this option helps your strands maintain hydration for a healthy look and feel. The L'Oréal Paris EverStrong Break Proof Lotion works to strengthen your strands and protect your hair from breakage without weighing down your hair.
How to use it: Using a rattail comb, part your hair in sections and apply a generous amount of your leave-in to each section from root to tip—style as desired.
8. CURL MOUSSE
Contrary to popular belief, you don't have to rely on heat tools to style your mane. In fact, taking a break from hot tools can go a long way in maintaining the overall health of your hair. If you're ready to trade in your blow-dryer or diffuser for a heat-free styling option, the L'Oréal Paris Advanced Hairstyle CURVE IT Elastic Curl Mousse will suit your needs. This curl mousse works to build soft and bouncy curls sans the sticky feel that comes with some mousse formulas.
How to use it: Apply an egg-sized amount of mousse to damp strands and scrunch from the roots to ends. Let your hair air dry, and your work is complete.
9. HEAT PROTECTANT
There's no denying that some hairstyles call for heat tools, and we aren't suggesting you need to skip those styles altogether. But if you're not protecting your hair from heat, your strands will pay the price. When skipping heat styling isn't realistic, use a heat protectant like the L'Oréal Paris Advanced Hairstyle SLEEK IT Iron Straight Heatspray before reaching for your hot tools. After all, you can't flaunt healthy hair with heat damage.
How to use it: Simply press the button to unlock the heat procteant spray's trigger and spritz evenly onto damp or dry hair section by section.
10. HAIR CREAM
Love the idea of styling and providing your strands with moisture all in one step? That's what you get when you welcome a hair cream into your routine. Another excellent option for heat-free styling, the right hair cream can help you define your texture and keep your strands in place all day long. If you have curly hair, pick up the L'Oréal Paris EverCurl Sculpt & Hold Cream-Gel, which is formulated with coconut oil.
How to use it: Apply two pumps evenly through towel-dried hair. Let your hair air dry or use a diffuser on the lowest setting possible to speed up the drying process.
11. HAIR DETANGLER SPRAY
One of the easiest ways to damage your hair is by failing to detangle your strands the right way. Tangled strands can lead to breakage, brittle hair, and hair loss, so it's totally worth adding the right detangling products to your routine to help keep hair woes at bay. The L'Oréal Kids Burst of Sweet Pear Tangle Tamer for All Hair Types is the detangling fix you need. With its spray-on conditioning formula, it detangles any hair type in seconds—along with giving your mane a delicious pear scent. Perfect for wet or dry hair, you can consider even the most difficult tangles to be taken care of with this staple.
How to use it: Simply spray your strands with the detangling spray and use a wide-tooth comb to separate knots and tangles, starting with your ends and working your way up. Spritz and repeat as needed.
Discover more tips & tricks
Keep your skin happy
See all articles
Shop Featured Hair Care products
Discover More