all hair types
How to Straighten Your Hair with a Flat Iron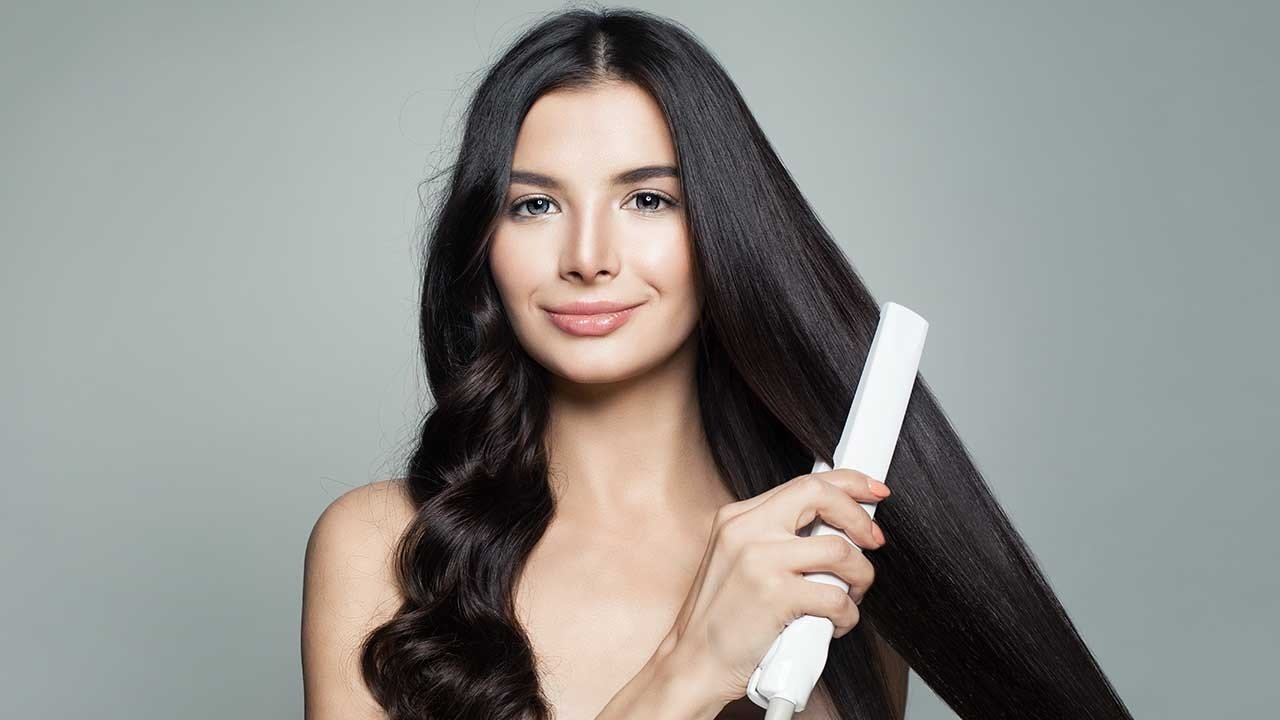 If you have wavy or curly hair, you've probably tried straightening your hair with a flat iron at one point or another. Even though waves and curls are hair style trends at the moment, we get that sometimes you want to switch up your hairstyle and rock straightened strands. Unfortunately, achieving a super smooth 'do doesn't always go so smoothly. Heat styling tools aren't exactly the easiest to use and it can be frustrating to spend all that time straightening your hair, only for it to look less sleek than you wanted. Of course, all hope isn't lost. To up your flat ironing game, follow our step-by-step guide for how to straighten hair.
STEP 1: SHAMPOO AND CONDITION
Before you reach for your flat iron, set yourself up for straight hair success. This process starts in the shower. Use a system of smoothing shampoo and conditioner, like the L'Oréal Paris EverPure Frizz-Defy Shampoo and L'Oréal Paris Hair EverPure Frizz-Defy Conditioner. This system of shampoo and conditioner will keep your hair frizz-free and leave it with smooth luminosity. Massage the shampoo onto wet hair, lather, then rinse. Follow up with the conditioner, leaving it on for 1-3 minutes before rinsing out. When you hop out of the shower, gently wring out excess water and blot your hair dry with a cotton T-shirt to keep your locks smooth.
STEP 2: APPLY HEAT PROTECTANT
Before straightening your hair, you're going to blow dry it. But first, let your hair air dry for a while, that way you won't have to keep blow-drying the same sections of sopping wet hair over and over again. Once you're ready to go, apply the L'Oréal Paris Advanced Hairstyle SLEEK IT Iron Straight Heatspray, which provides up to 450 degrees of heat protection and helps extend the lifetime of your straightened style.
STEP 3: BLOW-DRY YOUR HAIR
Use a large paddle brush to help achieve a smooth effect when you blow-dry your hair. With your brush, focus your blow-dryer near your roots, then work your way down to your ends until you've completely dried your hair. Make sure to use the nozzle attachment that came with your blow-dryer, as this can help with heat distribution and creating a smoother look.
STEP 4: FLAT IRON YOUR STRANDS
It's go time! Start straightening your strands by splitting your hair into small sections, to help make the process easier. You can use lobster clips to set sections out of the way, then pull your flat iron through each section of your hair slowly, allowing it to smooth out twists and kinks in a single pass. Straighten your lower layers first, then work your way up to the outer layer of your hair. Be sure to look at your hair from all angles to make sure that there aren't any lingering waves. Once you're happy with how your straight hair looks, run a boar bristle brush through your strands.
STEP 5: SET YOUR LOOK
You just put in a whole lot of hard work to straighten your hair, so make it count by setting your look. Apply a tiny bit of hair serum, like the L'Oréal Paris EverSleek Frizz Finish Oil-In-Serum, to your hair, focusing it mostly on the ends. Of course, just because you're done using your flat iron doesn't mean your work is done. Think about how you're going to sleep on your freshly straightened hair. When you go to bed, help keep your smooth, sleek style in place by wrapping your hair in a silk scarf.
Congrats: You're officially a hair straightening pro! Now that you know how to use a flat iron to straighten your hair, you're ready to move on to your next lesson. Check out our article, 3 Hairstyles You Can Create with a Flat Iron, for step-by-step tutorials on using this heat tool in multiple ways. Spoiler alert: you can use a flat iron for more than just straightening your hair!
Discover more tips & tricks
Keep your skin happy
See all articles
Shop Featured Hair Care products
Discover More