all hair types
5 Tips to Help Keep Hair Looking Healthy This Summer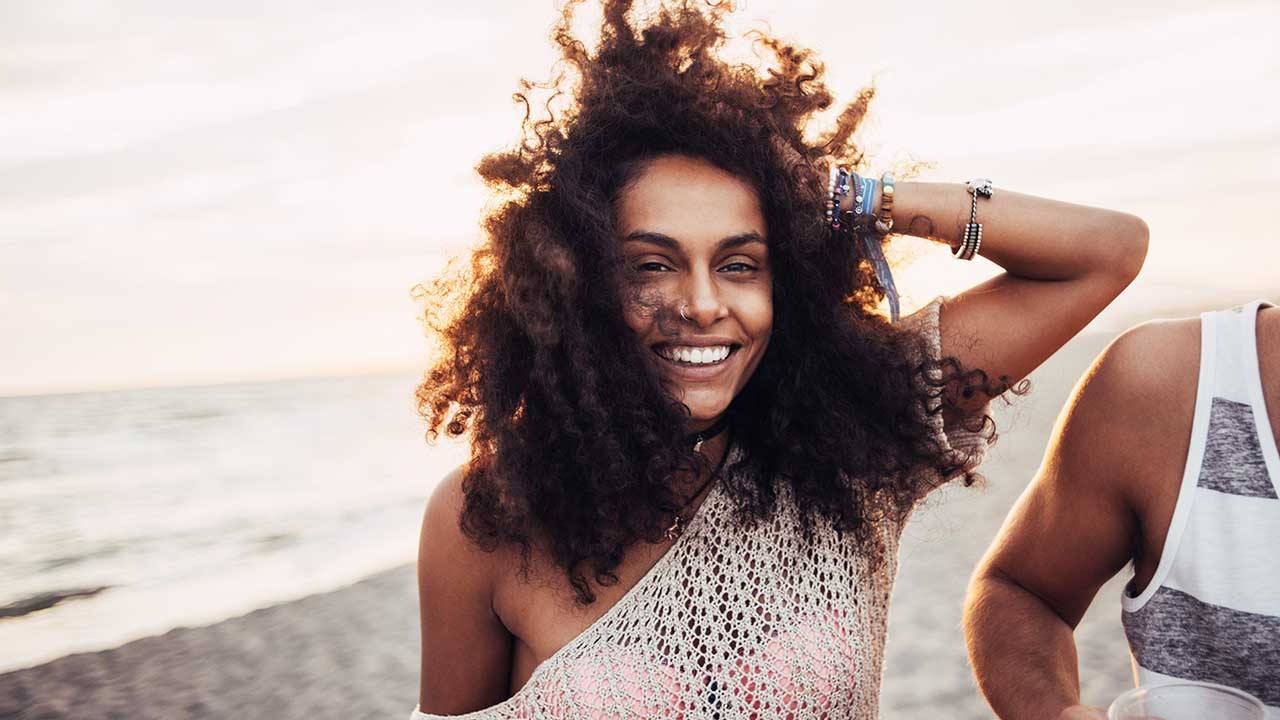 Summer: It's the best season for our mood (it's amazing how relaxing a trip to the beach can be!), but it just so happens to be one of the worst seasons for our hair. That's because extreme heat, excessive exposure to UV rays, and constant contact with salty air and chlorine-filled water can be seriously drying—and that can even leave you with damaged hair. So, what can you do to protect your hair from all the elements this summer? Below, we're sharing an easy five step hair care routine, including shampoo, conditioner, and hair masks perfect to use this season. Healthier-looking hair awaits you!
STEP 1: DEEP CONDITION BEFORE YOU GET IN THE SHOWER
The first step in your hair care routine this summer should be conditioning. Yes, we're talking about conditioning before reaching for shamoo. Coat your dry hair with your favorite conditioner and tuck your strands into a shower cap. Don't forget to bring this conditioner into the shower with you—you'll need it again in step five. Try the L'Oréal Paris EverPure Repair & Defend Conditioner. Change up your deep-condition frequency based on your hair: If you have thicker strands, you may benefit from doing this deep-conditioning routine more often—even every day. Thin-haired gals can stick to one hair treatment per week. If your coif is color-treated, swap out regular conditioner for one that is safe for color-treated hair. The one we've recommended here is sulfate-free and suitable for use by those with colored hair.
STEP 2: DO OTHER SHOWER STUFF
Don't rinse out the conditioner immediately! Take your time to work your way through the rest of your shower routine. Shave. Soap up. Exfoliate. Basically, do anything except wash your hair for 5-10 minutes while you let it sink into your strands for full effect. While you're keeping busy, the shower cap-steamy air combo will let your strands soak up the conditioner.
STEP 3: RINSE out the conditioner
This step seems pretty straightforward, but there are ways to fail at rinsing. Yep, it's true. Your shampoo can only do its job (to clean) if there is nothing in the way, like residual conditioner. You're ready to move onto the next step when you can run your fingers through your hair, from root to ends, and not feel any remnants of product. Your strands should be detangled, but should not feel filmy. Once that happens, it's onto shampoo.
STEP 4: double up your shampoo
There is a technique to shampooing. Concentrate on your scalp where natural oils are being produced, and work your shampoo through the roots to create a base lather. Now, rewet your head and add a dollop more shampoo to build your lather. Choose a cleanser that's sulfate-free, like the L'Oréal Paris EverPure Repair & Defend Shampoo. Now it's time to rinse thoroughly.
STEP 5: RE-CONDITION
It's time for round two of conditioning! Starting at roughly ear height, massage conditioner down to your ends. Then apply the same rinse technique that you used to rinse out your conditioner previously.
Bonus tip: Add a hair mask to your weekly routine
Sometimes you may feel like your hair needs an even deeper conditioner—and that's when a hair mask can prove itself useful. Once or twice a week, try using the L'Oréal Paris EverPure Repair Remedy Balm. If you're feeling a bit more low-key and want to be able to care for your hair without making a mess, try the L'Oréal Paris EverPure Intense Repair Hair Sheet Mask or L'Oréal Paris EverPure Deep Moisture Hair Sheet Mask, which conveniently wrap around hair for head-turning hair results.
Now that you know how to take care of your hair this summer, it's time to turn your attention to your complexion. Here are 10 Ways to Help Keep Your Skin Looking Healthy This Summer.
Discover more tips & tricks
Keep your skin happy
See all articles
Shop Featured Hair Care products
Discover More