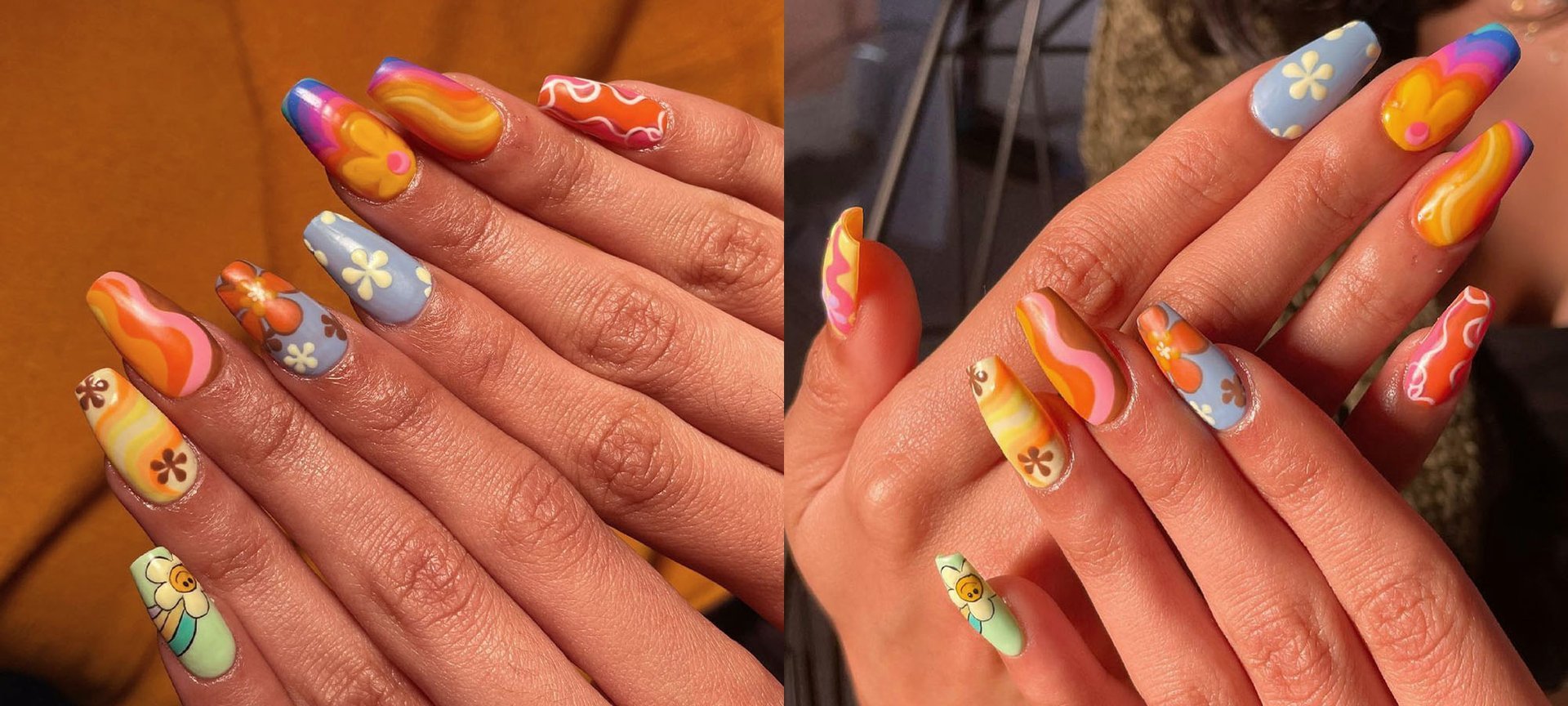 beauty trends
9 Acrylic Nail Art Ideas To Pair With Your Halloween Costume
Nail the spooky spirit of the holiday.
Regardless of how you're celebrating Halloween this year, don't miss out on the opportunity to up your nail game and get a little spooky. Whether you're dressing up and want an acrylic manicure to match or opt for out-of-this-world nail art to serve as your costume, we've got you covered. Ahead, find creative and chic acrylic nail art designs that look stunning solo and pair perfectly with different Halloween costumes.

Animal Print
Last year, lots of people threw on a pair of animal ears and called it a costume. But, no shade here—it's truly one of the easiest ways to take part in Halloween festivities without any prior planning. To take the simple Halloween costume up a notch, consider a manicure that matches. Whether you're going as a tiger, cheetah or cow, animal print french tips should be your go-to.

Marbled Blood Red
Lean into the theme of your costume and recreate a trendy marbled blood-red manicure. Nothing says vampire like fangs or a spooky set of stiletto or coffin-shaped acrylics.

Iridescent Acrylics
Hone in on your supernatural powers with a set of iridescent acrylics. Beware, the tiny gold and black stars, moons and eyes are subtle enough to wear long after the holiday ends, but are sure to charm everyone who lays eyes on them.

Team Spirit
Rep your favorite player this Halloween by matching your mani to their team's jersey. All you'll need is the team's colors to create an acrylic nail design that's all about team spirit.

Flaming Hot Tips
Pair a red-hot firefighter costume with a set of acrylics that really brings the heat. Fiery orange and white tips will not only work well with your costume, but will add a bit of spice to every outfit you wear after the holiday.

Sea-Inspired Set
Sea-inspired blue rounded tips are perfect for any mermaid or merman this Halloween. A nude-based manicure with crashing waves and gulls flying overhead is sure to make your inner mermaid feel less like a fish out of water.

Packing Punches
Boxers are fierce, so your nails should be too. Pair your boxer costume with a set of acrylics that pack a serious punch. Be sure to add a boxing gloves design on each ring finger nail atop solid-colored polish.

Clown Faces
Not sure if you should be a scary clown or a funny clown this year? You don't have to choose. Create an almond-shaped acrylic manicure by using a light pink polish with flecks of gold as the base. Then, have your nail tech draw a smiling clown face on one thumb and a sad-faced clown on the other (clowns of any kind will scare most people anyway).

Flower Power
Radiate good vibes with a '70s costume and vintage floral nails. The best part about a vintage nail art look is that the mix and match designs capture the groovy nature of the decade.
Next: 21 Easy To Do Nail Art Designs To Spice Up Your Timeline
Written By: Caitlyn Martyn, Photo Credit: Isla Evill, IG/@evilstudios.isla
{ "@context": "https://schema.org/", "@type": "WebPage", "speakable": { "@type": "SpeakableSpecification", "cssSelector": ["speakable-content"] }, "url": "https://www.lorealparisusa.com/beauty-magazine/beauty-tips/beauty-trends/halloween-acrylic-nail-art" }
Discover more tips & tricks
Keep your skin happy
See all articles
Improve your routine
Show your new look more love:
makeup
{ "@context": "http://schema.org", "@type": "BreadcrumbList", "itemListElement": [ { "@type":"ListItem", "position": 1, "item": { "@id": "/", "name": "Home" } } , { "@type":"ListItem", "position": 2, "item": { "@id": "https://www.lorealparisusa.com/beauty-magazine", "name": "Beauty Magazine" } } , { "@type":"ListItem", "position": 3, "item": { "@id": "https://www.lorealparisusa.com/beauty-magazine/beauty-tips", "name": "Pro Ideas For Your Unique Look" } } , { "@type":"ListItem", "position": 4, "item": { "@id": "https://www.lorealparisusa.com/beauty-magazine/beauty-tips/beauty-trends", "name": "Beauty Trends" } } , { "@type":"ListItem", "position": 5, "item": { "@id": "https://www.lorealparisusa.com/beauty-magazine/beauty-tips/beauty-trends/halloween-acrylic-nail-art", "name": "halloween-acrylic-nail-art" } } ] }