sun care and self tanning
6 Skin Care Hacks to Help You Stay Sun Safe This Summer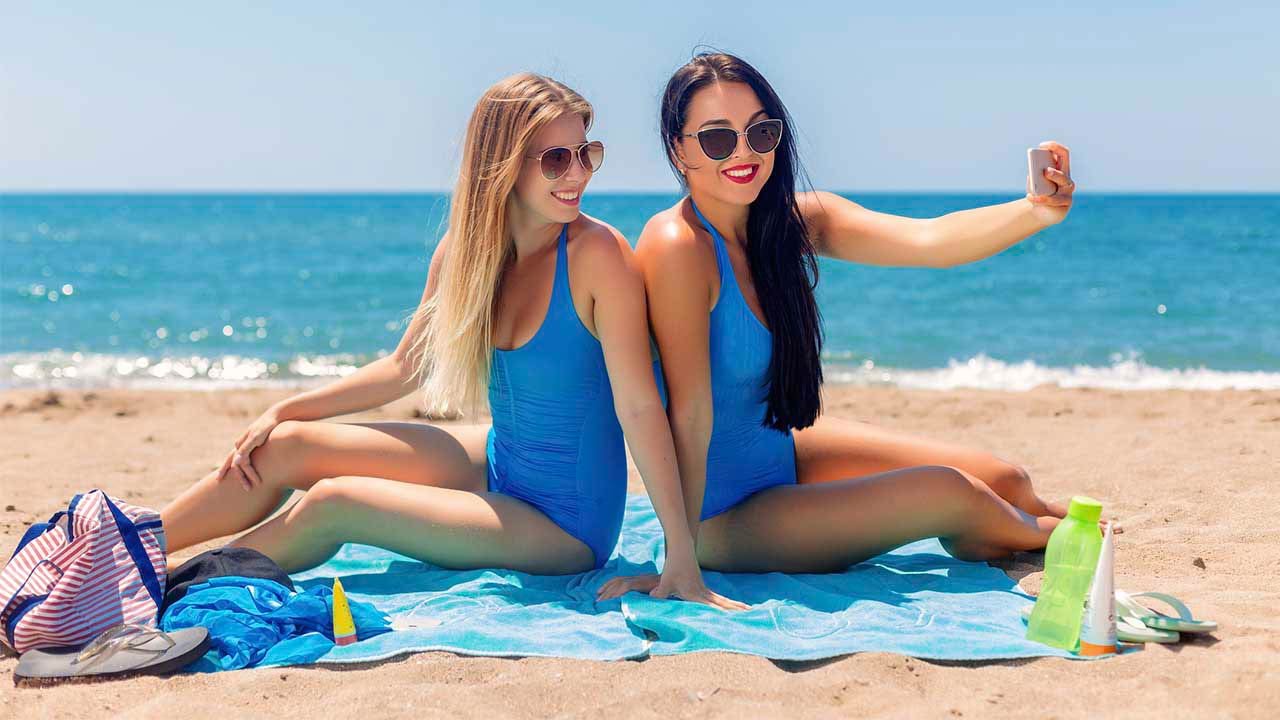 The sun is shining, birds are chirping, and flowers are blooming. Summer is here! But while you may be in a carefree mindset during the warm weather season, it's important to make sun protection a priority in your skin care routine. According to the Food and Drug Administration (FDA), spending time in the sun increases your risk of skin cancer and early skin aging—so it's key to take multiple sun protection measures year-round in addition to wearing a broad-spectrum sunscreen with an SPF of 30 or higher (more on those later!). Of course, you can still enjoy your time outdoors this summer—just remember to make smart choices when it comes to helping protect your skin from the sun. Here, six skin care hacks to help you get your summer sun protection skin care routine on the right track, including product recommendations like moisturizer with SPF and aloe vera.
SKIN CARE HACK #1: CHOOSE A BROAD-SPECTRUM SUNSCREEN BASED ON YOUR SKIN TYPE
The FDA recommends wearing a broad-spectrum sunscreen with an SPF of 30 or higher daily. That being said, what sunscreen you use depends on your skin type. Our pick: the L'Oréal Paris RevitaLift Bright Reveal Brightening Day Moisturizer SPF 30.
If you have sensitive skin…According to the American Academy of Dermatology (AAD), ingredients like fragrance can irritate your complexion, so check out the label before adding a new broad-spectrum sunscreen to your skin care routine.
If you have dry skin…help keep your skin hydrated by choosing a moisturizing broad-spectrum sunscreen, suggests the Skin Cancer Foundation.
If you have oily skin…look for a broad-spectrum sunscreen that has a matte (a.k.a. non-shiny finish).
SKIN CARE HACK #2: POUR YOUR SUNSCREEN INTO A SHOT GLASS BEFORE APPLYING IT
You know that broad-spectrum sunscreen should be part of your daily skin care routine—but how much should you use? Well, the Skin Cancer Foundation suggests applying an ounce (two tablespoons) worth to your entire body. That's about the size of a shot glass, so pour your sunscreen into one to help you visualize how much you need to put on from head to toe.
SKIN CARE HACK #3: SET A REMINDER FOR REAPPLICATION
The FDA states that you should reapply sunscreen at least every two hours (or immediately after swimming or sweating). So, make sure to toss your sunscreen in your beach bag or purse—and consider setting a reminder on your phone so that you don't forget to reapply it throughout the day.
SKIN CARE HACK #4: DON'T FORGET YOUR LIPS
According to the Skin Cancer Foundation, one of the most often overlooked areas when it comes to sun protection is the lips. So, be sure to apply a lip balm formulated with broad-spectrum sunscreen before heading out the door for the day—and keep the tube in your bag so that you can reapply regularly.
SKIN CARE HACK #5: THINK BEYOND SUNSCREEN
Although wearing broad-spectrum sunscreen should be part of your daily skin care routine, it's not the only sun protection measure you should take. In addition to applying (and reapplying!) broad-spectrum sunscreen, the FDA also advises limiting your amount of time in the sun, especially during the peak hours of 10 a.m. to 2 p.m., seeking shade, and covering up exposed areas in long sleeves, pants, UV-blocking sunglasses, and a broad-brimmed hat. Consider this your excuse to go shopping for a few new cute summer accessories!
SKIN CARE HACK #6: HELP SOOTHE A SUNBURN
Even if you're pretty diligent with your sun protection routine, sunburns can happen. If you find yourself with a sunburn, head indoors ASAP to avoid exposing your skin to any more sun. The AAD recommends taking frequent cool baths or showers. You can also try applying a moisturizer formulated with aloe vera for some relief.
Remember: Wearing broad-spectrum sunscreen isn't your only defense against the sun. You should also take other sun protection measures (like limiting your time in the sun and covering up exposed areas). Now that you're armed with the few easy skin care hacks above, you're ready to put together a sun protection routine for summer. Next, learn about 7 Summer Skin Care Mistakes You Should Try to Avoid. We hope you enjoy the season!
Discover more tips & tricks
Keep your skin happy
See all articles
Shop Featured Skin Care products
Discover More