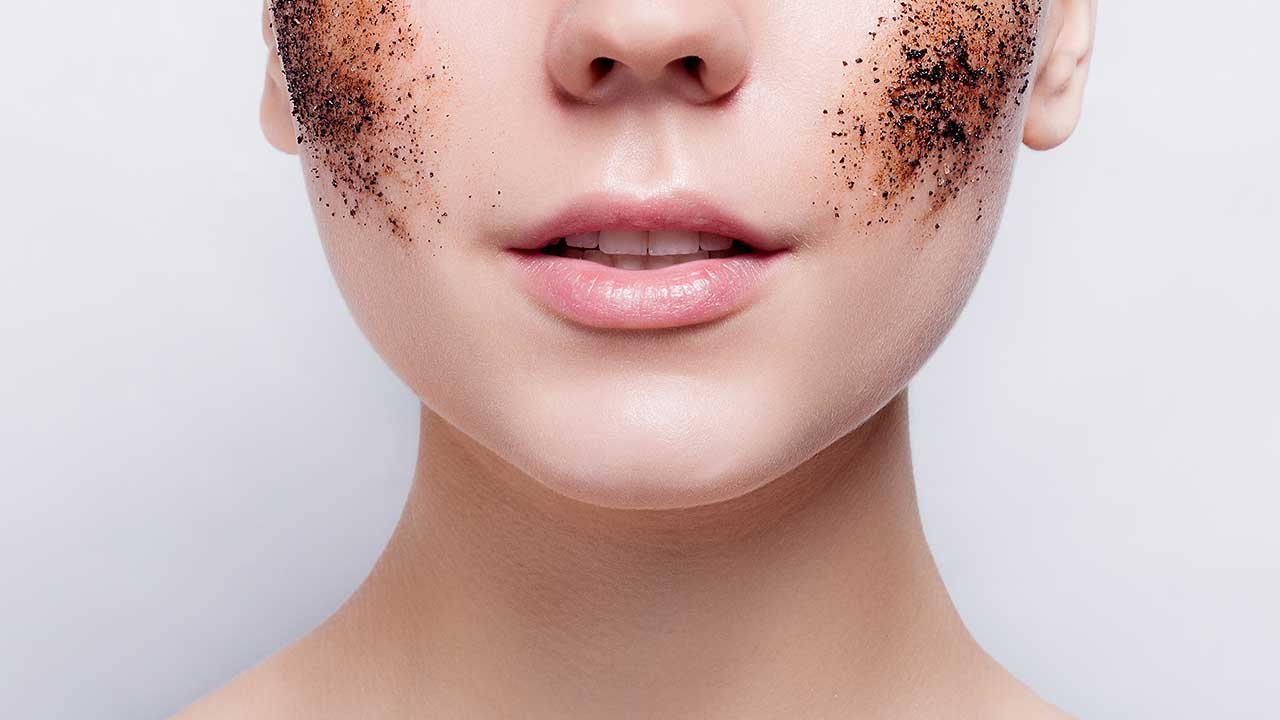 Chances are you've seen celebrities and influencers alike posting about sugar scrubs on your timeline. This type of face scrub happens to be trending as of late and with good reason. You've likely used a face scrub as part of your skin care routine a time or two. After all, it's one of the most popular skin care products, up there with facial cleansers, moisturizers, and face masks. But what's the deal with using sugar scrubs for exfoliation? Keep reading to learn all about this mechanical exfoliant, including how to use a sugar scrub, sugar scrub benefits you need to know about, and our best sugar scrubs to add to your routine.
WHAT IS A SUGAR SCRUB?
Let's back up a sec: A face scrub is a skin care product that can be used to mechanically exfoliate dead skin cell buildup from the surface of your skin. And sugar scrubs are a type of face scrub. Typically, they're formulated with sugar granules, which are used to help physically exfoliate that dead skin cell buildup. Exfoliating with a sugar scrub can help create the appearance of smoother, glowing skin. Just keep in mind that generally, you wouldn't exfoliate with a sugar scrub every day—consider it a sweet treat for your skin that you'd use a few times a week. That being said, sugar scrubs typically offer gentle yet effective exfoliation.
WHAT ARE THE BENEFITS OF USING A SUGAR SCRUB?
If you're curious about using sugar scrubs in your skin care routine, the following benefits are worth taking note of.
Sugar scrub benefit #1: Remove buildup. Like we mentioned, a sugar scrub is a scrub that's used for mechanical exfoliation. This type of exfoliation removes the top layer of skin cells, per the American Academy of Dermatology (AAD), as well as impurities, dirt, and excess oils.
Sugar scrub benefit #2: Brighten skin. Not only does exfoliating with a sugar scrub remove buildup from your skin, but it also helps to create a more radiant complexion, as the AAD states the removal of dead cells leaves the skin looking brighter.
Sugar scrub benefit #3: Gentle exfoliation. It's no secret that certain exfoliation options can be harsh on your skin. Sugar scrubs are a gentler exfoliation option, as the sugar granules melt onto your skin for exfoliation that's kind to your complexion. Love that!
Editor's note: Tempted to make a DIY sugar scrub? We'd advise against it! Purchasing a sugar scrub that's been carefully formulated and tested is the best way to guarantee you don't irritate your skin and instead reap the benefits of using a sugar scrub.
WHAT'S THE BEST SUGAR SCRUB FOR YOUR SKIN?
Ready to add a sugar scrub to your skin care routine? We've got four options for you below. Each of our four sugar scrubs is formulated with a blend of three pure sugars.
L'Oréal Paris Pure-Sugar Purify & Unclog Kiwi Scrub: For a purified and clean look and feel, turn to this sugar scrub. In addition to the blend of pure sugars, this scrub is formulated with kiwi seeds—as evidenced by its bright green appearance. After using, dirt, oil, and impurities are effectively removed, while dull skin is gently polished away. With continued use over time, skin feels baby-soft, smooth, and comforted, while pores look tighter, unclogged, and less visible. Skin also looks less shiny and has more of a glow.
L'Oréal Paris Pure-Sugar Nourish & Soften Cocoa Scrub: Formulated with finely crushed cocoa, luxurious coconut oil, and rich cocoa butter, this butter-soft sugar scrub is kind to your skin. Immediately, skin looks more refined and feels softer and smoother, while dirt, oil, and impurities are effectively removed and dull skin is gently polished away. With continued use over time, skin feels nourished, softer, and suppler, while dry skin is smoothed.
L'Oréal Paris Pure-Sugar Smooth & Glow Grapeseed Scrub: Want baby-soft skin? Try this sugar scrub, which is formulated with finely ground acai, as well as grapeseed and monoi oils. Immediately, skin feels smoother and looks glowing, while dull skin is gently polished away, and dirt, oil, and impurities are effectively removed. Skin feels baby-soft, smooth, and comforted and has a visible glow with continued use over time.
L'Oréal Paris Pure-Sugar Resurface and Energize Kona Coffee Scrub: The formula of this sugar scrub includes finely ground Kona coffee, almond oil, and coconut oil, in addition to the three pure sugars mentioned earlier. This face scrub will remove any impurities from your skin and leave you with baby-soft, energized, and visibly refined skin.
Editor's note: Curious about coffee scrubs and their skin care benefits? Check out our article on The Benefits of Using a Coffee Scrub.
HOW DO YOU USE A SUGAR SCRUB?
Using a sugar scrub is easy! Once you've chosen which of the four sugar scrubs above is best for your skin, smooth a small amount onto clean, dry skin using dry fingers. Then, wet your fingers and gently massage the sugar scrub over your face. Rinse thoroughly with lukewarm water and pat dry. Use three times a week as part of your skin care routine.
Editor's tip: You can also use any scrub from our line on your lips! Applying lipstick over dry, flaky lips can leave you with a patchy, unattractive finish. Use one of our sugar lip scrubs to gently buff away dead skin cell buildup on the surface of your lips, which can make for a smoother lipstick application.
HOW TO ADD A SUGAR SCRUB TO YOUR SKIN CARE ROUTINE
Now that you know all about sugar scrubs and how to use them, you may be wondering how you can incorporate one into your skin care routine. We've got you covered! Here's a step-by-step guide for using a sugar scrub as part of your daily regimen.
STEP #1: USE A FACIAL CLEANSER
Just as with any skin care routine, you want to start by cleansing your skin of any impurities with a facial cleanser. The L'Oréal Paris Pure-Clay cleansers are perfect for using with your sugar scrub. The entire line is formulated with three pure clays, and each cleanser has a sensorial clay-to-mousse texture.
STEP #2: GRAB YOUR SUGAR SCRUB
Once your face is cleansed, it's time to exfoliate your skin. Follow the steps listed above to remove any dead skin cells with your face scrub. You can include this step in your routine three times a week—more than that could lead to irritation.
STEP #3: APPLY A FACE MASK
A sugar scrub isn't the only skin care product that should be used regularly but not every single day. To give your skin a little extra TLC, you can also use a face mask up to three times a week. The Pure-Clay line consists of a total of five face masks you can choose from based on your skin care concerns. Have more than one skin care concern? No problem! Head over to our article, How to Multi-Mask, so you can learn how to target specific areas of your skin by using more than one face mask. Use the L'Oréal Paris Pure-Clay Multi-Mask Clay Tripod Kit to give the multi-masking trend a try and test out three different masks from the line.
STEP #4: APPLY A VITAMIN C SERUM
Using a vitamin C serum can help restore a healthy radiance to your skin. After washing off your face mask, simply apply it to your face and neck, smoothing it over your skin. Looking for a product recommendation? Let us suggest the L'Oréal Paris Revitalift Derm Intensives 10% Pure Vitamin C Serum, which contains 10% pure vitamin C. The serum is formulated without water and produced in controlled conditions to limit its exposure to oxygen and maximize its potency. The serum is also packaged in an air-tight metal tube that helps keep it from degrading so you can take advantage of its benefits for longer.
STEP #5: USE A FACIAL MOISTURIZER
Anytime you wash your face, you want to make sure you use a facial moisturizer to replenish any moisture you may have stripped from your skin. This is especially important after using a face scrub and face mask since you will have rinsed off your face multiple times. For your moisturizer, try the L'Oréal Paris Hydra Genius Daily Liquid Care - Normal/Oily Skin, L'Oréal Paris Hydra Genius Daily Liquid Care - Normal/Dry Skin, or L'Oréal Paris Hydra Genius Daily Liquid Care - Extra Dry Skin. Each of these moisturizers, which are formulated with aloe water and hyaluronic acid, offers intense and continuous hydration, leaving you with fresh, healthy-looking, and mattified skin.
Next up: Learn about another type of scrub in our article, Pass the Salt, Everyone's Obsessed with Salt Scrubs.
{ "@context": "https://schema.org/", "@type": "WebPage", "speakable": { "@type": "SpeakableSpecification", "cssSelector": ["speakable-content"] }, "url": "https://www.lorealparisusa.com/beauty-magazine/skin-care/skin-care-essentials/what-is-a-sugar-scrub" }
Discover more tips & tricks
Keep your skin happy
See all articles
Shop Featured Skin Care products
Discover More
{ "@context": "http://schema.org", "@type": "BreadcrumbList", "itemListElement": [ { "@type":"ListItem", "position": 1, "item": { "@id": "/", "name": "Home" } } , { "@type":"ListItem", "position": 2, "item": { "@id": "https://www.lorealparisusa.com/beauty-magazine", "name": "Beauty Magazine" } } , { "@type":"ListItem", "position": 3, "item": { "@id": "https://www.lorealparisusa.com/beauty-magazine/skin-care", "name": "Skin Care For Every Age" } } , { "@type":"ListItem", "position": 4, "item": { "@id": "https://www.lorealparisusa.com/beauty-magazine/skin-care/skin-care-essentials", "name": "Skin Care Essentials" } } , { "@type":"ListItem", "position": 5, "item": { "@id": "https://www.lorealparisusa.com/beauty-magazine/skin-care/skin-care-essentials/what-is-a-sugar-scrub", "name": "what-is-a-sugar-scrub" } } ] }