skin care essentials
The Skin Care Items You Need for Your Summer Travels
We're making it easy for you.
May 11, 2022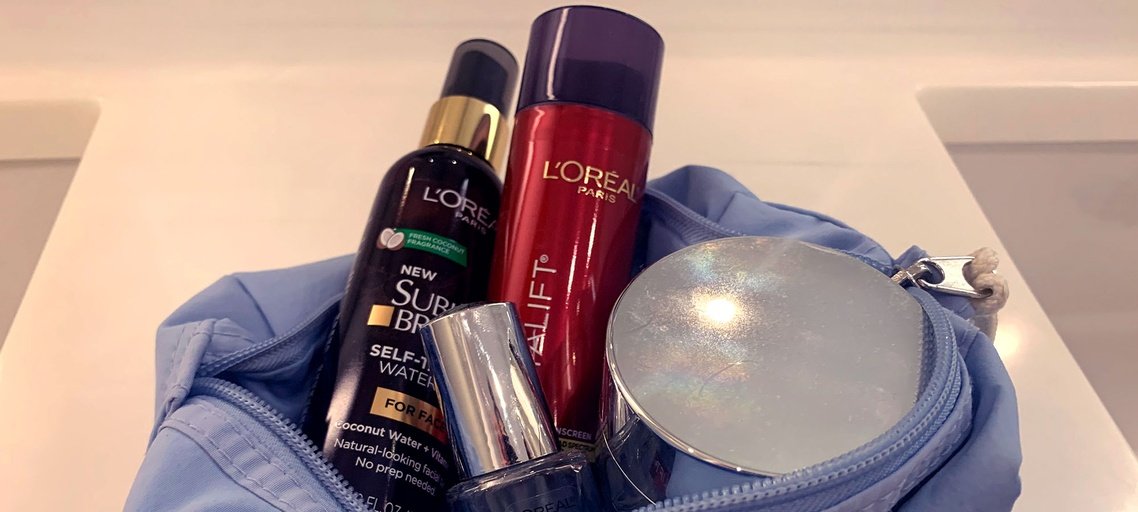 If weekend trips or far away travels are part of your plans this summer, curating a travel skin care kit should be too. Establishing a skin care routine when you're on the go is important to keep your skin looking and feeling great, but we know that pulling together a list of products you'll need adds just another task on your travel prep to-do list.
So, we're making it easy for you by sharing our tips to care for your skin while traveling and rounding up the summer skin care products you'll want to take with you on your adventures.
How to Take Care Of Your Skin While Traveling
The proper way to care for your skin while traveling depends on factors such as how long you'll be away and what the climate is like at your destination. If you'll only be gone for a short time, you can focus on the basics like cleansing, moisturizing and sun protection. If your trip is long — we're talking a week or more — then you'll probably want to include serums and exfoliating products too.
If you're heading to a hot, humid climate, it's a good idea to bring lightweight products and lots of SPF. If you're going somewhere with lower temperatures, richer moisturizing creams and more hydrating products are best.
Can You Bring Your Skin Care Products On the Plane?
If you'll be traveling by plane, it's important to make sure your products comply with TSA regulations to ensure they don't get thrown away. Liquids, gels and creams that are 3.4 ounces or 100ml or less are okay to bring in your carry on. Anything larger than that will need to be in a checked bag.
What to Include On Your Travel Skin Care Packing List
If you're questioning what to pack, we're simplifying it for you and sharing what you'll need, below.
1. Cleanser
Facial cleanser is a staple in any good skin care routine, so taking one on your travels is a must. We recommend the L'Oréal Paris Micellar Cleansing Water Complete Cleanser Waterproof - All Skin Types because it doubles as a cleanser and a makeup remover which will help you cut down on the amount of products you'll need.
It's also great because you don't need a sink to use it, making it the perfect choice if you'll be camping or going somewhere with limited accommodations. If you're just taking a carry-on luggage, you can pour some of it into a travel-size bottle.
2. Hydrating Under-Eye Product
The under-eye area is often one of the first places to get dry, and traveling on a plane or heading to a cool climate can make this worse. Be sure to pack a product to care for this area, like the L'Oréal Paris Revitalift Derm Intensives with 1.5% Hyaluronic Acid, 1% Caffeine Eye Serum. It helps to hydrate the skin, brighten and replump the area, and reduce the appearance of crow's feet.
3. Hydrating Moisturizer
Moisturizing your skin is key to keeping it healthy, so making sure to pack a hydrating moisturizer is essential. The L'Oréal Paris Revitalift Anti-Wrinkle + Firming Moisturizer is a perfect choice because it's great for daytime and nighttime use. It has a rich texture without being greasy, and it's formulated with pro-retinol to help address the appearance of fine lines and wrinkles.
4. SPF
The Skin Cancer Foundation recommends using sunscreen with an SPF of 30 or higher daily. While this is essential during your everyday life, it's even more critical when you're traveling and will be exposed to extensive amounts of sun. Cut down on room in your bag by packing an SPF that's formulated for both your face and your body.
{ "@context": "https://schema.org/", "@type": "WebPage", "speakable": { "@type": "SpeakableSpecification", "cssSelector": ["speakable-content"] }, "url": "https://www.lorealparisusa.com/beauty-magazine/skin-care/skin-care-essentials/travel-skin-care-packing-list" }
{ "@context": "https://schema.org/", "@type": "WebPage", "speakable": { "@type": "SpeakableSpecification", "cssSelector": ["speakable-content"] }, "url": "https://www.lorealparisusa.com/beauty-magazine/skin-care/skin-care-essentials/travel-skin-care-packing-list" }
Discover more tips & tricks
Keep your skin happy
See all articles
Improve your routine
Show your new look more love:
makeup
{ "@context": "http://schema.org", "@type": "BreadcrumbList", "itemListElement": [ { "@type":"ListItem", "position": 1, "item": { "@id": "/", "name": "Home" } } , { "@type":"ListItem", "position": 2, "item": { "@id": "https://www.lorealparisusa.com/beauty-magazine", "name": "Beauty Magazine" } } , { "@type":"ListItem", "position": 3, "item": { "@id": "https://www.lorealparisusa.com/beauty-magazine/skin-care", "name": "Skin Care For Every Age" } } , { "@type":"ListItem", "position": 4, "item": { "@id": "https://www.lorealparisusa.com/beauty-magazine/skin-care/skin-care-essentials", "name": "Skin Care Essentials" } } , { "@type":"ListItem", "position": 5, "item": { "@id": "https://www.lorealparisusa.com/beauty-magazine/skin-care/skin-care-essentials/travel-skin-care-packing-list", "name": "travel-skin-care-packing-list" } } ] }