skin care essentials
15 Ways To Save Your Skin During Winter 2020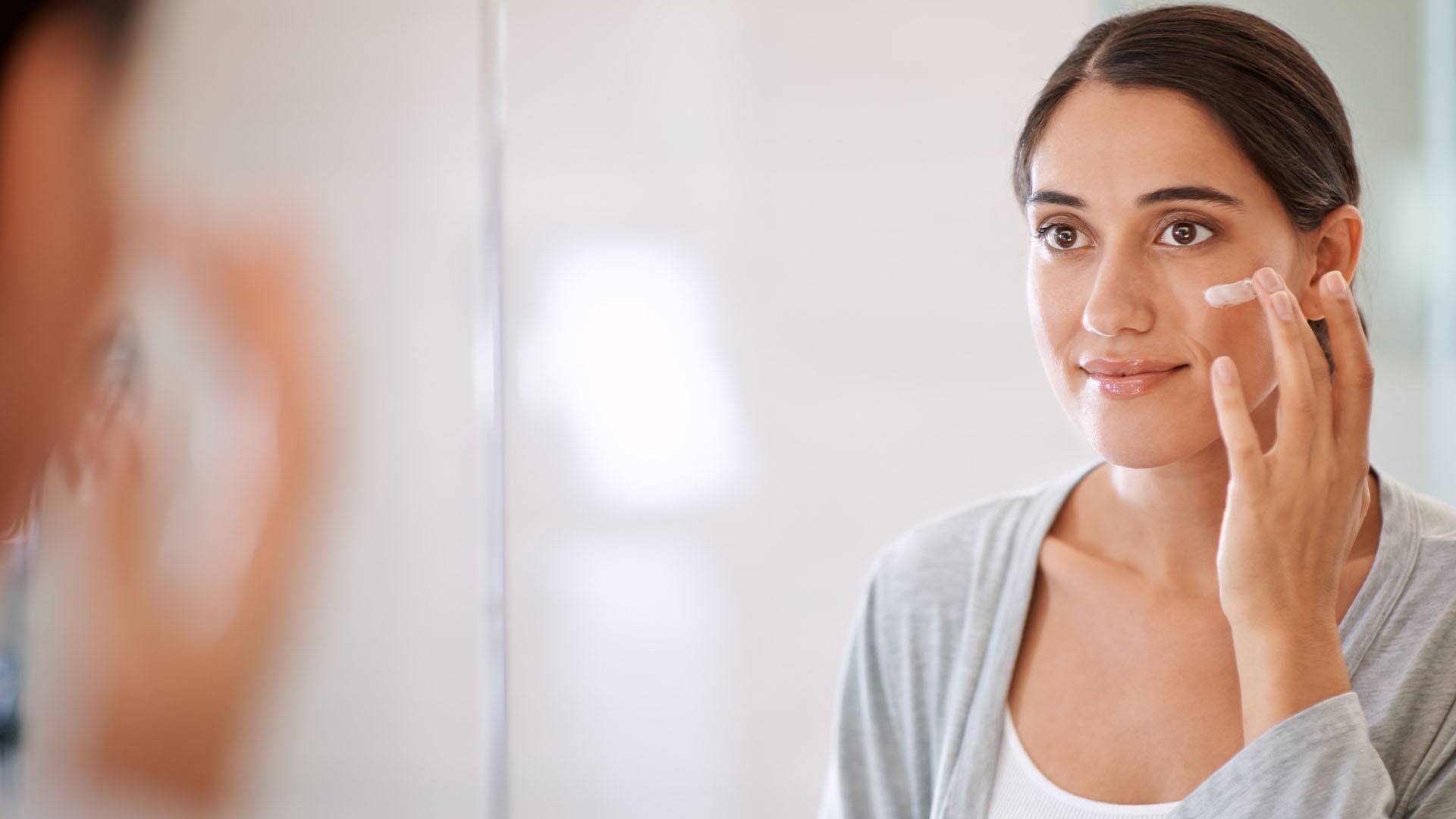 Thanks to harsh weather and dry conditions, your winter skin can take quite a beating. Think about it: The feeling of wind-burned, dry skin and chapped lips is enough to make your head spin. Couple that with virtual parties on the agenda, and you may find that your visage could use some major pampering. Luckily, the road to radiant, healthy-looking skin is not a difficult one. With the right skin care products, you can maintain a glowing complexion that lasts. If you're ready to restore your face back to its former glory or looking for a dry winter skin care refresh, you've come to the right place. Ahead, we're sharing our best tips for your skin care routine to help you navigate the cold weather season like a pro.
WINTER SKIN CARE TIP #1: USE LUKEWARM WATER TO WASH YOUR FACE
Though you may feel like dousing your face with scalding water after a day battling snow and icy wind, don't give in to the temptation. Extremely hot water can be damaging and dehydrating to winter skin, resulting in a drier complexion. Switch to washing with—and showering in—lukewarm water, in addition to limiting your cleansing time. The longer you spend vigorously washing your face, the more susceptible your skin will be to irritation from the harsh winter elements.
WINTER SKIN CARE TIP #2: CLEANSE WITH MICELLAR WATER
Winter has a way of drying out skin all on its own, so the last thing you want to do is over-cleanse or use a facial cleanser that's too harsh. Keep a hydrating and soothing micellar water, like the L'Oréal Paris Micellar Cleansing Water Complete Cleanser Waterproof - All Skin Types, on hand as a way to completely yet gently cleanse your face. All you have to do is soak a cotton pad with the formula and wipe it across your face until clean. No rinsing or rubbing required.
WINTER SKIN CARE TIP #3: KEEP UP THE (GENTLE) EXFOLIATION
When it comes to tackling dry winter skin, exfoliating never disappoints. Exfoliation removes dead skin cells from the surface of your complexion and allows your glow to shine through. However, it's important to use a gentle exfoliator, especially during the winter months. Try the L'Oréal Paris Pure-Sugar Smooth & Glow Grapeseed Scrub, L'Oréal Paris Pure-Sugar Resurface & Energize Kona Coffee Scrub, L'Oréal Paris Pure-Sugar Purify & Unclog Kiwi Scrub, or the L'Oréal Paris Pure-Sugar Nourish & Soften Cocoa Scrub, all of which can be used for gentle yet effective exfoliation. You can use any of these face (and lip) scrubs up to three times a week, so go ahead and make exfoliating a regular part of your routine.
Editor's note: Keep in mind, some people can only handle exfoliating once a week, while others can exfoliate a few times per week. Pay attention to your skin to see what's best for you.
WINTER SKIN CARE TIP #4: APPLY AN ULTRA-HYDRATING MOISTURIZER
Thoroughly nourishing winter skin requires using an ultra-hydrating moisturizer. Reach for the L'Oréal Paris Hydra Genius Daily Liquid Care - Extra Dry Skin, L'Oréal Paris Hydra Genius Daily Liquid Care - Normal/Dry Skin, or L'Oréal Paris Hydra Genius Daily Liquid Care - Normal/Oily Skin, which are formulated with hyaluronic acid and aloe vera water to help provide long-lasting hydration.
WINTER SKIN CARE TIP #5: MOISTURIZE SKIN WHEN IT'S DAMP
One of the key steps to moisturizing dry winter skin properly is locking in hydration while it's still damp. So, don't towel off after cleansing. Instead, apply moisturizer when your face is still wet. You can use the same tip when it comes to your body—after stepping out of the shower, apply a body lotion directly to damp skin.
WINTER SKIN CARE TIP #6: INVEST IN A HUMIDIFIER
Combatting dry skin in winter doesn't just have to do with the skin care products you use. A humidifier can help add moisture back into the air, so set one up near your bed and turn it on before you go to sleep.
WINTER SKIN CARE TIP #7: TRY A COMFORTING FACE MASK
If you've been searching for a reason to use a face mask, pampering stressed winter skin is the perfect excuse. Over time, harsh cleansing can become drying and sensitizing. As a result, your visage needs cleansing that is effective yet gentle. The L'Oréal Paris Pure-Clay Clear & Comfort Face Mask is formulated to draw out the buildup of impurities, dirt, and oils and visibly reduce the appearance of imperfections. It also helps to clear the look of congested pores and gently cleanse stressed areas. Apply an even layer to clean, dry skin and leave it on for 10 to 15 minutes. Rinse it off thoroughly with lukewarm water. Use three times a week for best results.
WINTER SKIN CARE TIP #8: USE A NIGHT CREAM
While using a moisturizer to hydrate winter skin is a must, there is no harm in taking your hydration game to the next level. Combat a dry face by adding a night cream, like the L'Oréal Paris Age Perfect Hydra Nutrition Manuka Honey Night Balm, to your evening regimen. This luxurious night balm moisturizer is formulated with manuka honey and nurturing oils to provide long-lasting, non-greasy, non-sticky hydration.
Editor's note: If you prefer to up the ante on the night cream front, it may be time to add the L'Oréal Paris Triple Power Anti-Aging Overnight Mask to your arsenal. This luxurious leave-on option leaves skin with a hydrated, radiant look and feel with just one use. Swap out your go-to night cream for this pick a few times a week to reap the benefits.
WINTER SKIN CARE TIP #9: KEEP A HEALTHY GLOW WITH VITAMIN C SERUM
Not only can you address dull, dry skin with moisturizers and face scrubs, you can also add a vitamin C serum into your routine to help. The L'Oréal Paris Revitalift Derm Intensives 10% Pure Vitamin C Serum is formulated with 10% pure vitamin C to restore a healthy radiance and reduce wrinkles. Layer it under your moisturizer and prepare to be wowed.
WINTER SKIN CARE TIP #10: GRAB A MULTI-USE MOISTURIZER
Your face isn't the only area of your skin that needs hydration during the winter months! Invest in a multi-use moisturizer, like the L'Oréal Paris Age Perfect Hydra Nutrition Manuka Honey All Over Balm - Face, Neck, Chest and Hands. As the name suggests, you can use this offering on your face, neck, chest, and hands for all-over hydration. Now that's what we call a win-win.
WINTER SKIN CARE TIP #11: MAINTAIN YOUR SUMMER GLOW WITH SELF-TANNER
While your tan from summer may have been left behind with the warmer months, you can keep your bronze glow going by using a self-tanner. Try the L'Oréal Paris Sublime Bronze Hydrating Self-Tanning Milk Medium, which hydrates and nourishes your skin while giving you a streak-free tan. Be sure to use this pick three times per week to keep your sun-kissed glow in mint condition.
WINTER SKIN CARE TIP #12: KEEP YOUR POUT HYDRATED WITH LIP BALM
After caring for every other inch of your skin, you shouldn't forget about your lips. Since flaky lips can be uncomfortable and unsightly, make sure to apply a lip balm throughout the day. Avoid matte lipsticks in winter, as these can draw attention to dry lips. You can still play with fun lip colors, just opt for more nourishing formulas!
WINTER SKIN CARE TIP #13: COLOR-CORRECT A RUDDY-LOOKING COMPLEXION
Sometimes no matter what you do to care for dry winter skin, you may still find that your face looks red. That's where pastel, color-correcting concealers come into play. With the L'Oréal Paris True Match Color Correcting Crayon, you can help neutralize the appearance of imperfections. This winter, the green shade will be your BFF as it's perfect for concealing redness.
WINTER SKIN CARE TIP #14: USE HIGHLIGHTER
Since dry skin tends to look lackluster, give your winter complexion a boost of radiance by applying highlighter. If you don't want to wear a heavy foundation, try an illuminating lotion, like the lightweight L'Oréal Paris True Match Lumi Glotion Natural Glow Enhancer, in its place. To create a truly radiant complexion, layer the L'Oréal Paris True Match Lumi Glow Amour Glow Boosting Drops overtop, focusing on the high points of your face.
WINTER SKIN CARE TIP #15: USE A GLOW BOOSTING MAKEUP SPRAY
Last but not least, once you finish your makeup, add some glow to your complexion with a radiance-boosting makeup spray. Spritz the L'Oréal Paris True Match Lumi-Shake and Glow Dew Mist over your face to set your makeup and leave you with a natural, luminous finish.
Next up: That's not all of the winter skin care tips we have up our sleeve! Visit our article, How To Get a Winter Glow, to up the ante.
Discover more tips & tricks
Keep your skin happy
See all articles
Shop Featured Skin Care products
Discover More