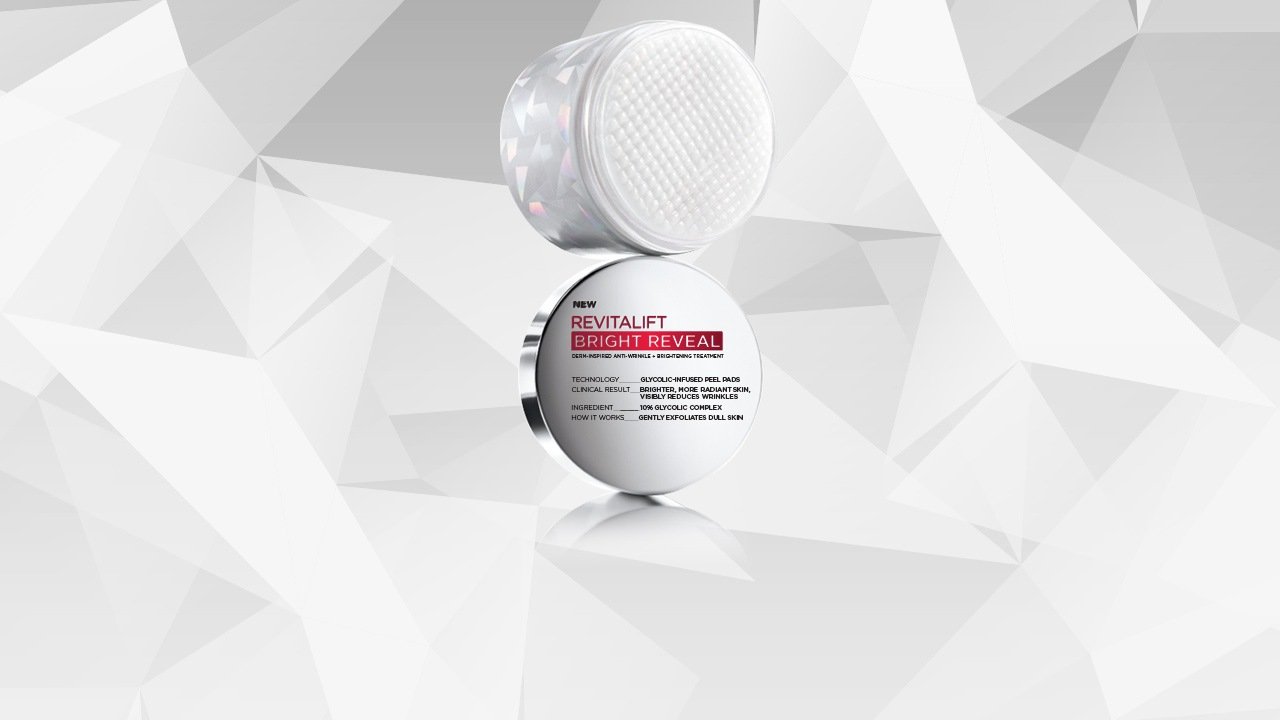 You've probably heard that exfoliation is a beneficial skin care step if you want to help keep your complexion looking its brightest. Yep, it's true! Exfoliation is the process of sloughing off dead skin cells that have accumulated on the surface of your skin. That buildup can give your skin a dull appearance, which is the opposite of what you want when it comes to how your complexion looks, right? According to the American Academy of Dermatology (AAD), exfoliation can improve the effectiveness of topical skin care products, once the top layer of dead skin cells is removed from skin's surface.
If you haven't already added exfoliation to your skin care routine, it's time to start. And using a peel pad formulated with glycolic acid at night is an easy way to incorporate this skin care step into your skin care routine. Not sure what peel pads are or how to use them? Keep reading to find out what peel pads are and how to make them a part of your skin care routine. Let's get glowing!
WhAT ARE PEEL PADS?
Peel pads are a type of skin care product that you can use at night to exfoliate your skin and help brighten its appearance. Typically, peel pads are applied after cleansing—all you have to do is wipe a pad across your face, then move on to moisturizer. Peel pads can utilize both forms of exfoliation—mechanical and chemical.
Mechanical exfoliation is the physical removal of your skin's surface, while chemical exfoliation involves the use of products formulated with ingredients like salicylic acid, alpha hydroxy acids (AHAs), or enzymes that can help to chemically break down that dead surface cell buildup. Peel pads can offer the best of both methods of exfoliation. The pads themselves generally have a multi-ply texture that allows them to mechanically exfoliate—and they're typically pre-soaked in an acid like glycolic acid, which is an AHA, to chemically exfoliate.
what are the beauty benefits of using a peel pad?
Like we said, exfoliation is key when it comes to maintaining radiant-looking skin. That's especially true as you get older. Why? Well, as you age, your skin's natural ability to shed dead skin cells declines—and dark spots and uneven tone can become more visible. When looking for the right peel pad for your skin, consider using one formulated with glycolic acid, a popular ingredient found in skin care products. According to the AAD, AHAs like glycolic acid can help to exfoliate the skin's surface, which in turn can help to make your complexion look brighter immediately.
What peel pad should you try?
Ready to get your peel on? The L'Oréal Paris RevitaLift Bright Reveal Brightening Peel Pads are a derm-inspired brightening skin care product that can be used daily to help resurface dull, uneven tone and rough texture to reveal youthful-looking skin. These ultra-soft, pre-soaked peel pads are formulated with glycolic acid to help gently dissolve dead skin cell buildup and help to reduce the look of uneven skin tone and fine lines and wrinkles with continued use over time. What's more, the multi-ply texture pads physically resurface dead skin cells on the surface of your skin to help reveal a lit-from-within glow.
when is the best time to use OUR peel padS?
Newly revealed skin can be sensitive to sunlight, so it's best to use our peel pads at night. Remember to apply a broad-spectrum sunscreen in the morning, too—regardless of the weather (you can get still get burned even on cloudy days!). The Skin Cancer Foundation recommends using a broad-spectrum SPF of 15 or higher every day—or an SPF of 30 or higher if you know you're going to be spending an extended period of time out in the sun. Try the L'Oréal Paris RevitaLift Bright Reveal Brightening Day Moisturizer SPF 30, a moisturizer formulated with SPF.
HOW do you use OUR peel padS?
Ready to achieve the complexion-boosting benefits of glycolic acid? First step: Cleanse your skin. Then, take one of the peel pads and gently apply it in a circular motion to your face, avoiding your delicate eye area. You don't need to rinse. Follow up with moisturizer and get into bed to catch those Zzz's!
Your next skin care lesson? Learn all about hyaluronic acid in our article, Our Best Moisturizers Formulated with Hyaluronic Acid.
{ "@context": "https://schema.org/", "@type": "WebPage", "speakable": { "@type": "SpeakableSpecification", "cssSelector": ["speakable-content"] }, "url": "https://www.lorealparisusa.com/beauty-magazine/skin-care/skin-care-essentials/peel-pads" }
Discover more tips & tricks
Keep your skin happy
See all articles
Shop Featured Skin Care products
Discover More
{ "@context": "http://schema.org", "@type": "BreadcrumbList", "itemListElement": [ { "@type":"ListItem", "position": 1, "item": { "@id": "/", "name": "Home" } } , { "@type":"ListItem", "position": 2, "item": { "@id": "https://www.lorealparisusa.com/beauty-magazine", "name": "Beauty Magazine" } } , { "@type":"ListItem", "position": 3, "item": { "@id": "https://www.lorealparisusa.com/beauty-magazine/skin-care", "name": "Skin Care For Every Age" } } , { "@type":"ListItem", "position": 4, "item": { "@id": "https://www.lorealparisusa.com/beauty-magazine/skin-care/skin-care-essentials", "name": "Skin Care Essentials" } } , { "@type":"ListItem", "position": 5, "item": { "@id": "https://www.lorealparisusa.com/beauty-magazine/skin-care/skin-care-essentials/peel-pads", "name": "peel-pads" } } ] }