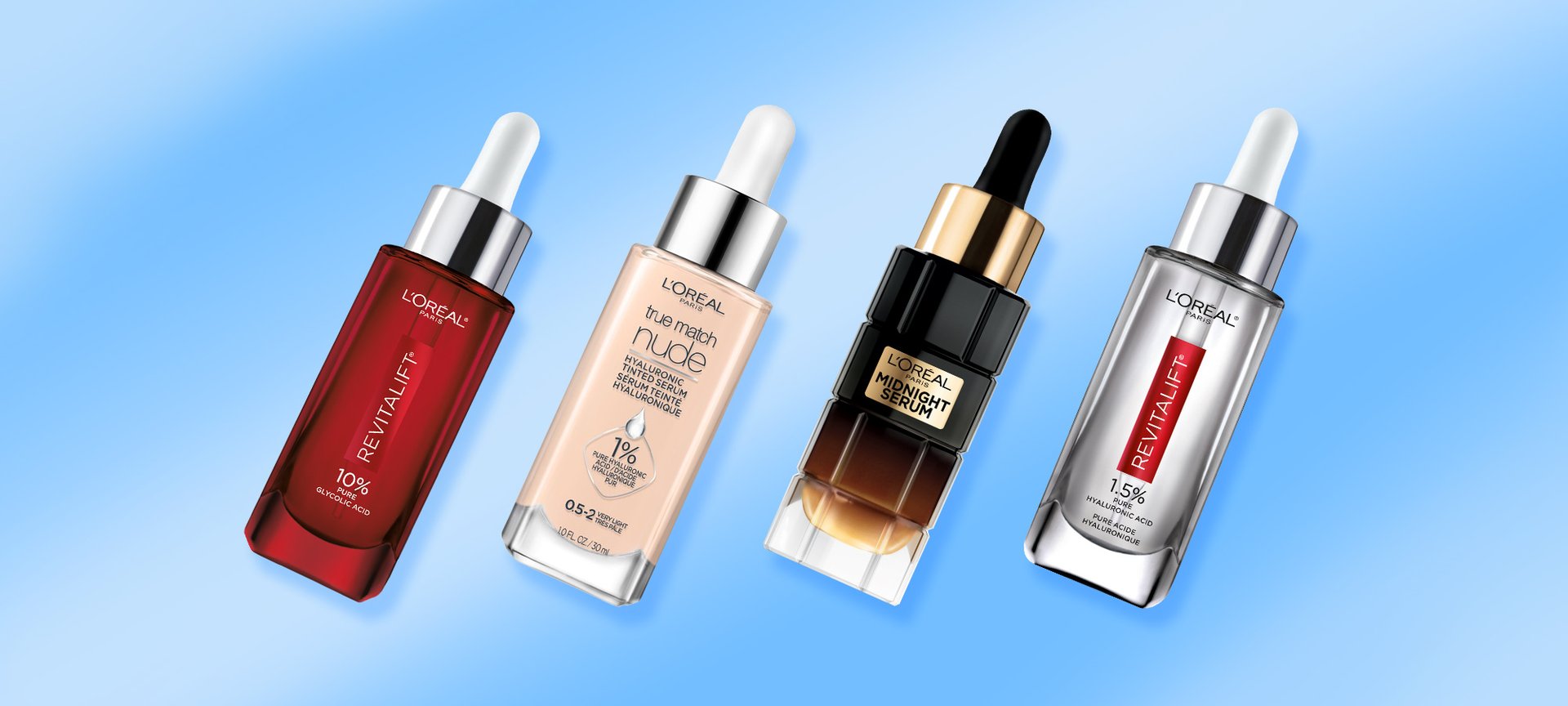 skin care essentials
The Best Lightweight L'Oréal Paris Serums to Add to Your Skin Care Stash
You won't believe how quickly they absorb!
Serums are one of our favorite types of skin care products because they contain concentrated ingredients that penetrate the skin, including vitamin C, hyaluronic acid, glycolic acid and more. But just because these formulas are potent doesn't mean they have to feel heavy on the skin. Ahead, we've rounded up our favorite lightweight serums from L'Oréal Paris that don't compromise consistency for potency.
This super lightweight serum works to hydrate the skin for hours with high and low molecular weight pure hyaluronic acid in order to penetrate the skin more effectively. It helps leave your skin feeling plumped and smooth without feeling sticky.
For an antioxidant serum that helps revitalize the skin and banish dullness, try this formula. It has a luxurious feel that melts into the skin during application and helps to smooth, firm and brighten your complexion.
This tinted serum is a skin care wonder that offers coverage that comes in nine shades. It's non-comedogenic, fast absorbing and doesn't feel heavy or cakey after application. It will instantly even out your skin tone and brighten your skin.
Exfoliating serums help gently polish away dead skin cells from the skin's surface to reveal a naturally glowing complexion. This pure glycolic acid option works to do just this and it's so light to the touch and quick-absorbing that you'd never know how potent it actually is—that is, until you check out the results.
This powerhouse vitamin C serum works to restore radiance and give you a youthful glow. We love how lightweight it is and how seamlessly it sinks into the skin.
Next: What Does Vitamin C Serum Do? Plus, How to Use It
Photo Credit: Sarah Duvivier
{ "@context": "https://schema.org/", "@type": "WebPage", "speakable": { "@type": "SpeakableSpecification", "cssSelector": ["speakable-content"] }, "url": "https://www.lorealparisusa.com/beauty-magazine/skin-care/skin-care-essentials/best-lightweight-serums" }
Discover more tips & tricks
Keep your skin happy
See all articles
Improve your routine
Show your new look more love:
makeup
{ "@context": "http://schema.org", "@type": "BreadcrumbList", "itemListElement": [ { "@type":"ListItem", "position": 1, "item": { "@id": "/", "name": "Home" } } , { "@type":"ListItem", "position": 2, "item": { "@id": "https://www.lorealparisusa.com/beauty-magazine", "name": "Beauty Magazine" } } , { "@type":"ListItem", "position": 3, "item": { "@id": "https://www.lorealparisusa.com/beauty-magazine/skin-care", "name": "Skin Care For Every Age" } } , { "@type":"ListItem", "position": 4, "item": { "@id": "https://www.lorealparisusa.com/beauty-magazine/skin-care/skin-care-essentials", "name": "Skin Care Essentials" } } , { "@type":"ListItem", "position": 5, "item": { "@id": "https://www.lorealparisusa.com/beauty-magazine/skin-care/skin-care-essentials/best-lightweight-serums", "name": "best-lightweight-serums" } } ] }