skin care concerns
What Do White Spots on Your Nails Mean?
September 27, 2019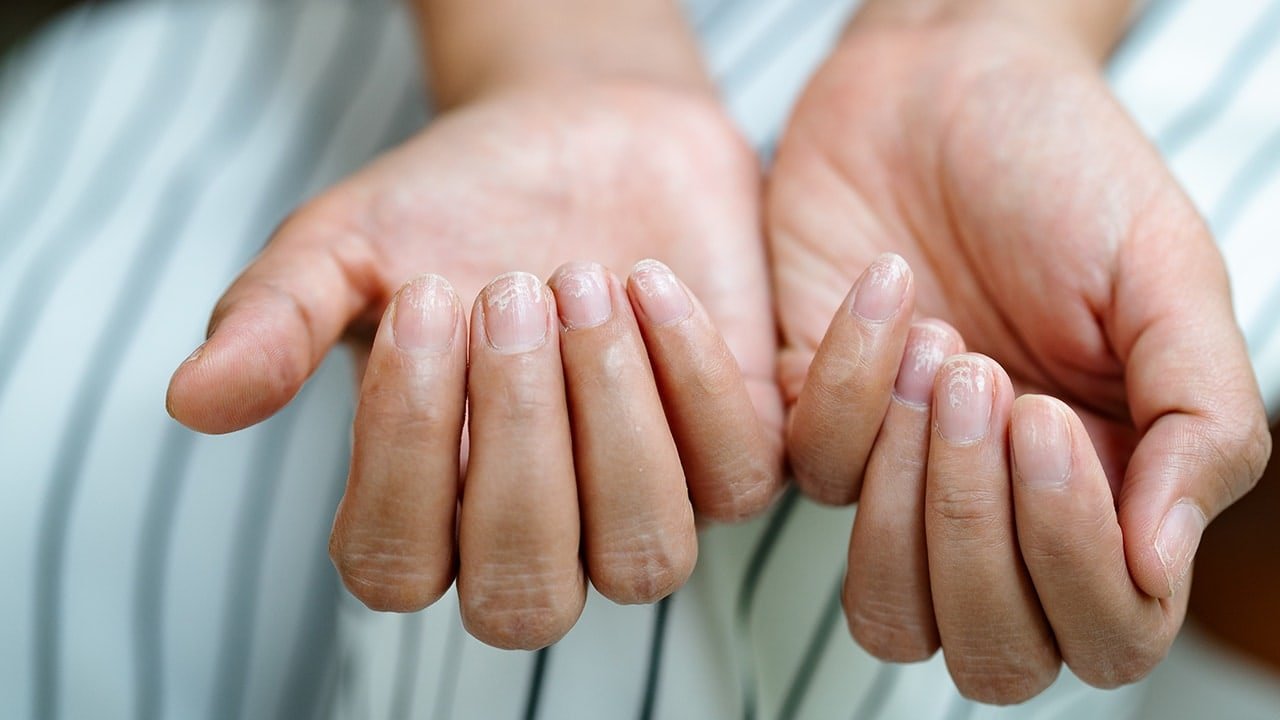 If you've ever wondered about those small white spots on your nails, you're not alone. Whether you have a strict routine in place or prefer a low maintenance approach to nail care, those white spots can appear seemingly out of nowhere. By now, you likely recognize that your nails are an indicator of your health, so it can be easy to worry once you see random white spots emerge on your nails. Before you start worrying about your health or attempt to cut back on nail salon visits, we're sharing everything we know about those peculiar white marks so we can help put you at ease.
WHAT ARE THOSE WHITE SPOTS ON NAILS?
Our nails are usually pale and pink in color, with a lighter shade at the edge of the nail. However, white spots known as leukonychia can sometimes appear on the nail. According to the American Academy of Family Physicians (AAFP), leukonychia is an abnormal keratinization of the underlying nail matrix that results in white discoloration of the nail. This condition can affect all or part of the nail and can emerge on single or multiple nails.
ARE WHITE SPOTS AN INDICATION OF A HARMFUL HEALTH CONDITION?
We can all relax! White spots are not a cause for concern! In fact, the AAFP shares that white spots are common in healthy adults and children. While this condition is characterized as abnormal, this is something that many people will experience throughout their lives.
ARE REGULAR MANICURES/PEDICURES SAFE WHILE EXPERIENCING WHITE SPOTS?
Yes. Manicures and pedicures are not linked to causing leukonychia. While there are other nail conditions that can be caused by general nail maintenance, per the AAFP, white spots are not one of them.
5 OTHER NAIL CARE TIPS
Now that we can finally put our minds at ease, it is still important to adopt healthy nail care habits. While it's smart to rely on advice from a licensed nail technician, you don't want to only have that information in your arsenal. If you're looking to keep your nails in great shape, follow these beauty tips below.
NAIL CARE TIP #1. DON'T BITE YOUR FINGERNAILS
Biting your nails can cause a slew of health problems from redness and swelling to nails filled with pus (commonly known as paronychia). The AAFP explains that paronychia can last up to six weeks and even cause the cuticle to separate from the nail plate.
NAIL CARE TIP #2. KEEP YOUR NAILS CLEAN AND DRY
With the amount of bacteria we come across on a daily basis, washing your hands should be a top priority. Frequently washing and drying your hands throughout the day lowers the chance of bacteria spreading and causing infections to occur.
NAIL CARE TIP #3. TRIM YOUR TOENAILS REGULARLY
This probably sounds like common sense at this point, but we can't stress how important it is to clip your toenails regularly. According to the American Academy of Dermatology, following the right method of clipping your toenails (straight across) will help to prevent conditions like hangnails and ingrown toenails.
NAIL CARE TIP #4. DISINFECT YOUR NAIL TOOLS
Any beauty tools you use on your body should be disinfected. Dirty tools are a breeding ground for bacteria, so you'll want to keep your nail tools, including nail clippers and nail scissors, clean. Disposable tools should also be replaced for this very reason.
NAIL CARE #5. DO NOT TOUCH YOUR CUTICLES
Every time your cuticles are cut, it breaks the seal of protection at the base of the nail. This, of course, leaves you exposed to bacteria. If your cuticles are looking worse for wear, put your cuticles in the hands (literally) of a nail technician, instead of trying to cut or clip your own cuticles.
Speaking of your cuticles, for more on caring for the skin around your nails, read up on How to Take Care of Your Cuticles.
Discover more tips & tricks
Keep your skin happy
See all articles
Improve your routine
Show your new look more love:
makeup