skin care concerns
The Glowing Skin Power of Glycolic Acid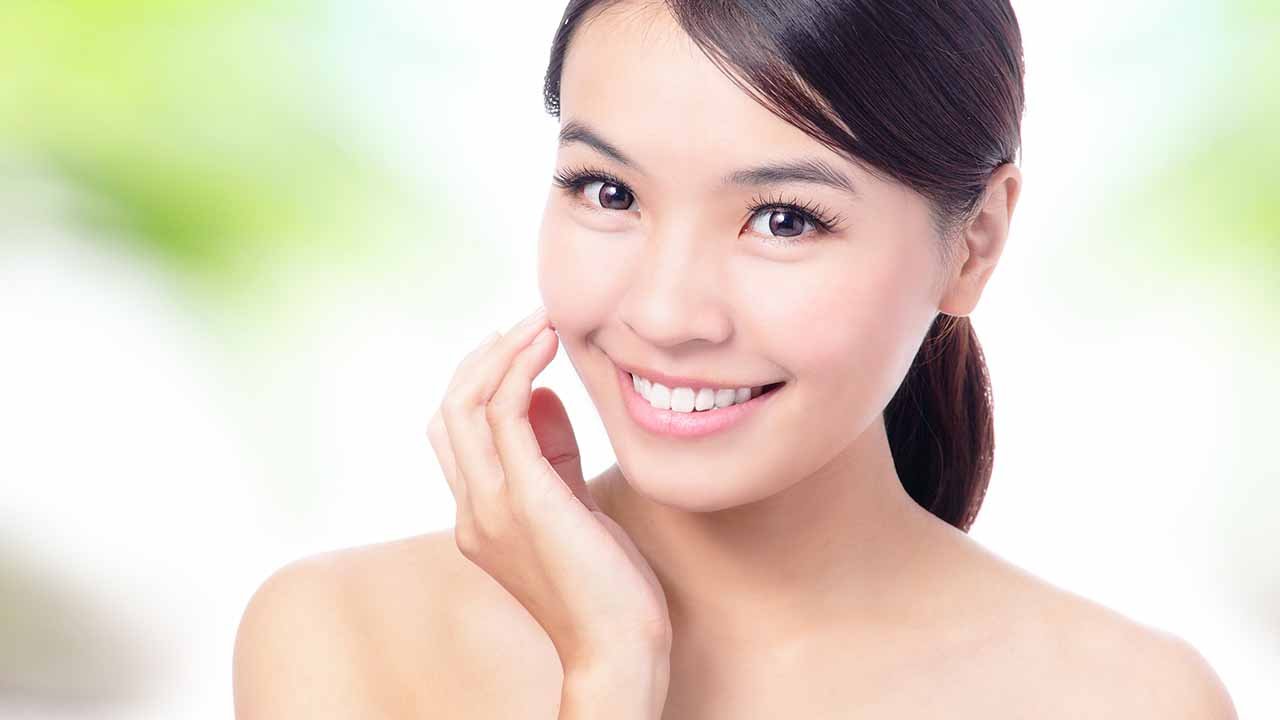 When you think of a skin care product that can encourage glowing skin, your mind may jump to self-tanners—and while sunless tanning options may be a logical solution, the temporary glow will fade away eventually. So, you may be left wondering if there is a way to encourage glowing skin that will last. Enter: glycolic acid. This alpha hydroxy acid (AHA) offers an effective and alternative way to obtain radiant, glowing skin—and when used as a regular part of your skin care routine you can reap longer lasting, glowing skin results. Keep reading to learn how glycolic acid works and learn about our best glycolic acid products, including a glycolic acid cleanser and glycolic acid lotion.
HOW DOES GLYCOLIC ACID WORK?
Glycolic acid, when used as a chemical exfoliant, dissolves away build up on your skin's surface to reveal a smoother, brighter complexion. This buildup can be comprised of dead skin cells, makeup, dirt, and excess oil. When the surface of your skin is congested with this debris, it can appear dull, dry, and lackluster. Glycolic acid can help break down the buildup on the surface of your skin so that it will appear fresher. Another glowing skin bonus: Now that your pores are clear, your other moisturizing skin care products may be able to hydrate skin more efficiently, as replenishing skin with moisture will also aid in a maintaining a radiant complexion.
WHAT ARE THE BENEFITS OF GLYCOLIC ACID?
When glycolic acid skin care products are incorporated into your routine you may be pleased to find that you have glowing skin even before you apply any makeup, and while self-tanners can temporarily amplify and highlight your radiance, glycolic acid can help encourage a glowing skin base to start with.
WHAT SHOULD YOU KNOW ABOUT GLYCOLIC ACID BEFORE ADDING IT TO YOUR SKIN CARE ROUTINE?
Before reaching for any glycolic acid products, there's one thing you should keep in mind. AHAs like glycolic acid can increase your skin's sensitivity to the sun, so it's important to take adequate sun protection measures when using any skin care products formulated with glycolic acid. Apply a broad-spectrum sunscreen with an SPF of 30 or higher daily, limit your amount of time in the sun (especially between 10 a.m. and 2 p.m., which are the sun's peak hours), and throw on a broad-brimmed hat and UV-blocking sunglasses to cover up exposed areas.
HOW DO YOU ADD GLYCOLIC ACID TO YOUR SKIN CARE ROUTINE?
To help foster and maintain the appearance of glowing skin look for complementary skin care products that utilize glycolic acid and its glowing skin properties.
1. USE A GLYCOLIC ACID FACIAL CLEANSER DAILYM
The first step in your skin care routine should be cleansing. Not sure how to cleanse your face with glycolic acid? Reach for the L'Oréal Paris RevitaLift Bright Reveal Brightening Daily Scrub Cleanser. This daily scrub facial cleanser is formulated with glycolic acid and gentle micro-pearls to exfoliate dullness and impurities from the surface of skin. Immediately, skin looks brighter, while skin tone appears more even with continued use over time. Every morning and evening, lather the facial cleanser into wet hands and gently massage it onto your skin in circular motions, then rinse thoroughly and pat dry.
2. EXFOLIATE WITH A GLYCOLIC ACID PEEL PAD AT NIGHT
Encourage the renewal of your skin's surface by exfoliating regularly, with a glycolic acid peel like the L'Oréal Paris RevitaLift Bright Reveal Brightening Daily Peel Pads to help chemically and physically dissolve away dullness and roughness on your skin's surface. Use nightly on clean skin. Gently apply a peel pad in a circular motion to your face. 
3. APPLY A GLYCOLIC ACID MOISTURIZER WITH SPF IN THE MORNING
You can also help your skin maintain a bright, youthful glow throughout your day by applying a day lotion with glycolic acid, like the L'Oréal Paris RevitaLift Bright Reveal Brightening Day Moisturizer SPF 30. Formulated with glycolic acid, Pro-Retinol, and vitamin C, this daytime moisturizer immediately makes skin appear brighter, while dull, uneven skin tone is renewed with continued use over time. Apply it as directed for sun protection benefits.
4. TREAT YOUR SKIN TO A NIGHTTIME GLYCOLIC ACID LOTION
The L'Oréal Paris RevitaLift Bright Reveal Brightening Dual Overnight Moisturizer has a glycolic acid moisturizing formula that is jam-packed with additional glowing skin ingredients like vitamin C and pro-retinol. Together, this potent combination can help deliver continuously overnight to enhance skin clarity, and reduce the visibility of dark spots, uneven tone, and fine lines and wrinkles with continued use over time.
For more advice on getting radiant skin, here are 5 Makeup Tips to Help Create the Appearance of Glowing Skin. 
Discover more tips & tricks
Keep your skin happy
See all articles
Shop Featured Skin Care products
Discover More