skin care concerns
How to Take Care of Sensitive Skin This Fall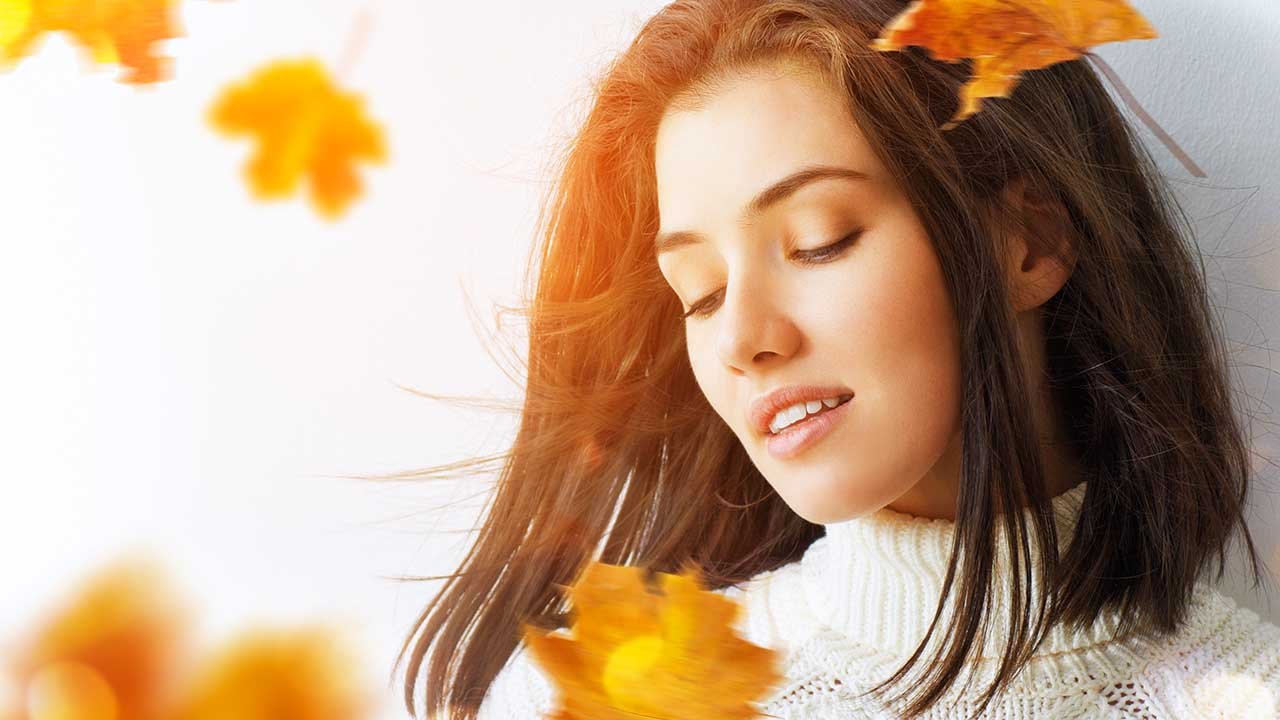 Sensitive skin requires special care all year, but when a new season rolls around, it's the perfect opportunity to make sure your skin care routine is up to par. Fall, in particular, is a prime time to make a few changes and sharpen your skin care skills since you'll likely face slightly different skin care concerns as the seasons change and the air starts to become cold and dry. This season, follow our seven sensitive skin tips to keep your complexion in shape straight through to winter.
SENSITIVE SKIN TIP #1: PAY ATTENTION TO INGREDIENTS
You may be gearing up to add new clothes (hello, leather jacket!) to your wardrobe as a way to celebrate the cooler weather, but don't rush to do the same with skin care products. Before adding any new skin care products to your routine this fall, make sure to read the labels. According to the American Academy of Dermatology, ingredients including fragrances, soap, and alcohol can be irritating to sensitive skin. So, consider looking for products that are free of these ingredients and are specifically formulated for sensitive skin.
SENSITIVE SKIN TIP #2: GET A DEEP YET GENTLE CLEAN
Regardless of your skin type, it's a good idea to cleanse your skin twice a day to help remove dirt, excess oils, and impurities. As far as sensitive skin goes, look for a cleanser that's formulated for your specific skin type. For mature, sensitive skin, the L'Oréal Paris Age Perfect Nourishing Cream Cleanser is a great option. This cream cleanser removes impurities without over-drying for softer, smoother skin. To use, wet your face, then lather the cleanser in wet hands. Gently massage the product onto your face before rinsing thoroughly and patting dry.
Another option: micellar water. The L'Oréal Paris Micellar Cleansing Water Complete Cleanser for Normal to Dry Skin is free of oil, soap, and alcohol and is suitable for sensitive skin. Just saturate a cotton pad with the cleansing liquid, then wipe the pad across your face.
SENSITIVE SKIN TIP #3: USE MOISTURIZER MEANT FOR YOUR SKIN TYPE
There's no question about it, finding the right facial moisturizer for sensitive skin can be tricky. The best thing you can do is stick to one that is formulated for your skin type—bonus points if it has broad-spectrum sunscreen. According to the Food and Drug Administration (FDA), you should apply a broad-spectrum sunscreen with an SPF of 15 or higher daily as directed (yes, even on cloudy fall days). The FDA also states you should limit your amount of time in the sun (especially from 10 AM to 2 PM), seek shade, and cover up exposed areas with long sleeves, pants, a broad-brimmed hat, and UV-blocking sunglasses.
At night, you don't need to worry about wearing a moisturizer with SPF, but you'll still want to hydrate. Try the L'Oréal Paris RevitaLift Cicacream Face Moisturizer Pro Retinol & Centella Asiatica, which is safe for sensitive skin and resists signs of aging like wrinkles and loss of firmness.
SENSITIVE SKIN TIP #4: TURN DOWN THE WATER TEMPERATURE
As the temperatures outside become chillier and chillier, it may be tempting to crank up the dial in your shower. There's no need for a debate, steaming showers are certainly relaxing—especially when it starts getting cold outside. The only issue is, hot showers aren't exactly the best for your skin. In fact, super-hot water can strip your skin of essential oils, which can lead to it feeling drier. The next time you're ready to wash off, turn down the dial and shower in lukewarm water instead.
SENSITIVE SKIN TIP #5: NEUTRALIZE THE APPEARANCE OF REDNESS WITH MAKEUP
No matter how well you take care of your skin, sometimes makeup may be the only way to quickly hide redness—which often goes hand-in-hand with sensitivity. Start with a green color-correcting concealer (which you can find in the L'Oréal Paris Infallible Total Cover Color Correcting Kit), applying a thin layer to any problem areas. Green concealer may sound intimidating, but because it's opposite red on the color wheel, it can help cancel out the appearance of redness. After buffing out the concealer, follow with the L'Oréal Paris Infallible Pro Glow Foundation for long-lasting coverage.
SENSITIVE SKIN TIP #6: USE A FACE SERUM
Face serums are another great way to give your skin some of the moisture it needs, not to mention other skin care benefits. Just make sure you're using one that states it's safe for sensitive skin! The L'Oréal Paris RevitaLift Derm Intensives 10% Pure Vitamin C Serum Concentrate is suitable for all skin types—including sensitive—and will boost your skin's radiance and reduce wrinkles. Its formula contains 10% pure vitamin C and is paraben free, fragrance free, and mineral oil free. Apply a dime-sized amount to your face and neck every morning and evening.
Another serum safe for sensitive skin is the L'Oréal Paris RevitaLift Derm Intensives 1.5% Pure Hyaluronic Acid Serum. The formula has 1.5% pure hyaluronic acid and provides intense hydration and visibly plumped, more youthful looking skin.
SENSITIVE SKIN TIP #7: INVEST IN AN EYE TREATMENT
Your eyes need a little TLC as well! Using an eye treatment can help reduce puffiness, under eye bags, and dark circles. The L'Oréal Paris Age Perfect Hydra Nutrition Manuka Honey Eye Gel is a non-sticky eye treatment that contains manuka honey and nourishing oils and is safe for sensitive skin types. The ultra-gentle eye gel has a de-puffing rollerball wand and a cooling formula to moisturize very dry skin. To use, apply it twice daily by massaging the formula onto the under-eye area in circular motions. Gently pat—don't rub—any excess product with your fingers.
Want to get ahead of the curve? Start preparing for the seasons to come with our articles, How to Take Care of Your Sensitive Skin This Spring and How to Take Care of Sensitive Skin in the Summer.
Discover more tips & tricks
Keep your skin happy
See all articles
Shop Featured Skin Care products
Discover More