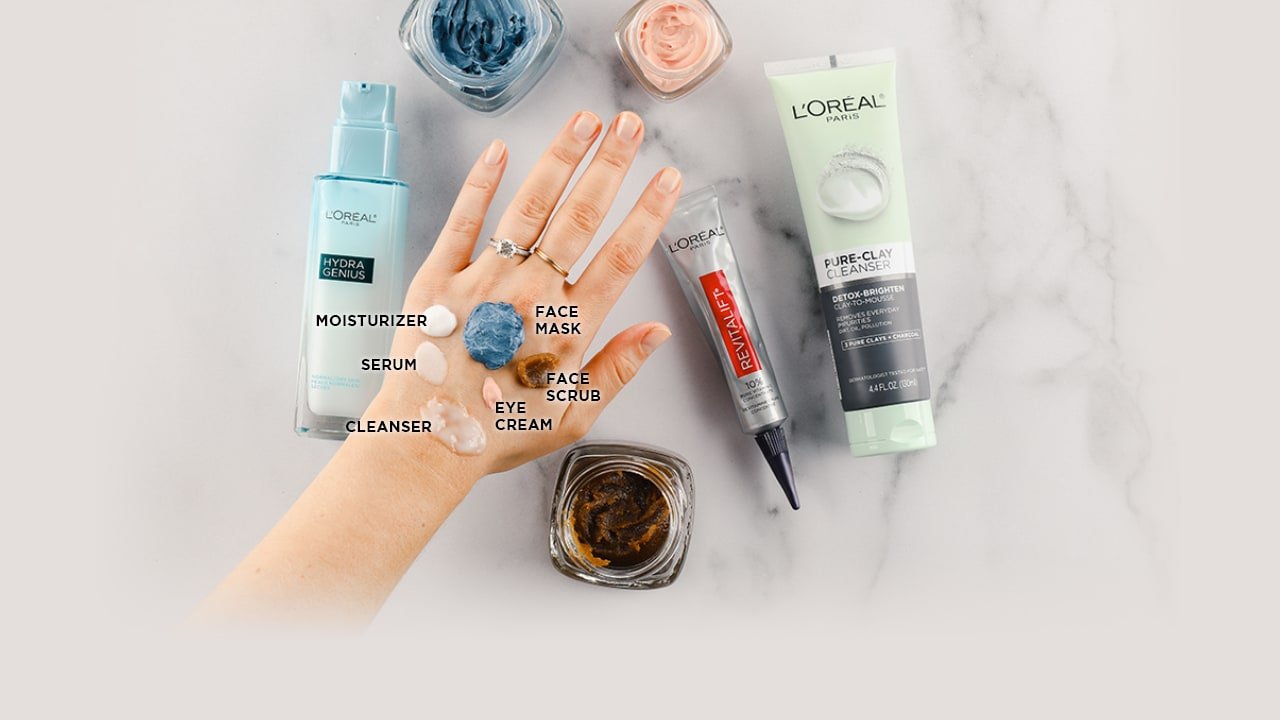 If you keep up with your skin care routine, then you likely already know which types of skin care products to include in your daily routine—i.e. a facial cleanser, scrub, mask, serum, moisturizer, and eye cream. But, have you ever wondered exactly how much of each product you should be using? Rather than just scooping or squeezing out however much suits your fancy, there's actually a right (and a wrong) amount to use. And, these amounts differ based on the product type (for example, you'll need to use more of a face mask than you will an eye cream). Sometimes, a product's directions will recommend using a "small amount" of product—but it's tough to know exactly what that means. Curious about the correct breakdown? Use our visual as a guide and keep reading for more detailed notes on how much of each type of skin care product to use.
HOW MUCH OF A FACE SCRUB SHOULD YOU USE?
Depending on what type of skin you have and your individual skin care concerns, your weekly skin care routine will likely include exfoliation, but how many times a week you exfoliate is up to you. One of the best ways to exfoliate your complexion is with a gentle face scrub, like the L'Oréal Paris Pure-Sugar Smooth & Glow Grapeseed Scrub. As you can see from the above image, just a small amount of face scrub is all you need—about the size of a nickel, if we're getting specific. Simply smooth it onto your clean complexion with dry fingers, taking care to avoid the eye area, then gently massage over your skin with wet fingers. Rinse thoroughly with warm water and you're all set.
HOW MUCH FACE CLEANSER SHOULD YOU USE?
No matter what skin type or concerns you have—whether you have dry skin, oily skin, combination skin, mature skin, or anything in between—you should be using a mild facial cleanser twice per day. Every morning and evening, start your skin care routine with your face cleanser. We're loving the L'Oréal Paris Pure-Clay Detox and Brighten Cleanser right now, in case you need a rec! Since you want to thoroughly cleanse, use a larger amount of face cleanser than you would a face scrub. Aim for about two quarters worth of product.
HOW MUCH FACE SERUM SHOULD YOU USE?
Every day, right after you finish cleansing, you should apply a moisturizing facial serum over your entire complexion. Why, you ask? Layering a serum underneath your moisturizer can work wonders in helping to keep your skin healthy, hydrated, and glowing. When you go to apply your face serum, aim to use about a nickel-sized amount of product, which you should smooth on as an even layer over your entire face and onto your neck. If you're new to serums (or looking for a new one), try the L'Oréal Paris Revitalift Derm Intensives 10% Pure Vitamin C Serum, which is both lightweight and highly potent, helping to boost radiance and reduce the appearance of wrinkles with continued use.
HOW MUCH MOISTURIZER SHOULD YOU USE?
After you've applied your face serum (and let it absorb for at least 10-15 seconds), it's time to layer on your moisturizer. Again here, this is something you should be doing twice per day, every morning when you wake up and every evening, right before you head to bed. For your face moisturizer, you'll also want to use a nickel-sized amount of product. Everyone should use the same amount of product, but it is worthwhile to use a moisturizer that's made for your skin type. Have your pick from the L'Oréal Paris Hydra Genius Daily Liquid Care – Normal/Dry Skin, L'Oréal Paris Hydra Genius Daily Liquid Care for Extra Dry Skin, or L'Oréal Paris Hydra Genius Daily Liquid Care for Normal/Oily Skin, each of which provides long-lasting and continuous hydration.
HOW MUCH OF A FACE MASK SHOULD YOU USE?
Once or twice per week, or as often as works best for your skin type, you should also aim to use a face mask. To do so, grab one of the L'Oréal Paris Pure-Clay Masks (pictured is the L'Oréal Paris Pure-Clay Clear & Comfort Face Mask), and apply an even layer onto clean skin—just slightly more than a quarter-sized amount of product, or as much as you need to cover your entire complexion in a light, even layer (avoiding your eye and lip areas). Leave it on for 10 to 15 minutes, then rinse off with lukewarm water and voila!
HOW MUCH EYE CREAM SHOULD YOU USE?
As the area with the thinnest skin on our faces, our eyes need extra TLC—every single morning and night. The eye area is a smaller area than the rest of your face, of course, so you'll also need slightly less product—about the size of a pencil eraser. We suggest using an eye cream that's both hydrating and brightening (and can help color correct dark circles), such as the L'Oréal Paris Age Perfect Rosy Tone Anti-Aging Eye Brightener. Apply onto your eye area every AM and PM, gently patting and smoothing until fully absorbed.
And there you have it! Now you know exactly how much of each skin care product to use. Next, we're brushing up on more of skin care basics. Click through to our article, Facial Cleanser Basics: Here's How to Wash Your Face.
{ "@context": "https://schema.org/", "@type": "WebPage", "speakable": { "@type": "SpeakableSpecification", "cssSelector": ["speakable-content"] }, "url": "https://www.lorealparisusa.com/beauty-magazine/skin-care/skin-care-concerns/how-much-skin-care-product-to-apply" }
Discover more tips & tricks
Keep your skin happy
See all articles
Shop Featured Skin Care products
Discover More
{ "@context": "http://schema.org", "@type": "BreadcrumbList", "itemListElement": [ { "@type":"ListItem", "position": 1, "item": { "@id": "/", "name": "Home" } } , { "@type":"ListItem", "position": 2, "item": { "@id": "https://www.lorealparisusa.com/beauty-magazine", "name": "Beauty Magazine" } } , { "@type":"ListItem", "position": 3, "item": { "@id": "https://www.lorealparisusa.com/beauty-magazine/skin-care", "name": "Skin Care For Every Age" } } , { "@type":"ListItem", "position": 4, "item": { "@id": "https://www.lorealparisusa.com/beauty-magazine/skin-care/skin-care-concerns", "name": "Skin Care Concerns" } } , { "@type":"ListItem", "position": 5, "item": { "@id": "https://www.lorealparisusa.com/beauty-magazine/skin-care/skin-care-concerns/how-much-skin-care-product-to-apply", "name": "how-much-skin-care-product-to-apply" } } ] }