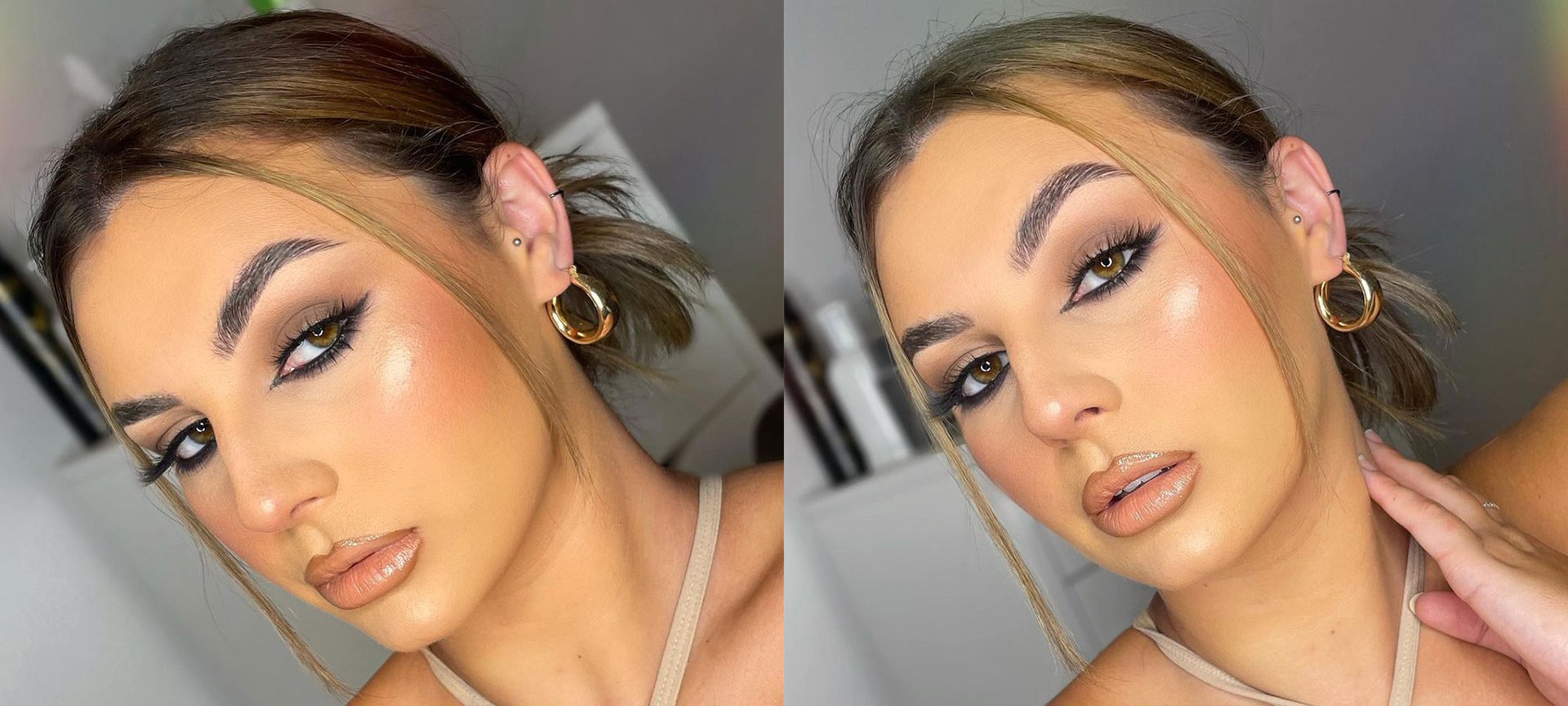 makeup trends
3 Makeup Trends For Fall We're Obsessed With
Eye makeup is reigning supreme!
While dewy skin and vivid blush have been makeup trends over the last year and a half, protective face masks have made it difficult to get creative with face makeup, not to mention bold lips. This has let our eyes take center stage, and come the fall season, eye makeup will remain on top. Here, we're sharing some of the best upcoming fall makeup trends straight from runway shows, makeup artists and content creators. Plus, we're providing tips on how to get each look.

Graphic Eyes
Smokey eyes and naturally blended eyeshadow are eye makeup staples, but this fall, it's all about graphic eyes created using eyeliner or eyeshadow. Graphic eyeliner has been trending for quite some time, and given how creative you can get with it, it totally makes sense. It will continue to be a popular eye makeup technique, but it's sister style一graphic eyeshadow一is catching up. Runway shows have been full of gorgeous eyeshadow looks featuring geometric shapes and it's hard to take our eyes off of them. Plus, many of these looks feature just one or two shadows making them (kind of) easy to recreate.
Get The Look
Creating graphic eye looks can be challenging no matter what medium you're using. Before getting started on your look, it's always a good idea to have an inspiration photo on hand so that you can reference it while you're working.
Step 1: Start by priming your eyelids and lightly outlining your graphic shape with a nude eyeliner that closely matches your skin tone. This will act as a guide for your eyeshadow.
Step 2: Next, pack on your shadow color with a flat eyeshadow brush and blend out the edges if your look is more diffused. Then, clean up your look with a cotton swab and micellar water like the L'Oréal Paris Micellar Cleansing Water Complete Cleanser Waterproof - All Skin Types which gently removes makeup without stripping the skin.
Step 3: Finish off your look by adding a volumizing mascara to your lashes with the L'Oréal Paris Voluminous Last Paradise Washable Mascara.
Reverse Cat Eyeliner
Traditional cat eyeliner一or winged eyeliner一is classic. It's been around forever and it's not going anywhere. But recently, a modern take on this makeup staple has been all over social media as well as making its rounds in the high fashion world: reverse cat eyeliner. It features deep, smoked out winged eyeliner on the bottom lash line which makes for a sultry, smoldering look. It can be worn in combination with a thin winged eyeliner on the top lash line, or alone for a truly unique look.
Get The Look
Step 1: First, grab a creamy pencil eyeliner like the L'Oréal Paris Le Liner Signature Mechanical Eyeliner and fill in your waterline.
Step 2: Then, apply a bit of the liner under your bottom lash line and gently smudge it out with an eyeliner brush, remembering to blend the liner up at the outer corners of your eyes to create the feline flick. For even more drama, wing out the liner in your inner corners.
Step 3: Finally, to give the liner a seamless look blend a bit of a black or brown eyeshadow like the L'Oréal Paris Colour Riche Monos Eyeshadow in Cafe Au Lait or Noir Cest Noir into the pencil eyeliner which will help blur the line.

Bold Inner Corners
Highlighting the inner corners of the eyes to give a light, awakened appearance is not a new makeup trend. But, accentuating the inner corners with bright or even deep hues is becoming popular. This bold style is often worn with no other eyeshadow, allowing all of the focus to be on the inner corners, but it also looks gorgeous when paired with a full eyeshadow look or winged liner.
Get The Look
Step 1: Start by applying an eyeshadow primer or concealer as base.
Step 2: Then, grab an eyeshadow color of your choice (matte or shimmery both work) and pack the color onto the inner corners of your eyes with a pencil brush or flat eyeshadow brush.
Editor's Tip: If you want to get in on the trend while also creating a traditional highlighted look, opt for a pale shimmery shadow in a fun color like the L'Oréal Paris Infallible 24HR Eyeshadow in Always Pearly Pink. You can leave the color just at the very inner corners for a more toned down look, or you can blend the color up into your crease to put a bold, editorial spin on it.

Next: 5 Makeup Looks To Try As Lipstick Makes A Comeback

Photo Credit: Sibel, IG/@makeupbysibelx
{ "@context": "https://schema.org/", "@type": "WebPage", "speakable": { "@type": "SpeakableSpecification", "cssSelector": ["speakable-content"] }, "url": "https://www.lorealparisusa.com/beauty-magazine/makeup/makeup-trends/fall-makeup-trends" }
Discover more tips & tricks
Keep your skin happy
See all articles
Improve your routine
Show your new look more love:
makeup
{ "@context": "http://schema.org", "@type": "BreadcrumbList", "itemListElement": [ { "@type":"ListItem", "position": 1, "item": { "@id": "/", "name": "Home" } } , { "@type":"ListItem", "position": 2, "item": { "@id": "https://www.lorealparisusa.com/beauty-magazine", "name": "Beauty Magazine" } } , { "@type":"ListItem", "position": 3, "item": { "@id": "https://www.lorealparisusa.com/beauty-magazine/makeup", "name": "Makeup Tips For Every Look" } } , { "@type":"ListItem", "position": 4, "item": { "@id": "https://www.lorealparisusa.com/beauty-magazine/makeup/makeup-trends", "name": "Makeup Trends" } } , { "@type":"ListItem", "position": 5, "item": { "@id": "https://www.lorealparisusa.com/beauty-magazine/makeup/makeup-trends/fall-makeup-trends", "name": "fall-makeup-trends" } } ] }