makeup looks
26 Summer Makeup Looks to Wear All Season Long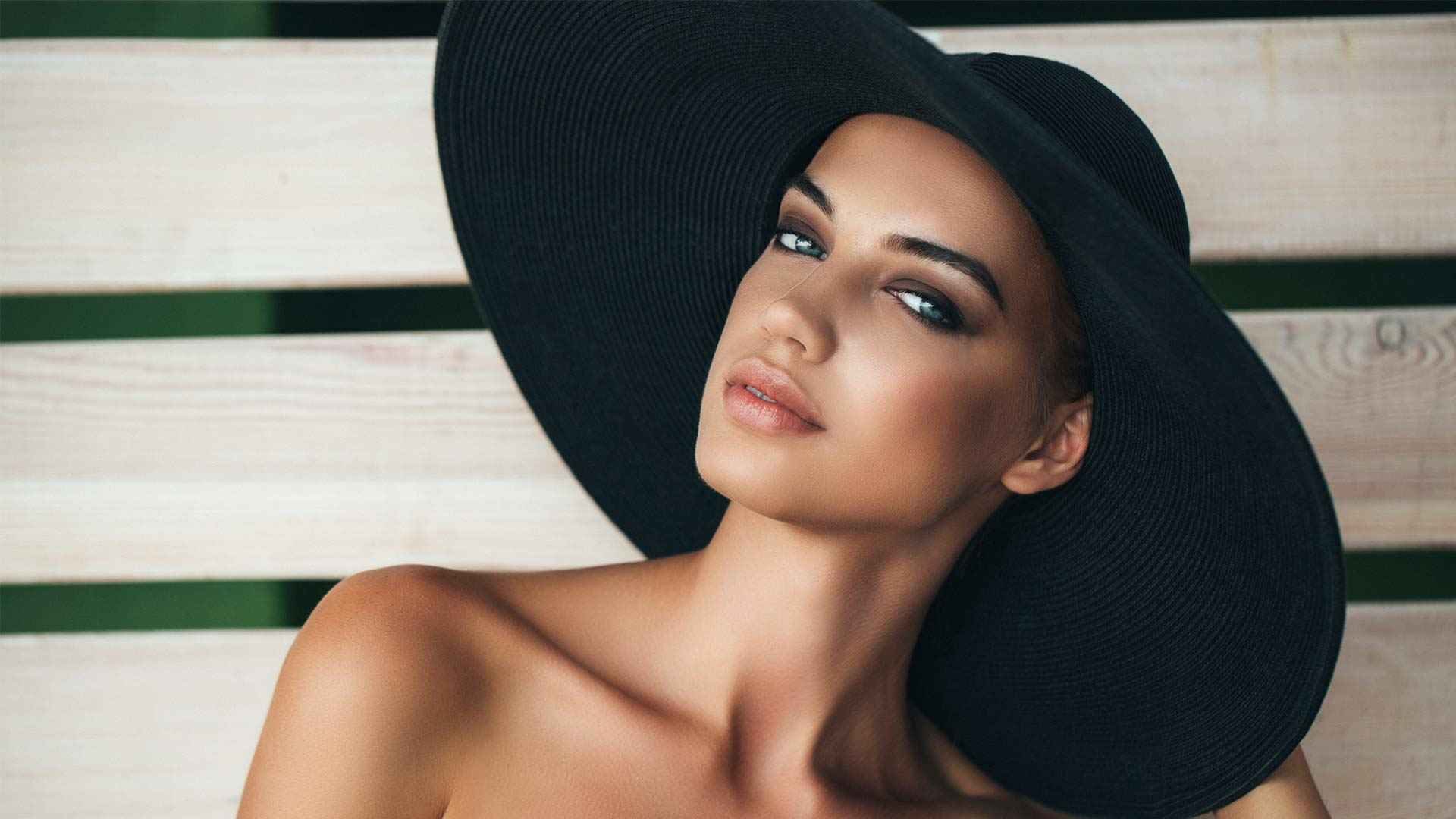 Now that your spring beauty looks have had their chance to shine, it's time to turn your attention to summer makeup and beauty trends. A great way to start the season off on the right note, the best summer makeup looks can really take your beauty game to the next level—and we have plenty to share. From lilac eyeshadow to visible lip liner and more, here are 26 summer makeup looks that will turn up the heat all season long.
1. GLOWING SKIN
Since glowing skin is a beauty must-have all year round, it would be smart to try your hand at this makeup look. The key to bringing glowing skin to life is to create a flawless base.
First, smooth on a primer, like the L'Oréal Paris Infallible Pro-Glow Lock Makeup Primer. Then apply a radiant foundation like the L'Oréal Paris Infallible Pro-Glow Foundation. Next, conceal any imperfections with the L'Oréal Paris True Match™ Super-Blendable Multi-Use Concealer. Finally, boost your glow with a few spritzes of the L'Oréal Paris True Match™ Lumi Shake & Glow Dew Mist, and you'll be rocking an A-lister glow that lasts all day and night.
2. FEATHERED BROWS
Can't get enough of more natural-looking brows? Lucky for you, feathered brows are here to stay. This super flattering eyebrow trend complements all face shapes perfectly. To get the look, all you need is a brow gel like the L'Oréal Paris Unbelievabrow Longwear Waterproof Brow Gel to shape your arches. Start with clean eyebrows and use the brow gel to fill in sparse areas. Outline your eyebrows with the help of an angled brush and comb through them with a spoolie for beautiful, feathered brows. Voila!
3. COLORED FLOATING EYELINER
Want to step outside of the box with your summer makeup? The floating eyeliner trend will rise to the occasion. A great way to make your eyes the star of your look, this trend is all about placing eyeliner just above your crease for a floating effect. Check out our article, What Is a Floating Crease? Your New Favorite Eyeliner Trend, to learn how to recreate this look.
4. WHITE EYELINER
White eyeliner is the gift that keeps on giving. Working wonders to brighten up your eyes and serve up a chic summer makeup look in little to no time, it's safe to say everyone needs a white eyeliner pencil. To make sure you're making the most of yours, head on over to our article on 9 Ways to Use White Eyeliner.
5. COLORFUL INNER CORNERS
Dare to play with color? Your summer makeup look is in for a real treat once you discover colorful inner corner highlights. That's right, you don't have to worry about blending a full eye look. Simply focus the color on your inner corners for a stunning burst of color. Pick up any vibrant shade from the L'Oréal Paris Infallible 24 HR Eye Shadow line to get the job done.
6. GLOSSY LIPS
If there is one runway trend that you can count on seeing this summer, a glossy lip takes the top spot. A gorgeous way to achieve a flirty pout, this summer makeup look is fit for anything on your agenda. We love the L'Oréal Paris Infallible 8 HR Le Gloss, which comes in a range of 20 shades for a hydrated, glossy pout that you'll love.
7. SHIMMERY EYESHADOW
Looking to add the perfect touch of sparkle to your beauty look? Shimmer eyeshadow will not disappoint! Reach for the shades from the L'Oréal Paris Brilliant Eyes Shimmer Liquid Eye Shadow Makeup collection to give your eyes the extra oomph you're looking for—all with a quick swipe across your lids.
8. GLOSSY EYESHADOW
Just as glossy lips are having a major moment, glossy eyeshadow is along for the ride. A top pick amongst beauty gurus, glossy eyeshadow offers a dewy, high-shine look that makes quite the statement. Not to mention, it looks amazing on camera. Get ready to take the perfect Instagram-selfie! For more on this trend, head on over to our article, How to Rock a Glossy Eye Makeup Look.
9. SMOKY EYE
Classic beauty trends are loved for a reason, and smoky eyes are no exception. A super-pretty way to blend matte and shimmery shades, it makes sense that this eye makeup trends continue to reign supreme. To get in on the smoky eye action this summer, head on over to our article on The Perfect Smoky Eye for Every Eye Shape.
10. LILAC EYESHADOW
It's only right we put lilac eyeshadow on your radar. A gorgeous way to liven up your overall look, this color adds a flirty vibe to your eyes that you won't be able to get enough of. Give this trend a try with a wash of the L'Oréal Paris Brilliant Eyes Simmer Liquid Eye Makeup in Amethyst Quartz.
11. CORAL EYES
Another hot eyeshadow color that will turn heads this summer? Coral! This beautiful shade adds effortless warmth to your look for a chic pop of color. To try the trend, use the L'Oréal Paris Enchanted Scented Eyeshadow Palette to create a coral eye makeup masterpiece.
12. NEON EYELINER
Let your eyes do all the talking with the help of neon eyeliner. A chic way to give your beloved brown and black eyeliners a break, this colorful look was practically made for summer. Simply line your lids with the neon color of your choice and be on your way. If you're feeling extra bold, add a couple of flicks at the outer corner to create a fluorescent cat eye.
13. OVERDRAWN WINGED EYELINER
Speaking of cat eyes, overdrawn winged liner will add some serious drama to your summer eye makeup. Not only does this summer makeup look help your eyes look more awake, but it's also a great way to be a trendsetter. Simply line your eyes as you normally would, but extend your wing further than you usually do.
14. CONTRASTING EYELINER
What's better than one shade of eyeliner? We think two! And when you pair your normal eyeliner with a contrasting shade, you can expect a show-stopping summer makeup look. Blending neutral and bold shades is a great way to step outside of your comfort zone—but not too far! Give the trend a go by lining your eyes with the L'Oréal Paris Infallible Pro-Last Waterproof, Up to 24HR Pencil Eyeliner in Black and Burgundy.
15. BLUE LINER
A blue eyeliner look will definitely make heads turn in the best way possible. Equal parts versatile and stylish, blue eyeliner can easily go from day to night with ease. Grab the L'Oréal Paris Matte Signature Liquid Dip Eyeliner Waterproof in Blue to make some makeup magic happen.
16. UNDERLINER
There is no better way to level up your eyeliner game than by trying out the underliner trend. This is a cool option for changing up your makeup look with your technique alone. Simply line your lower lash line with a bold color, like the L'Oréal Paris Infallible Pro-Last Waterproof, Up to 24HR Pencil Eyeliner in Gold, to test out the trend.
17. CRYSTAL EMBELLISHMENTS
This makeup look may not be for every day, but sometimes the summer calls for crystal embellishments. A fun way to add some sparkle to your look without the need for eyeshadow, crystals can add an edgy yet feminine touch to your makeup. You can apply crystals all over your lids or along the edge of your eye for a dose of sparkle.
18. VISIBLE LIP LINER
For years we've relied on lip liner to keep lipstick in place, but who would have thought that it would become one of the hottest summer makeup looks? Visible lip liner is all about giving your lips a plumped effect. The key is to line your lips just outside of your natural lip line to bring this look to life. Use the L'Oréal Paris Colour Riche Matte Lip Liner in In-Matte-uated With You to line your lips, then pull your look together with a coat of the L'Oréal Paris Colour Riche Matte Lipstick in Devil's Matte-vocate Red.
19. ROSY BLUSH
Another way to score a super-pretty summer makeup look? Blush! That's right! Since blush already works to warm up your face, this trend will give you the natural flush of color your (faux) tan calls for. Reach for the L'Oréal Paris True Match Naturale Blush in Soft Rose for a subtle touch of rose.
20. PLUM LIPS
Want to show your pout some love? Look no further than plum lips. This gorgeous shade combines huge color payoff and summer fun, not to mention it's totally on-trend. Perk up your pout with the L'Oréal Paris Colour Riche Matte Lipstick in Matte-jestic.
21. CORAL LIPS
If subtle lip colors are more your style, look no further than coral lips. This shade will give your pout just the right amount of color for a glorious pop, all without stepping too far outside of your comfort zone. Sound like a lip color you can get behind? Swipe on the L'Oréal Paris Colour Riche Shine Lipstick in Luminous Coral and pucker up!
22. RED LIPS
Red lips are here to stay. They're sultry, flirty, and one of the top picks for both girl's nights and dates. Consider them to be a go-to option for summer lip makeup. Head on over to our article, Our Best Red Lipstick for Every Skin Tone, to find your red lip match.
23. SUBTLE BRONZING
There's no denying that bronzer goes hand-in-hand with summer makeup. The perfect way to achieve a sun-kissed look sans the sun, you can look like you spent all day at the beach with the help of the right makeup application. Want to add a little bronzing action to your makeup routine? Check out our article, 3 Bronze Makeup Looks That Are Perfect for Summer.
24. BARELY-THERE CONTOUR
In case you missed it, contouring has been a huge makeup trend for years now. A foolproof way to give your face a more slim and chiseled look, contouring has become a mainstay in the beauty world. However, for summer makeup, you'll want to do things a bit differently. Instead of creating a bold contour, summer calls for a more natural finish. If you're ready to learn the ins and outs of contouring, here are 3 Contouring Techniques You Need to Learn How to Do.
25. VOLUMINOUS LASHES
Long, voluminous lashes will never go out of style, and flirty lashes are a must for summer! Apply a few coats of the L'Oréal Paris Bambi Eye Waterproof Mascara, Lasting Volume to amp up the lash drama.
26. NO MAKEUP, MAKEUP LOOK
Last but not least: no makeup, makeup! Known as one of the most popular beauty trends, this look gives you a bare-faced yet runway-approved look. Natural-looking dewy skin, rosy cheeks, and bright eyes are a few of the hallmark traits that make no makeup, makeup such a sought-after look for the summer. Check out our article, How to Rock The No Makeup, Makeup Look: The Complete Tutorial to (subtly) transform your visage.
Discover more tips & tricks
Keep your skin happy
See all articles
Shop Featured Makeup products
Discover More