makeup looks
8 Ways to Help Get Your Makeup to Stay Put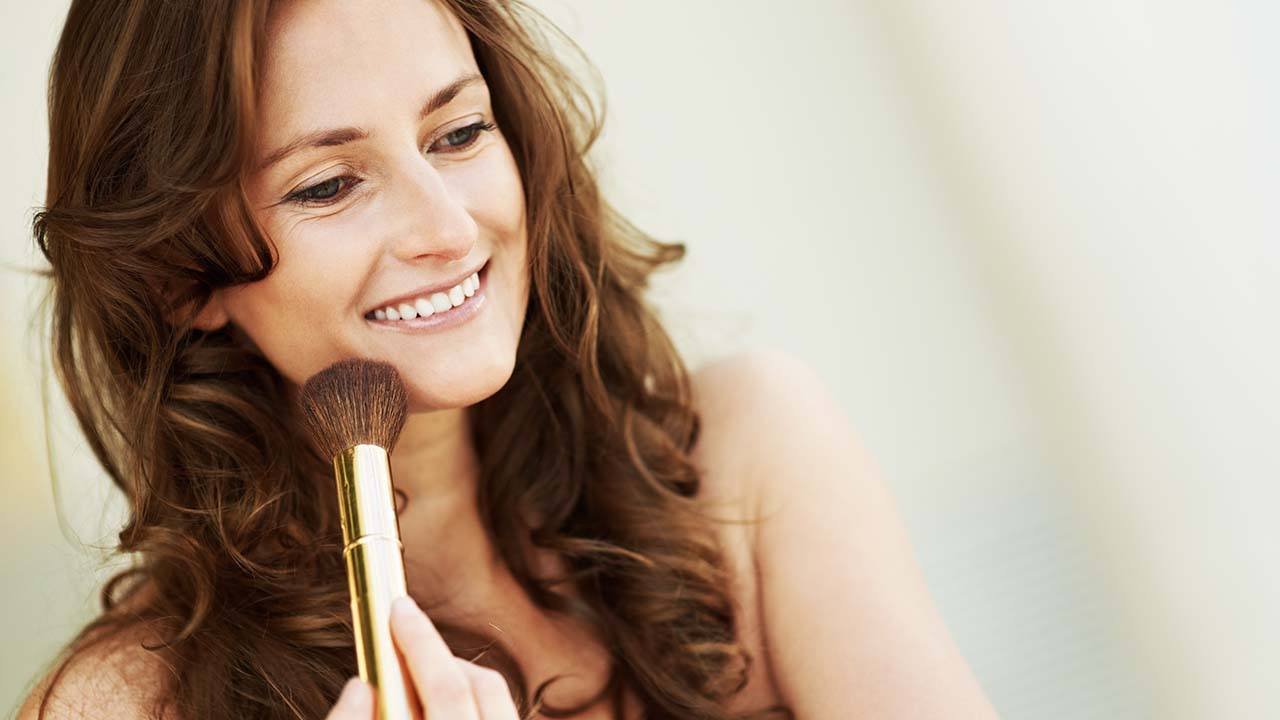 Ah, sweat. It isn't exactly your best friend when it comes to a freshly applied face of makeup. If you start to sweat, it doesn't matter if you were perfectly made up and ready for a social media photoshoot, your mascara may smear, while your foundation could literally begin to melt away. Ugh, not fair! So, what can you do? We've got eight handy beauty tips to help keep your look in place during the day.
MAKEUP TIP #1: APPLY A MATTE FINISH, OIL-FREE MOISTURIZER
Helping ensure your makeup lasts throughout the day starts with the proper skin care routine. And moisturizing should be a non-negotiable step in the morning, even if you have oily skin. The key is to pick the right product. In the summer months, you may find that a lightweight moisturizer is all that you need to help keep your skin hydrated. Look for one that is oil-free, non-greasy, and has a matte finish, such as the L'Oréal Paris Hydra Genius Daily Liquid Care for Normal/Oily Skin, which is formulated with hyaluronic acid and aloe vera water to help provide long-lasting hydration. Smooth it over your face and neck after cleansing—another skin care step you shouldn't skip!
MAKEUP TIP #2: PREP YOUR FACE WITH PRIMER
When it comes to makeup application, it's all about that base. If you want to help keep your makeup in place, it's a good idea to start by applying primer. Primer can help create a smooth base for your foundation and concealer application as well as allow your makeup to wear more evenly. The good news is, there's a primer out there to help tackle quite a variety of complexion concerns, so you should easily be able to find one that suits your skin's needs. Keep your made-up face looking fresh as you go about your day with one of the following face primers:
If your skin has uneven texture…try the L'Oréal Paris Studio Secrets™ Professional Magic Perfecting Base. This silky formula glides onto skin, leaving it feeling velvety-smooth to the touch. The result is a unified matte finish that looks flawless. The primer helps to smooth lines, hide pores, and banish the look of imperfections.
If you have a rosy-looking complexion…use the L'Oréal Paris Studio Secrets™ Professional Color Correcting Primers Anti-Redness Primer. This anti-redness primer has a green tint to help neutralize the appearance of redness. (Yay, color theory!) Wear it alone or under makeup.
If you want a matte finish…choose the L'Oréal Paris Infallible Pro Matte Lock Makeup Primer. This mattifying primer stops shine and helps blur the look of imperfections.
If you'd like glow-y skin…pick up the L'Oréal Paris Infallible Pro Glow Lock Makeup Primer. This non-comedogenic, breathable primer illuminates and hydrates skin for a finish that glows.
Regardless of which primer you pick, application will about the same. Smooth your primer of choice all over your face, then move on to the rest of your makeup routine.
MAKEUP TIP #3: PRIME YOUR POUT (AND MORE)
Your face makeup isn't the only thing that can stick around longer with the help of a primer. Add these specialized primers to your makeup bag to create looks that won't budge as easily.
1. Lip primer:If you're used to struggling with lip looks that smudge and fade what feels like almost immediately, a lip primer could be just what the doctor ordered. Don't just coat your lips with your favorite lipstick or stain. First, apply a thin layer of a lip primer to your pout. You can even use a little dab of foundation or concealer in place of lip primer in a pinch.
2. Eye shadow primer:Oily lids have ruined many a makeup look by leading to shadows that crease—or worse—disappear. The simple solution? Blend an eye shadow primer over your lids and follow with a powder shadow. Easy!
3. Lash primer:Before breaking out your favorite L'Oréal Paris mascara, sweep the L'Oréal Paris Voluminous Lash Paradise Primer/Base from base to tips. This can help create an even base and boost the effects of your mascara.
MAKEUP TIP #4: LOOK FOR LONG-WEARING FOUNDATION
Not every product out there is intended to stay put through the wear and tear of a hot, humid day. So, when looking for a foundation that will last, keep your eyes peeled for products that offer long-wearing coverage. Try the L'Oréal Paris Infallible Pro-Matte Foundation, which offers a demi-matte finish and flawless coverage, or the L'Oréal Paris Infallible Pro-Glow Foundation, which you has a bit more luminosity.
After applying, top your foundation with the coordinating face powder: either the L'Oréal Paris Infallible Pro-Matte Powder or L'Oréal Paris Infallible Pro Glow Powder. Adding a quick brush of powder can help set your face makeup.
MAKEUP TIP #5: WEAR WATERPROOF PRODUCTS
Making the switch to waterproof eyeliner and mascara can help prevent your makeup from running and smudging as you go about your day. Create your H2O-proof flick with the L'Oréal Paris Infallible Pro-Last Waterproof Pencil Eyeliner or L'Oréal Paris Voluminous Lash Paradise Liquid Eyeliner. Then, follow with a coat of waterproof mascara, such as the L'Oréal Paris Voluminous X Fiber Waterproof Mascara. (Removing waterproof makeup can be tricky. We've got you covered with our article, How to Remove Waterproof Makeup.)
MAKEUP TIP #6: PICK POWDERS OVER CREAMS
Say yes to creamy ice cream but no to creamy makeup formulas. If you're deciding between a cream or powder blush, powders are a safer bet for the summer season. The same rule applies to your bronzers and illuminators. Emollient creams, which often have a shiny or illuminating finish, may slip and slide more easily around your face as well as give you an oily-looking sheen. Try a few of our favorite powder products from L'Oréal Paris below.
L'Oréal Paris Paradise Enchanted Fruit-Scented Blush Makeup: Available in four colors that are perfect for summer, this blush has a delightful fruit-scent that makes applying blush extra fun.
L'Oréal Paris Visible Lift Color Lift Blush: Available in six shades, use your blush shade of choice to contour and illuminate cheekbones to create a more radiant, youthful-looking complexion.
L'Oréal Paris True Match™ Lumi Bronze It Bronzer: Available in three shades, this bronzer can be used to warm up your complexion and achieve a sun-kissed look—without the sun.
L'Oréal Paris True Match™ Lumi Powder Glow Illuminator: Available in three different color combos, these illuminating powders feature four shades that can be swirled together or used separately to open the appearance of eyes, create symmetry, and define your face.
L'Oréal Paris True Match™ Lumi Shimmerista Highlighting Powder: Available in two ultra-shimmery shades, this loose highlighting powder can be used to give your face—and your collarbones—a glow.
MAKEUP TIP #7: TRY "BAKING" YOUR MAKEUP
When professional makeup artists want their clients' makeup to really last, what do they do? They bake their makeup—no oven or kitchen utensils necessary. Makeup baking requires layering setting powder over your foundation and concealer for an end result that looks flawless and can withstand just about anything. Follow our step-by-step instructions for baking your makeup below.
Step 1: Conceal and correct your under-eye area. With a concealer, like the L'Oréal Paris True Match™ Super-Blendable Multi-Use Concealer, draw an upside-down triangle shape underneath each of your eyes. The triangles should extend just past the outer corners of your eyes and all the way down to the center of your cheeks. Using a makeup blender, blend your concealer out to keep dark circles and other imperfections covered.
Step 2: Apply foundation to your face. Follow concealer with your favorite liquid foundation. Apply an even layer then use a brush or blender to work it into your skin.
Step 3: Go over everything with powder. Dip a fluffy makeup brush into a loose setting powder, loading it up with product. Dab a thick layer of the powder onto your forehead, chin, and under-eye area.
Step 4: Let your cosmetics "cook." Here's where the baking technique comes into play. Let the powder sit for about five minutes, no matter how crazy you think it looks. Work on the rest of your beauty regimen while you wait, adding mascara, eye shadow, and eyeliner.
Step 5: Dust away the powder. Once your time is up, use your fluffiest makeup brush to sweep away the excess powder. That's it! You've successfully baked, and the result might be even better than fresh-from-the-oven chocolate chip cookies—we're talking about makeup that's locked in place.
MAKEUP TIP #8: SPRITZ WITH SETTING SPRAY
When you're finished with decorating and perfecting your face, it's time for a final misting. A weightless setting spray can help give your just-applied makeup look serious staying power. Take the L'Oréal Paris Infallible Pro-Spray & Set Makeup Extender Setting Spray, and shake well. With the bottle eight to ten inches from your face, close your eyes and spritz four to six times. Spray in an "X" and "T" motion to ensure you're completely covered.
Need a little help utilizing all these steps to create a makeup look that can withstand the summer heat? We've got you covered. Here are 3 Long-Lasting Makeup Looks That are Perfect for Summer Weather.
Discover more tips & tricks
Keep your skin happy
See all articles
Shop Featured Skin Care products
Discover More