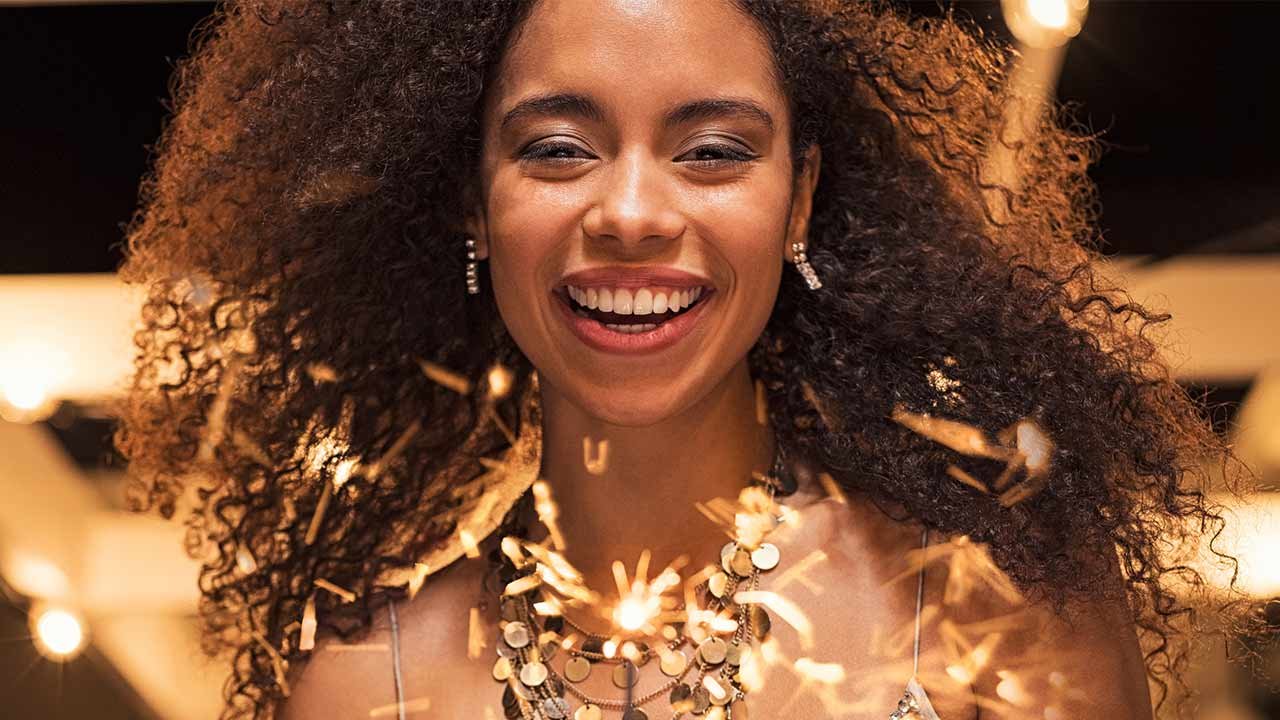 makeup looks
10 New Year's Eve Makeup Looks That Are Worthy of Ringing In The New Year
There are so many things we love about New Year's Eve—making our resolutions for the upcoming year, deciding on virtual party plans, rocking a killer outfit, and flaunting gorgeous New Year's Eve eye makeup looks. There's no denying that the celebration calls for pairing seasonal looks and coordinating face makeup, which we always love to don. You can opt for a dotted cat eye or a classic red lip for the occasion—it's all up to you. Get in on the fun and dive into the 10 best New Year's Eve makeup looks that are Instagram-worthy.
NEW YEAR'S EVE MAKEUP LOOK #1: RED LIPS
Red lips will always be a top pick for the holidays, and your New Year's Eve makeup look is no exception. Ring in 2021 with a glossy, sheer red lip like the L'Oréal Paris Colour Riche Shine Lipstick in Enamel Red. This shade provides your pout with hydration and lasting shine.
NEW YEAR'S EVE MAKEUP LOOK #2: GOLD EYELINER
While we'll always be a fan of traditional black eyeliner, New Year's is the perfect time to switch things up. As far as colors go, it doesn't get more festive than a metallic hue—we're especially fans of gold. Swap out your black eyeliner for a gold alternative, like the L'Oréal Paris Le Liner Easy-Glide Signature Mechanical Eyeliner, Waterproof in Gold Velvet, to line your lower lash line. For more ideas, here's How To Wear Gold Eyeliner.
NEW YEAR'S EVE MAKEUP LOOK #3: SMOKEY EYE
If you fancy a classic New Year's Eve eye makeup pick, a smokey eye is a solid choice. This look is all about blending matte and shimmery eyeshadow shades to give your eyes a pop. It's gorgeous on every eye shape, which makes it the ultimate universal look. So, it's no surprise that it's one of our favorite New Year's Eve eye makeup looks. For a step-by-step tutorial, head over to our article, The Perfect Smokey Eye For Every Eye Shape.
NEW YEAR'S EVE MAKEUP LOOK #4: ROSE GOLD HIGHLIGHT
New Year's Eve is all about the glitz and glam, and a lit-from-within look makes for a stunning pick. You'll score a highlighted, glowing complexion that will call attention to your features. Rather than reaching for your usual highlighter, take cues from disco balls and opt for a metallic highlight instead. Sweep the L'Oréal Paris Infallible Crushed Foils Metallic Highlighter in Rose Quartz onto your cheekbones, tip of your nose, cupid's bow, and arches for skin that beams.
NEW YEAR'S EVE MAKEUP LOOK #5: SILVER LIDS
It's clear that we have a soft spot for metallic hues when it comes to New Year's Eve makeup looks, and silver eyeshadow is one of our favorites. This glitzy shade gives your lids a super-shiny appearance without the need for other hues. Sweep the L'Oréal Paris Infallible 24 HR Eye Shadow in Silver Sky over your lids, blending the color into your crease. Next, swipe on a few coats of volumizing mascara, like the L'Oréal Paris Air Volume Mega Mascara, Lightweight Mega Volume Washable to score unmissable volume.
NEW YEAR'S EVE MAKEUP LOOK #6: GOLD LIPS
If you want a break from the classic red pout, consider veering toward the trendier side of things with a pout colored in gold. This luxurious shade will give your lips a glitzy hue that's right on-trend for the festivities. Swipe on the L'Oréal Paris Rouge Signature Matte Lip Stain in Pure Gold to transform your pout with metallic and shimmery specks of gold.
NEW YEAR'S EVE MAKEUP LOOK #7: SHIMMERY INNER CORNERS
For an iconic New Year's Eve eye makeup look, apply a pop of shine onto your inner corner for a chic accent. You can pair it with a contrasting shade like purple or pink for contrast or wear it solo for a minimalist look. If you prefer the latter, apply the L'Oréal Paris Brilliant Eyes Shimmer Liquid Eye Shadow Makeup in String of Pearls on the inner corners of your eyes to score major impact.
NEW YEAR'S EVE MAKEUP LOOK #8: WINGED EYESHADOW
Instead of struggling to perfect a winged eyeliner look, consider opting for a stylish variation. Winged eyeshadow is an easier option that delivers the same angular effect and extends the shade toward your crease and brow bone. Click through to our article, Easy Winged Eyeshadow Tutorial, to learn more.
NEW YEAR'S EVE MAKEUP LOOK #9: CUT CREASE
Since New Year's Eve eye makeup looks are all about making a statement, the cut crease is an MUA-inspired look that's worth a try. This trend involves defining the crease of your eye by cutting across it with a dark eyeshadow and barely blending it out. Check out our article, How To Create a Cut Crease, for some pointers.
NEW YEAR'S EVE MAKEUP LOOK #10: DOTTED CAT EYE
Leave the classic cat eye behind and have some fun with the dotted cat eye trend. This remix of the classic look replaces a straight line with dots for a playful and on-trend twist. Reach for the L'Oréal Paris Infallible Pro-Last Waterproof Up to 24HR Pencil Eyeliner in Silver and apply dots to your lids to complete the look.
Next up: If you're interested in switching up your mane for 2021, we can help. Head over to our article, New Hair, New You: The Best Hairstyles For The New Year.
Discover more tips & tricks
Keep your skin happy
See all articles