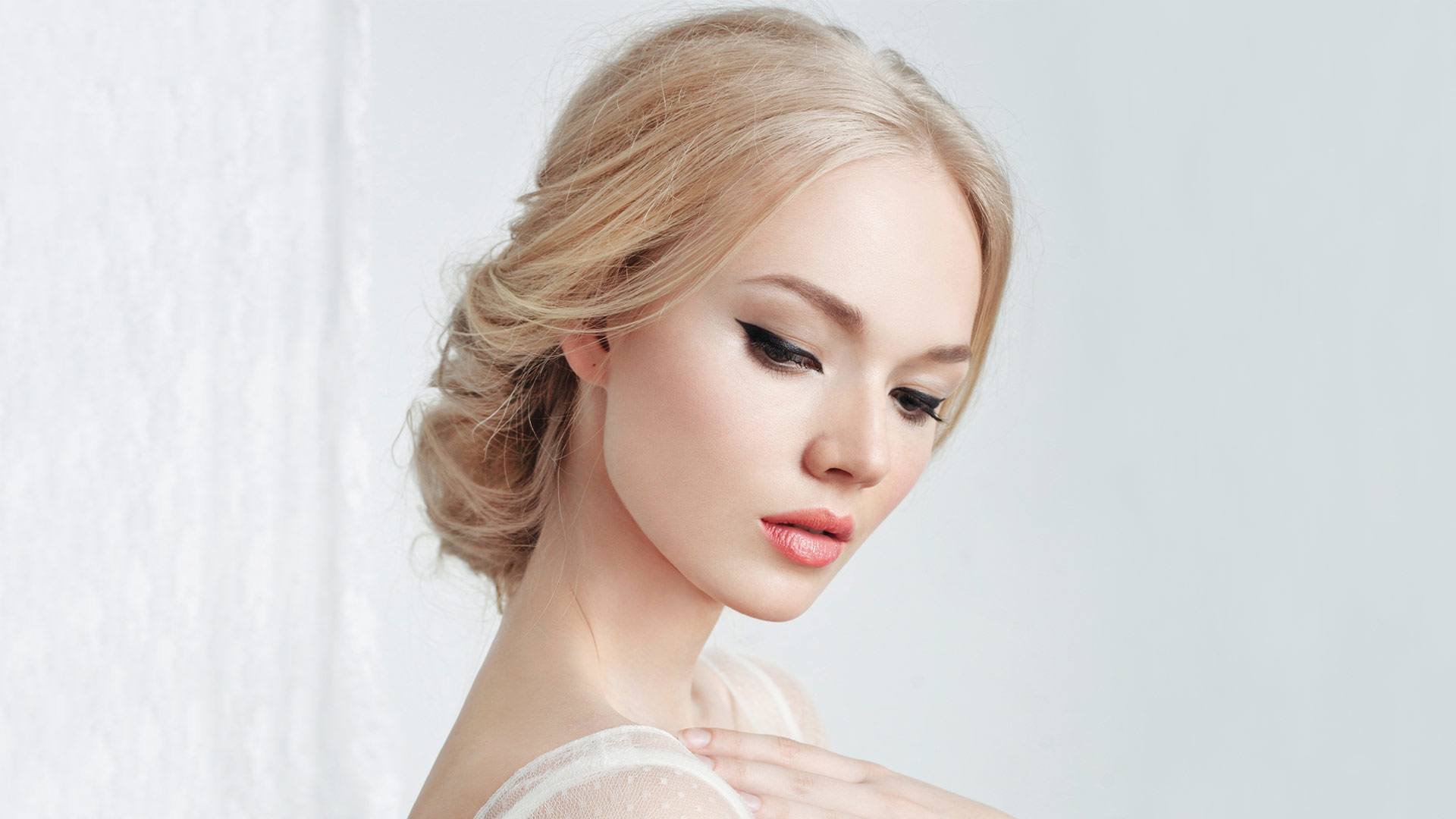 makeup looks
20 Best Bridal Makeup Looks for Summer
Gown? Check. Shoes? Check. Venue? Check. Flower arrangements? Check. If you're getting married in the summer, you've probably gone through your wedding day to-do list more times than you can count to ensure that everything is set for your big day. But, in between finalizing seating chart arrangements and song choices, did you remember to decide on your wedding bridal makeup look? While you might be in love with your simple, everyday makeup routine, your wedding is a once-in-a-lifetime experience where a little extra thought can go a long way. After all, just think about all of the pictures you're going to be in, don't you want your eye makeup to look even more amazing than usual when it's captured on camera?
If you're wondering how to choose your bridal makeup look, you've come to the right place. Here, we're introducing you to different types of bridal makeup that could be your wedding day match. Before you reach for your go-to makeup products, peruse this list of 20 bridal makeup looks that are perfect for walking down the aisle and saying, "I do."
BRIDAL MAKEUP LOOK #1: SMOKY CUT CREASE
Ready to show off your blending skills? A dramatic cut crease can add the je ne sais quoi you're looking for and complete your wedding day look. Heavier than traditional bridal makeup, which is typically very subtle, a smoky cut crease paired with a beautiful ombré effect on your lids is the something special your look needs. The best part? You can do it with any colors you choose! The trick to making it smoky is to choose an eyeshadow palette that includes one darker shadow for added depth.
BRIDAL MAKEUP LOOK #2: MONOCHROMATIC MAKEUP
Instead of trying to figure out which makeup shades will pair best together, why not take a hint from one of the biggest fashion trends and go for a monochromatic makeup look? Whether you choose to go all blush, all plum, or all coral—the trick to nailing this single-color makeup look is to apply it onto your lids, lips, and cheeks to tie everything together.
BRIDAL MAKEUP LOOK #3: SHIMMERY CHAMPAGNE LIDS AND LIPS
Your wedding day is the perfect time to pop bottles—and to emulate your favorite celebratory beverage with your makeup look. Combine shimmery champagne and pale pink shadows, such as the L'Oréal Paris Colour Riche Monos Eyeshadow in Little Beige Dress and the L'Oréal Paris Colour Riche Monos Eyeshadow in Mademoiselle Pink, and you'll slay a gorgeous look that's totally cheers-worthy.
BRIDAL MAKEUP LOOK #4: SPARKLING LOWER LASH LINE
Embrace the gorgeous upside-down eye makeup trend by coating your lower lash line in a light shimmering shade, such as the L'Oréal Paris Brilliant Eyes Shimmer Liquid Eye Shadow Makeup in Crystal Shine. The light color will help to open up your eyes for a brighter look, while the shimmering effect will perfectly complement the sparkle in your eye.
BRIDAL MAKEUP LOOK #5: BEAUTIFUL IN BERRY
So, you're not about to wear red down the aisle, but you're looking for a pop of color that's not your everyday pink? Think about adding a little bit of berry to your wedding bridal makeup look. By lightly blending a berry shadow—like the L'Oréal Paris Infallible 24 HR Eye Shadow in Glistening Garnet—into your crease, you'll be able to achieve just enough definition without going overboard. Pair it with berry-tinted blush and a slightly darker berry lip—try the L'Oréal Paris Rouge Signature Matte Lip Stain in I Enjoy—and you'll be berry beautiful.
BRIDAL MAKEUP LOOK #6: WELL-RESTED IN WHITE
Let's be real: There's zero chance that you're going to be able to get a good night's sleep before your big day—your excitement will be at an all-time high! But just because you didn't get a full eight hours doesn't mean you have to let everyone know it. With a swipe of white eye shadow, like the L'Oréal Paris Colour Riche Monos Eyeshadow in Petite Perle, blended onto your lids, inner corners, and along your lower lash lines, you'll be able to create a bright-eyed and bushy-tailed look. Pair it with a pale pink blush and lip for a beautiful, natural-looking statement.
BRIDAL MAKEUP LOOK #7: NEUTRAL SMOKY EYE
You can never go wrong with neutrals or a smoky eye. All you need is a multi-colored neutral palette, like the L'Oréal Paris Paradise Enchanted Scented Eyeshadow Palette, to combine the two for one amazing look. Start with an all-over dusting of the shade that's closest to your skin tone, followed by a darker shade blended into your crease, and a medium shade swept across your lids. Next, add a touch of pale shadow just underneath the tail of your eyebrow and at the inner corners of your eyes for a lifting and brightening effect.
Once you've placed all of your shadows, make sure to blend fully so as to get rid of any noticeable lines. Finish things off with a coat of mascara and a rosy lip, like the L'Oréal Paris Colour Riche Lipstick Shine Lipstick in Burnished Blush, to balance and complete your look.
BRIDAL MAKEUP LOOK #8: ROSE GOLD EYES
Looking for bridal makeup looks that allow you to steer outside of the box but still keep things subtle? Look no further than rose gold eye makeup. Not only is this look a seriously trendy option for brides, but it also perfectly conveys the warmth that goes hand in hand with summertime. Paint your lids in a rose gold hue, then pop a medium brown shade into your crease to blend the color out and add definition.
BRIDAL MAKEUP LOOK #9: YOUR SHARPEST WINGS
Who says you can't add a little drama to your wedding day eye makeup look? A sleek, sharp wing takes even the subtlest eye makeup look to the next level without going too far. Just be sure to use a liquid eyeliner that will allow you to get a precise, smooth line, like the L'Oréal Paris Infallible Flash Cat Eye Waterproof Brush Tip Liquid Eyeliner.
BRIDAL MAKEUP LOOK #10: BUTTERY SKIN
Dewy, glowing skin is all the rage for 2020 brides. What better day to get your glow on than on your wedding day? Enter buttery skin—the latest makeup trend that's all about creating the look of skin that's as smooth as butter. It's the perfect way to represent how much you're glowing on the inside, on the outside! Here's our article, Buttery Skin is the Next Big Makeup Trend, for all the details on how to get the look.
BRIDAL MAKEUP LOOK #11: PASTEL PINK
Another on-trend bridal makeup look? Pastel pink! Give yourself an all-over flush on your wedding day with baby pink lids, cheeks, and lips. You can use the L'Oréal Paris Infallible 24 HR Eye Shadow in Always Pearly Pink, L'Oréal Paris True Match Blush in Baby Blossom, and L'Oréal Paris Infallible Pro-Matte Les Macarons Scented Liquid Lipstick in Dose of Rose to get this soft, romantic look.
BRIDAL MAKEUP LOOK #12: GOLDEN EYES
You know what they say—everything is better in gold! Paint your lids with a golden hue for a look that's worth a million bucks. Use the L'Oréal Paris Brilliant Eyes Shimmer Liquid Eye Shadow Makeup in Crown Gold on your lids, bringing the same hue down to your lower lash line for an extra luxe touch.
BRIDAL MAKEUP LOOK #13: GLOSSY LIPS
Lip gloss is making a serious comeback, so consider giving your lips a glossy boost on your wedding day. Paint your pout with a shade from the L'Oréal Paris Infallible 8 HR Le Gloss line.
BRIDAL MAKEUP LOOK #14: PRETTY IN PEACH
Another popular hue that's perfect for summer, peach is a beautiful shade fit for any blushing bride. Walk down the aisle wearing subtle peach eye makeup paired with a pretty peach pout. Want a step-by-step tutorial? Here's How to Wear Peach Eyeshadow for a Look That's Just Peachy.
BRIDAL MAKEUP LOOK #15: BRONZE EYES
We'd argue there's no makeup look that says summer more than bronze eyes. First, swipe the L'Oréal Paris Infallible 24 HR Eye Shadow in Amber Rush onto your lids. Then, define your crease with the L'Oréal Paris Infallible 24 HR Eye Shadow in Bronze Taupe. Finish the look with a swipe of liquid liner along your upper lash line and a few coats of mascara.
BRIDAL MAKEUP LOOK #16: HALF CUT CREASE
If a traditional cut crease is a bit too bold for your liking, consider a half cut crease instead! This eyeshadow technique involves a clear, precise crease that starts at your inner corner and goes to the middle of your eye. Then, the second half of your crease is blended out. Pretty right? Learn all about it in our article, How to Create a Half Cut Crease Eyeshadow.
BRIDAL MAKEUP LOOK #17: WHITE WINGS
While black winged eyeliner may be traditional, there's an alternative that's perfect for your wedding day: white wings! Simply use a white eyeliner to line—and wing—your upper lash line. This will add a trendy touch to your wedding bridal makeup without going overboard.
BRIDAL MAKEUP LOOK #18: BRONZED SKIN
Of course, any summer bride will want to have a sun-lit, glowing complexion! What better way to embrace the summer season than with beautifully bronzed skin? Use a liquid bronzer, like the L'Oréal Paris Summer Belle Makeup Beach Bae Face & Body Liquid Luminizer, to add a bronze glow to your face and collarbones.
BRIDAL MAKEUP LOOK #19: BABY BLUE LIDS
If you think that blue eyeshadow isn't fit for bridal makeup looks, think again. When done right, baby blue lids are the perfect way to incorporate "something blue" into your bridal look. Use a soft, blue-white shade to color your lids, then define your crease with a beautiful navy to take your blue eye makeup up a notch. Be prepared to turn heads—and not just because you're the lady in white!
BRIDAL MAKEUP LOOK #20: CORAL BLUSH
Consider adding a pop of color to your cheeks with a bright, coral blush. We particularly love this look on those with deep complexions, though all skin tones can look beautiful in this summery shade. Color your cheeks with the L'Oréal Paris Summer Belle Makeup Blush Please! in Blushin' in Riviera.
HOW TO APPLY YOUR BRIDAL MAKEUP
Now that you have a better idea of what will serve as the star of your wedding day makeup look, whether that's a shimmery lid color or a glossy lip, it's time to put your entire bridal makeup look together. Below, we're sharing seven steps for your bridal face makeup routine.
STEP 1: APPLY PRIMER TO START
Before applying any makeup to your face, it's a good idea to start with a primer. Using this product can help to create an even base for makeup application, as well as ensure that your look stays in place while you dance the night away with your new spouse. To apply, smooth the L'Oréal Paris Infallible Pro-Glow Lock Makeup Primer all over your face in a gentle circular motion.
STEP 2: DAB ON COLOR-CORRECTING CONCEALER
It's your wedding day, which means there's no room for skin issues to get in the way of your big bridal moment. Lucky for you, you can help neutralize the look of redness, under-eye darkness, dullness, and discoloration with color-correcting concealers. The L'Oréal Paris True Match™ Color Correcting Crayon comes in five colors: yellow to hide blue or purple areas, green to neutralize redness, peach for dark circles on those with fair to light skin tones, bisque for dark circles on those with light to medium skin tones, and orange for dark circles on those with medium to dark skin tones. Use your shade(s) of choice sparingly, then blend out.
STEP 3: USE A LONG-LASTING FOUNDATION
When it comes to wearing foundation on your wedding day, you want it to look seamlessly applied without being overdone. And you won't want it to smudge or smear! That's why it's a good idea to opt for a buildable, long-wear foundation, like the L'Oréal Paris Infallible Up to 24 Hour Fresh Wear Foundation, Lightweight, so that you can work your way up to your ideal coverage. Use the L'Oréal Paris Infallible Blend Artist Foundation Blender to buff the foundation onto your face, building as needed.
STEP 4: BAKE YOUR MAKEUP
No, we're not talking about doing anything in the kitchen. Rather, makeup baking is all about setting your concealer to help create a brightening effect and make your makeup last longer. Just think of your favorite celebrities' red carpet looks, and you'll get the idea. For this technique, apply a liquid concealer, like the L'Oréal Paris Infallible Full Wear Concealer Waterproof, Full Coverage, in upside-down triangle shapes underneath your eyes and down the center of your nose, using a shade that's lighter than your skin tone. Add a dab on your chin and a smidge on your forehead, too, and be sure to blend the concealer out using a makeup blender. Then, gently pack loose powder—try the L'Oréal Paris Infallible Pro-Sweep & Lock Loose Setting Face Powder—over top of your liquid concealer.
Allow your makeup to "bake" for 10 minutes. While you're hanging out, this is the perfect opportunity to fill in your brows or do any other last-minute wedding prep before it's time to dust off the powder.
STEP 5: CONTOUR FOR CHISELED-LOOKING FEATURES
To help give your face a bit more definition, use a cream-based foundation or concealer to contour. Pick one of the L'Oréal Paris Infallible Longwear Foundation Shaping Sticks in a hue that's two shades darker than your skin tone and apply it to the hollows of your cheeks, temples, the sides of your nose, and your jawline. Be sure to blend it all out (using your makeup blender) for a seamless finish.
STEP 6: HIGHLIGHT, HIGHLIGHT, HIGHLIGHT
Next up, a gorgeous glow! All you have to do to achieve radiant skin—apart from being as thrilled as you already are—is to pat on some liquid highlighter, like the L'Oréal Paris True Match™ Lumi Liquid Glow Illuminator. Blend it along your cheekbones and onto the tip of your nose for just enough luminosity. This highlighter is available in three shades: Golden to enhance peachy or yellow tones in warm skin tones; Rose to enhance peachy, pink, or blue tones in neutral skin tones; and Ice to enhance pink or blue tones in cool skin tones.
STEP 7: SEAL YOUR LOOK WITH SETTING SPRAY
Now that you've finished applying your face makeup, you definitely want to help make sure that it lasts through the reception, right? In that case, you need a setting spray. This should be the last step in your wedding bridal makeup routine. Just give your face a spritz of the L'Oréal Paris Infallible Pro-Spray and Set Make-Up Oil-Free Setting Spray to seal in your final look. Hold the bottle eight to ten inches away from your head and spray four to six times in an 'X' and 'T' motion.
Need to decide on your wedding day hairstyle, too? Here are 4 Messy Wedding Hairstyles.
Discover more tips & tricks
Keep your skin happy
See all articles
Shop Featured Makeup products
Discover More