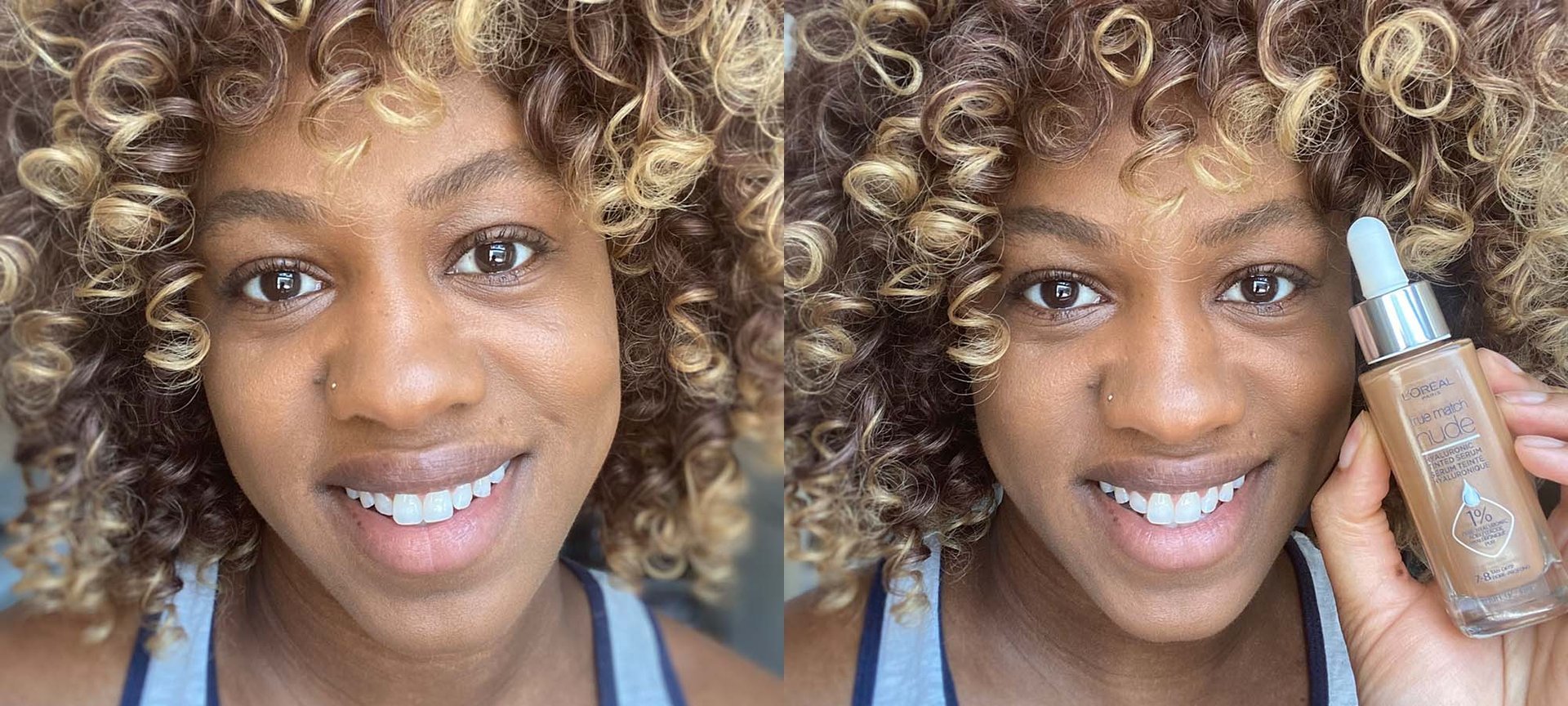 makeup looks
The Must-Have Product For Your Skinimalism Makeup Routine
Less product, more impact.
When it comes to beauty you'll often hear people say less is more, and with skinimalism as a popular trend this year it feels like that's never rang more true. This idea that skin should look like skin even when you put makeup on it—flaws and all—and that skin care should be simple yet effective has been embraced by influencers, celebrities and everyday women alike. That's why when it comes to makeup, products that have skin care benefits are becoming go-tos for those who want a minimalist look. That includes the L'Oréal Paris True Match Hyaluronic Tinted Serum. Keep reading to find out why it's a must-have for your skinimalism routine, and how to add this tinted serum to your pared down makeup look.
About the
L'Oréal Paris True Match Hyaluronic Tinted Serum
A true hybrid product, this tinted serum is the first on the market to contain one percent hyaluronic acid. So it provides lightweight, natural coverage while giving the skin a brighter, even look and a hydrated feel. It's fragrance free, paraben free and won't clog pores, making it suitable for sensitive and acne-prone skin types. But one of the biggest draws of this serum is how it smooths over skin and feels so weightless, but offers some coverage of hyperpigmentation and other skin imperfections without making you look doll-like. You can even apply it with your hands as you would any other facial serum—just be sure to give them a quick rinse after.
The L'Oréal Paris True Match Hyaluronic Tinted Serum can be the perfect star of any skinimalism makeup routine. Here are three ways to wear the must-have for a polished look that takes only minutes, but has major impact.
Tinted Serum + Brows
Pair the L'Oréal Paris True Match Hyaluronic Tinted Serum with sculpted, filled in brows for a simple, everyday look. Layer on your tinted serum after your L'Oréal Paris Revitalift Derm Intensives 1.5% Pure Hyaluronic Acid Serum. Then grab the L'Oréal Paris Unbelievabrow Longwear Waterproof Brow Gel to fill in sparse areas and set your brows in place for up to 48 hours.
Tinted Serum + Lipstick
A bright, even skin tone goes well with a similarly bright and bold lip. After layering the tinted serum on your face, swipe your lips with the L'Oréal Paris Colour Riche Creamy Matte Lipstick, Rich Hydration. You'll easily appear more put together for your marathon of meetings, whether they're virtual or IRL.
Tinted Serum + Bold Lashes
Many makeup looks don't feel complete without bold lashes. So don't skip what you love, simply pair the tinted serum with your favorite mascara, like the L'Oréal Paris Voluminous Lash Paradise Waterproof Mascara, for a look that's complete in just two steps.
Next: 9 Editors Put The True Match Nude Hyaluronic Tinted Serum To The Test
Written and Photographed by: Shalwah Evans
{ "@context": "https://schema.org/", "@type": "WebPage", "speakable": { "@type": "SpeakableSpecification", "cssSelector": ["speakable-content"] }, "url": "https://www.lorealparisusa.com/beauty-magazine/makeup/makeup-looks/best-tinted-serum-for-skinimalism" }
Discover more tips & tricks
Keep your skin happy
See all articles
Improve your routine
Show your new look more love:
makeup
{ "@context": "http://schema.org", "@type": "BreadcrumbList", "itemListElement": [ { "@type":"ListItem", "position": 1, "item": { "@id": "/", "name": "Home" } } , { "@type":"ListItem", "position": 2, "item": { "@id": "https://www.lorealparisusa.com/beauty-magazine", "name": "Beauty Magazine" } } , { "@type":"ListItem", "position": 3, "item": { "@id": "https://www.lorealparisusa.com/beauty-magazine/makeup", "name": "Makeup Tips For Every Look" } } , { "@type":"ListItem", "position": 4, "item": { "@id": "https://www.lorealparisusa.com/beauty-magazine/makeup/makeup-looks", "name": "Makeup Looks" } } , { "@type":"ListItem", "position": 5, "item": { "@id": "https://www.lorealparisusa.com/beauty-magazine/makeup/makeup-looks/best-tinted-serum-for-skinimalism", "name": "best-tinted-serum-for-skinimalism" } } ] }