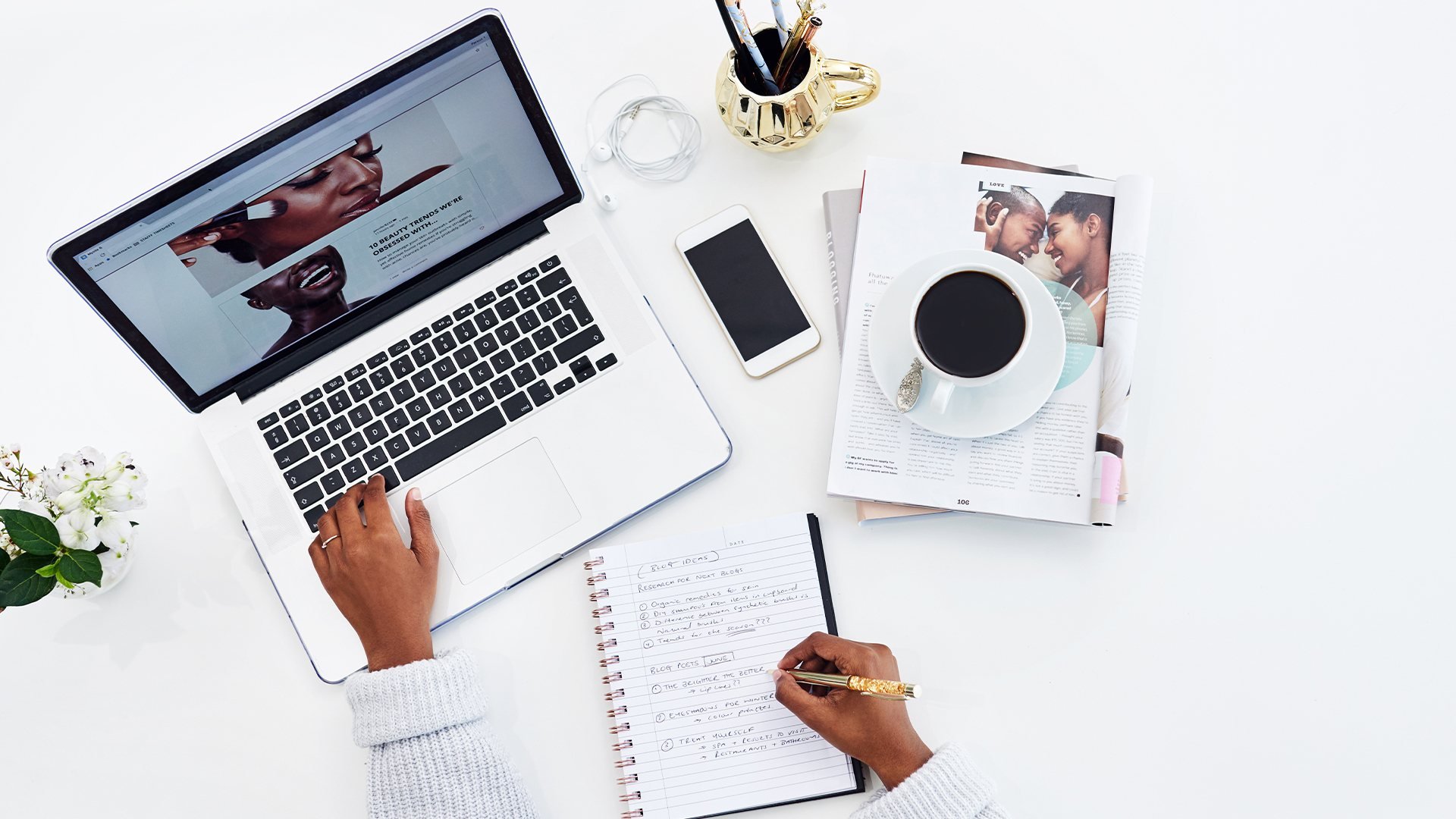 makeup looks
8 Beauty Editor-Approved Makeup Tips to Try in the New Year
Who better to take makeup advice from than a beauty editor? We asked L'Oréal's beauty editors to offer up their very best beauty tips, covering everything from face makeup to lip color, and they delivered. Here are eight beauty editor-approved makeup tips you'll want to put to the test ASAP.
MAKEUP TIP #1: APPLY WITH TOOLS—NOT FINGERS
Your fingers may seem convenient for quickly applying a myriad of makeup products, but beauty editors will always choose makeup blenders and brushes over fingers. Not only will designated makeup tools be better for both applying and blending out products, but they're also more hygienic—as long as you wash them regularly, that is! To apply makeup like a beauty editor, use the L'Oréal Paris Infallible Blend Artist Foundation Blender.
MAKEUP TIP #2: TURN PRIMING INTO A PRIORITY
Primer is all too often overlooked, but beauty editors know better than that. In actuality, primer isn't just an extra step in your routine; it can make all the difference in how easily your makeup applies and how long your look lasts. See, isn't it starting to sound worth it to apply primer?
Before you get started on the rest of your makeup look, make a point to apply either the L'Oréal Paris Infallible Pro Glow Lock Makeup Primer or L'Oréal Paris Infallible Pro Matte Lock Makeup Primer.
For even more staying power, be sure to complete your look with a few spritzes of a setting spray, like the L'Oréal Paris Infallible Pro-Spray and Set Make-Up Oil-Free Setting Spray or L'Oréal Paris True Match Lumi Shake & Glow Dew Mist.
MAKEUP TIP #3: DON'T SHY AWAY FROM DIFFERENT SHADES
It's all too easy to get used to you wearing the exact same shades of eye shadow and lipstick every day, but the job of being a beauty editor forces them to branch out. With new products coming across their desks all the time, they're bound to end up wearing something other than a nude lip color every single day, even if that's their favorite.
Live like a beauty editor and mix up what you wear from time to time. Experiment with a dark lipstick (like the L'Oréal Paris Infallible Matte Lip Crayon, Lasting Wear, Smudge Resistant in Cherryfic) or bright eyeliner (like the L'Oréal Paris Matte Signature Liquid Dip Eyeliner, Waterproof in Blue). You might just find a new favorite.
MAKEUP TIP #4: MAKE TAPE YOUR NEW BEST FRIEND
Don't assume beauty editors are always experts at applying makeup. While they certainly have an expansive knowledge of makeup products, that doesn't necessarily translate to being able to apply those products. That means editors rely on handy makeup hacks just like everyone else, more than one of which involves regular old adhesive tape.
To get a super-sharp cat eye, place a piece of tape at the outer corner of your eye before drawing on your winged eyeliner. When you're finished, pull it up, and you can expect a perfect flick to be left behind. As for another tape trick, after using glitter to spice up your eye makeup, you can pick up any excess with a piece of a tape. No more looking like you had a crafting mishap!
MAKEUP TIP #5: PLAY MIX MASTER WITH SKIN CARE AND COSMETICS
Mixing makeup and skin care products in order to create new and improved concoctions isn't a job reserved for the experts. If you have a bottle of the L'Oréal Paris True Match Lumi Glow Amour Glow Boosting Drops and a skin care product you'd like to make more illuminating, you can make it happen without the help of a professional. Mix a few glow drops with a dollop of your face cream or moisturizer, then smooth it onto your skin. DIY at its easiest!
MAKEUP TIP #6: ALWAYS HAVE MAKEUP WIPES ON HAND
Catch a beauty editor at any odd moment, and there's a solid chance they'll have makeup swatches marking their arms, wrists, and hands. In preparation for such situations, every editor has a desk that's well stocked with makeup removing wipes. That way, there's no reason to drop everything and head into the bathroom to get clean. A few swipes of a wipe and they're free to get back to work—or start swatching again. Of course, this tip isn't reserved for editors. Any makeup-lover living a fast-paced lifestyle will benefit from keeping a pack of wipes on their vanity and in their gym bag. Try the L'Oréal Paris Ideal Clean All Skin Types Makeup Removing Towelettes to tackle taking off all of your makeup, even waterproof.
MAKEUP TIP #7: EMBRACE NEUTRAL SHADES
Just because a product is brighter, more colorful, or bolder doesn't necessarily make it better. Beauty editors know that neutral shades are the key to creating a flawless makeup look—every time. To ensure you're stocked with the basics, pick up the L'Oréal Paris Paradise Enchanted Scented Eyeshadow Palette. This eyeshadow palette contains 12 gorgeous neutral shades to incorporate into your next eye makeup look.
MAKEUP TIP #8: GLOW IN GOLD
Every beauty editor recognizes the power of glowing skin—courtesy of a golden highlighter, that is. It's safe to say this warm, radiant look will go out of favor. To give your skin its own glow boost, add a golden powder highlighter, like the L'Oréal Paris True Match Lumi Shimmerista Highlighting Powder in Sunlight, to your makeup bag. Use a tapered highlighter brush to sweep it onto your cheekbones, tip of your nose, and cupid's bow.
Discover more tips & tricks
Keep your skin happy
See all articles
Shop Featured Makeup products
Discover More