lip makeup
How to Wear Sassy Dark Red Lipstick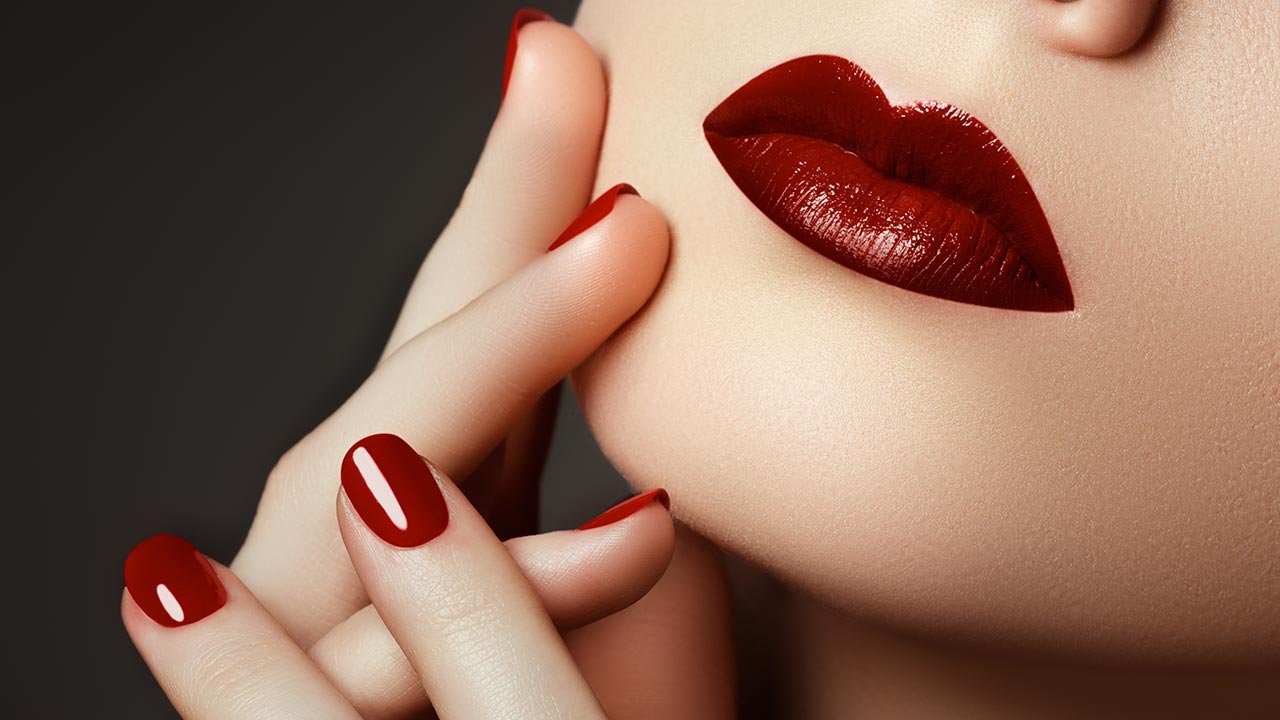 Ah, a classic, sassy red lip—there's nothing like it. While glossy lipsticks and tinted lip balms are making a major comeback right now, one lip color we know will never get pushed to the back burner is a beautiful dark red lipstick. Intimidated by the bold color? You don't have to be! With the right prep work and application technique, anyone can master this sass-filled red lipstick look. Below, we share our best sassy dark red lipsticks along with tips for applying this makeup product like a pro. It's time to try this makeup trend yourself!
OUR BEST DARK RED LIPSTICKS
Looking through your makeup bag and not finding any dark red lipsticks? Don't fret! We've got a few great options for you, depending on your favorite finish.
If you love a matte finish…try the L'Oréal Paris Infallible Matte Lip Crayon, Lasting Wear, Smudge Resistant in Spice of Life.
If you love a natural finish…try the L'Oréal Paris Colour Riche Lipcolour in Spiced Cider.
If you love a glossy finish…try the L'Oréal Paris Colour Riche Shine Lipstick in Glassy Garnet.
If you love a metallic finish…try the L'Oréal Paris Rouge Signature Lightweight Matte Colored Ink, High Pigment in I Fascinate.
HOW TO APPLY A SASSY RED LIPSTICK
Now that you've chosen your perfect sassy red lipstick shade, it's time to learn how to apply it for your prettiest pout yet. Follow these tips for applying dark red lipstick, then show off your gorgeous pucker!
Step 1: Exfoliate your lips. One of the easiest ways to disrupt the look of a beautiful red pout is by applying your dark red lipstick over flaky lips. No thanks! Luckily, buffing away those flakes is a breeze—and relaxing, too! Just massage the L'Oréal Paris Pure-Sugar Nourish & Soften Cocoa Scrub onto your lips, then rinse it off thoroughly with lukewarm water and pat dry. Now you're ready to move on to the next step.
Step 2: Reach for lip primer. Primer isn't just for foundation or eye makeup—it can also help to keep lipstick in place and create a smooth canvas for lipstick application. Look for a primer that's specifically designed to be used on the lips, and tap on a small amount all over your pout before painting any color onto your lips.
Step 3: Apply lip liner. Lip liner can be a game-changer when it comes to dark red matte lipstick application. Outlining your lips before applying lipstick can help to keep your color from seeping outside the lines. Just make sure your lip liner isn't too dark—you don't want to walk around looking like a coloring book that's yet to be filled in. Try using the L'Oréal Paris Colour Riche Lip Liner in a shade that closely matches your chosen lipstick to put this beauty tip to the test.
Step 4: Put your lipstick on the right way. When you start at the corners of your lips, it's more likely that you'll veer outside the lines. To avoid this little dilemma, start applying your dark red lipstick at the center of your lips—and take notice of how your perfect pout becomes more controlled. You'll get the hang of this with practice!
Step 5: Touch up your lips with micellar water and concealer. Even when you apply dark red lipstick according to all the best beauty tips and tricks, there's still a chance that your lines won't be quite as precise as you'd like. If you notice any color outside the lines, before trying to redo your lip look altogether, simply dip a cotton swab into some of the L'Oréal Paris Micellar Cleansing Water Complete Cleanser Waterproof - All Skin Types to touch up the edges, then make your mouth look even more crisp with a little bit of the L'Oréal Paris Infallible Full Wear Concealer Waterproof, Full Coverage.
Now that you know how to wear sassy dark red lipstick, check out our article, Our Best Lipstick for Every Zodiac Sign, to see if the stars are directing you to wear this shade.
Discover more tips & tricks
Keep your skin happy
See all articles
Shop Featured Skin Care products
Discover More