eye makeup
How to Trim Your Eyebrows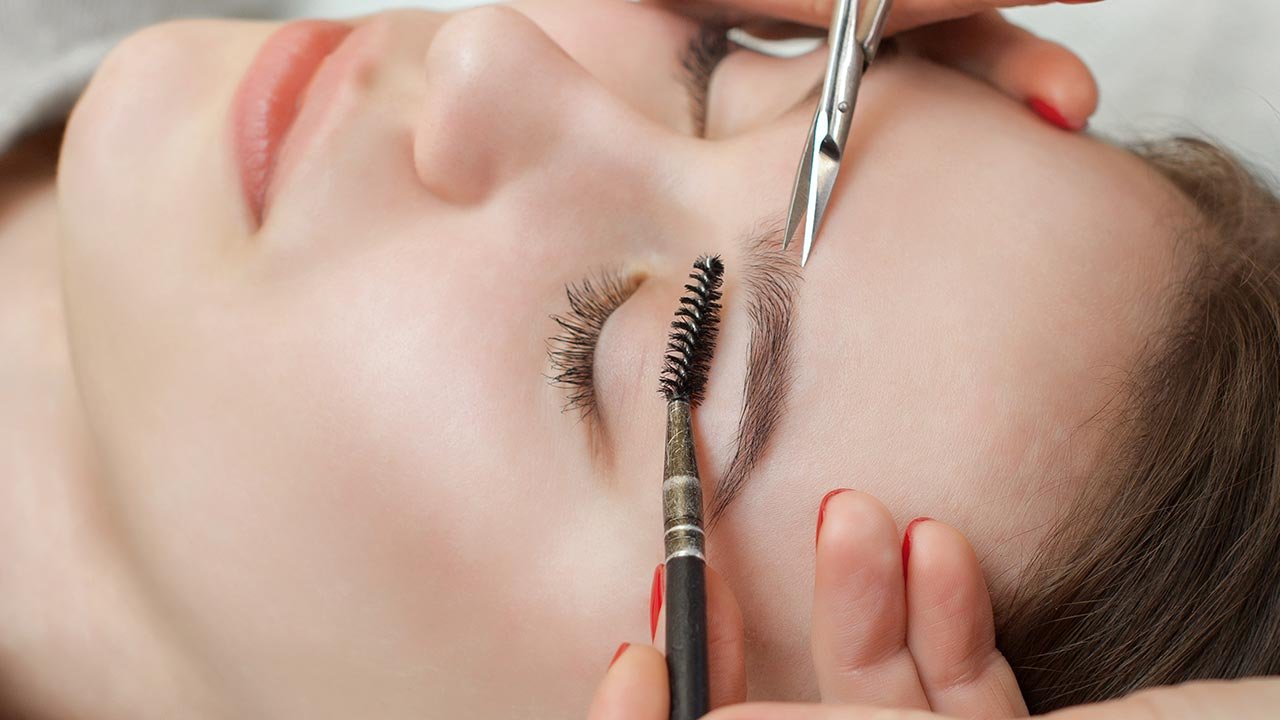 We'll be the first ones to say that eyebrow maintenance can be a bit intimidating, not to mention time-consuming. Aside from the fear of ending up with uneven—or worse, overplucked—eyebrows, keeping up with eyebrow shaping and grooming can be straight-up annoying. But as annoying as it can be, proper eyebrow maintenance is a must for achieving your most flattering beauty look. And with the help of regular trims, we promise it'll be much easier to keep crazy, unruly brows in check!
Not sure how to trim your eyebrows? Here, we're sharing a step-by-step guide on trimming eyebrows, including sharing the tools needed to give yourself brows that will have friends and strangers alike dishing out compliments.
DO YOU NEED TO TRIM YOUR EYEBROWS?
Before we dive into how to trim your eyebrows, you may be wondering if it's necessary to do so. The short answer: yes! Trimming your brows will not only create a more overall polished appearance but can also help keep your brows neat and tidy between regular shaping sessions (whether you tweeze your brows yourself or get them waxed at the salon). The occasional trim can also help prevent stray eyebrow hairs from sticking up in random directions throughout the day—and no one wants that!
SHOULD MEN TRIM THEIR EYEBROWS?
Once again: yes! Regardless of gender, everyone can benefit from trimming their eyebrows on a regular basis. Seriously, guys, you'd be amazed at the difference trimmed and groomed eyebrows can make in your appearance.
HOW OFTEN SHOULD YOU TRIM YOUR BROWS?
As a general rule of thumb, you should aim to trim your eyebrows about once per week. That being said, if you have an event coming up, you may want to treat your eyebrows to a quick trim beforehand. On the other hand, if you're trying to grow your eyebrows, you can leave more time between trimming sessions.
HOW TO TRIM YOUR EYEBROWS
Now that we've covered the basics, let's get to our tutorial. Follow the steps below to become an eyebrow trimming pro. We promise it's easy!
What you'll need:
Eyebrow comb
Angled eyebrow scissors
Get the look by following these simple steps:
STEP #1: COMB YOUR BROWS
First thing's first, use your eyebrow comb to brush the front area of your eyebrows upward toward your hairline. This will allow you to see which hairs have become longer than others—the reason for trimming your eyebrows in the first place!
STEP #2: TIME LONG HAIRS
Examine the hairs you brushed up. See which ones tend to fall in line with the top of your eyebrow and which ones stand out in length. Use a pair of angled eyebrow scissors to carefully trim any outstanding hairs. Remember: You can always trim more later, but you can't add more hair if you take away too much. Take your time and trim little by little, especially if you're nervous.
STEP #3: REPEAT THE PROCESS
You know what to do! Move on to the mid-section of your eyebrows and brush the hairs upward once again. Trim where necessary. Then, repeat the same comb and trim technique on the tail of your brow.
STEP #4: BRUSH YOUR BROWS
Use a spoolie to brush your brows in the direction that you would shape them. This will give you a better idea of how your newly trimmed brow hairs will fall normally. If you notice any hairs that are out of place, use your angled scissors to snip, snip!
Editor's tip: Don't think you have a spoolie on hand? Most eyebrow products, including the L'Oréal Paris Brow Stylist Definer Waterproof Eyebrow Mechanical Pencil, come with a spoolie on one end. A clean mascara brush can also serve you well in a pinch.
STEP #5: CHECK OTHER DIRECTIONS
While brushing your hairs upward is an easy way to bring long, unruly hairs into the limelight, brushing them downward is also important when trimming your brows. This will ensure no lengthy hair is left untrimmed!
Next up: You know the necessity of trimming your eyebrows and how to do so, but do you know the eyebrow shape that's best for you? Find out with the help of our article, How to Shape Your Eyebrows Based on Your Face Shape.
Discover more tips & tricks
Keep your skin happy
See all articles
Improve your routine
Show your new look more love:
makeup