eye makeup
How to Fill in Blonde Eyebrows
October 19, 2018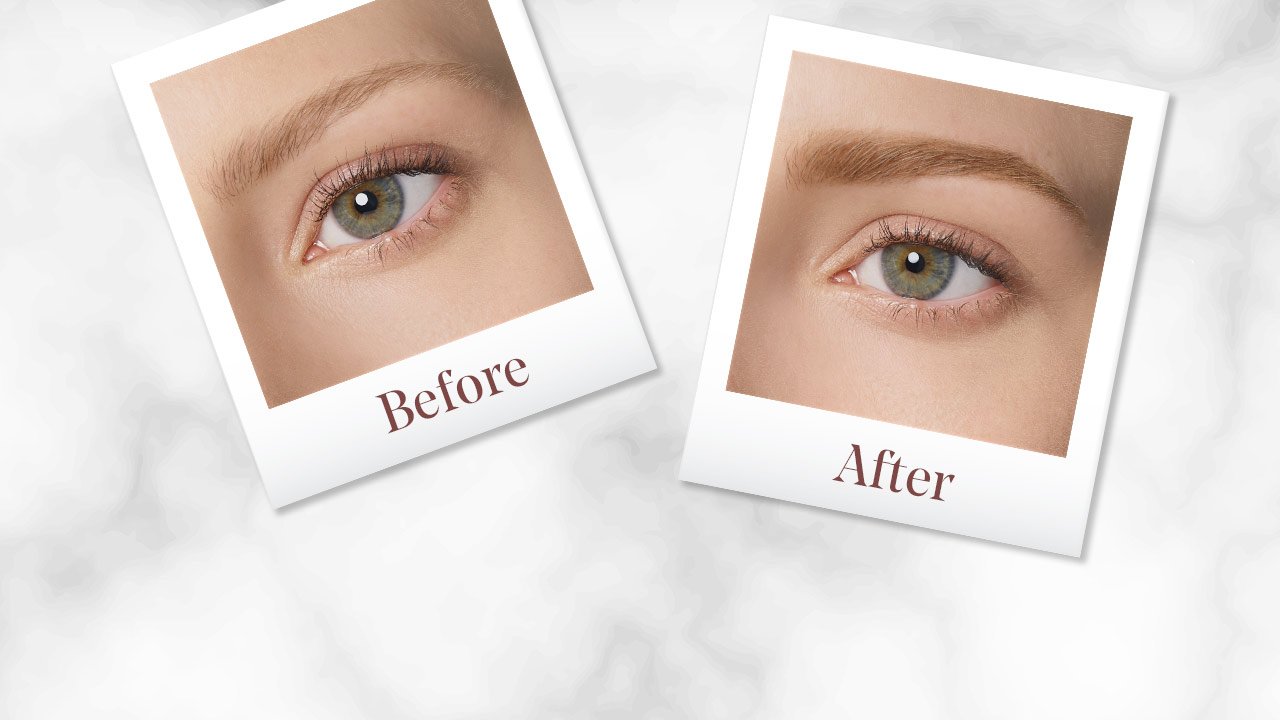 Bold, filled-in brows are a serious makeup trend. But if you have blonde hair, you may be hesitant to add eyebrow makeup to your daily routine in fear of your brows looking totally drawn on. But we have good news: being blonde doesn't mean you have to miss out on adding beautiful, defined brows to your makeup look. Blondes can fill in their brows too! Keep reading to find out how to fill in blonde eyebrows.
HOW TO FILL IN BLONDE BROWS WITH A PENCIL
As a blonde, one option you have when it comes to filling in your brows is to use an eyebrow pencil. Try using the L'Oréal Paris Brow Stylist Shape & Fill Mechanical Pencil in Blonde or Dark Blonde, either shade can be used to precisely outline, easily shade, and evenly fill in blonde eyebrows. Once you have your pencil in hand, follow the steps below to define your eyebrows:
Step #1: Create your shape
Use the pencil to create your desired brow shape. Use light, feathered strokes to outline your brows. Pay special attention to the tails of your eyebrows as they can be a little darker and more defined than other areas.
Step #2: Fill in your brows
Use the same light, feathered strokes to fill in your brows with hair-like lines. Start by adding a few lines to fill in any sparse areas and then gradually add more to achieve your desired look.
Step #3: Blend your eyebrow makeup
Use the spoolie end of your eyebrow pencil to comb through your brows and create a seamless, blended look.
HOW TO FILL IN BLONDE BROWS WITH A BROW GEL
Another option for filling in blonde eyebrows is to use an eyebrow gel. The L'Oréal Paris Unbelieva-Brow Longwear Waterproof Brow Gel is a long-wear, waterproof eyebrow gel that thickens brows for a long-lasting look. Grab a tube and follow our easy three-step tutorial to give it a try.
Step #1: Fill in your brows
Use the brow gel's doe foot applicator to apply a small amount of product throughout your brows, focusing on filling in any sparse areas.
Step #2: Define your brows
Similar to how you'd apply a brow pomade, next you'll want to use your angled brush (you get one when you purchase Unbelieva-Brow) to outline and define the shape of your eyebrows. Create light, feather-like strokes to avoid heavy, fake-looking brows.
Step #3: Blend away!
Flip your angled brush over and use the spoolie end to brush through your brows and blend the brow gel. A few extra seconds spent brushing your brows can make all the difference in whether or not you're left with a seamless, natural-looking brow.
Editor's tip: Whichever way you fill in your brows—pencil or brow gel—use a concealer to define your eyebrow shape by applying it along the edges of your brows with a concealer brush. Make sure to blend out any harsh lines and you'll be left with eyebrows that are on fleek!
3 OTHER MAKEUP TIPS FOR BLONDES
Now that you know how to fill in blonde eyebrows, you may be wondering what other makeup tips apply to blondes. Below, find three additional makeup tips for blondes.
Tip #1: Use a Brown Mascara
If you have blonde hair, black mascara can appear too harsh against your fair mane. Instead, opt to coat your lashes with a brown mascara like the L'Oréal Paris Voluminous Lash Paradise™ Washable Mascara in Black Brown.
Tip #2: Think Pink
Blondes look best in light, natural-looking makeup shades. Pinks are the way to go when it comes to choosing a blush and lip color. For blush, try adding a feminine flush to your cheeks with the L'Oréal Paris True Match™ Blush in Baby Blossom. Then, paint your lips with an equally flattering pink. If you prefer a matte finish, use the L'Oréal Paris Colour Riche Ultra Matte Highly Pigmented Nude Lipstick in Risque Roses. If you're a fan of a glossy lip, try the L'Oréal Paris Colour Riche Lipstick Shine Lipstick in Shining Peach.
Tip #3: Make Taupe Your Signature Color
Whether you know it or not, taupe is every blonde's best friend. This soft brown hue won't wash out your light hair color and—even better—it will bring out the multi-dimensional hues in your blonde locks. To incorporate taupe into your makeup look, try using a taupe eye shadow. First, apply a nude shade, like the L'Oréal Paris Infallible 24 HR Eye Shadow in Endless Pearl, on your lid. Then, define your crease with the L'Oréal Paris Infallible 24 HR Eye Shadow in Bronzed Taupe.
Want more makeup tips based on your hair color? Head over to our article, The Best Makeup to Wear With Your Hair Color.
Discover more tips & tricks
Keep your skin happy
See all articles
Shop Featured Makeup products
Discover More