beauty trends
How to Lighten Your Eyebrows With Makeup
Coloring your hair isn't solely for your strands.
September 28, 2022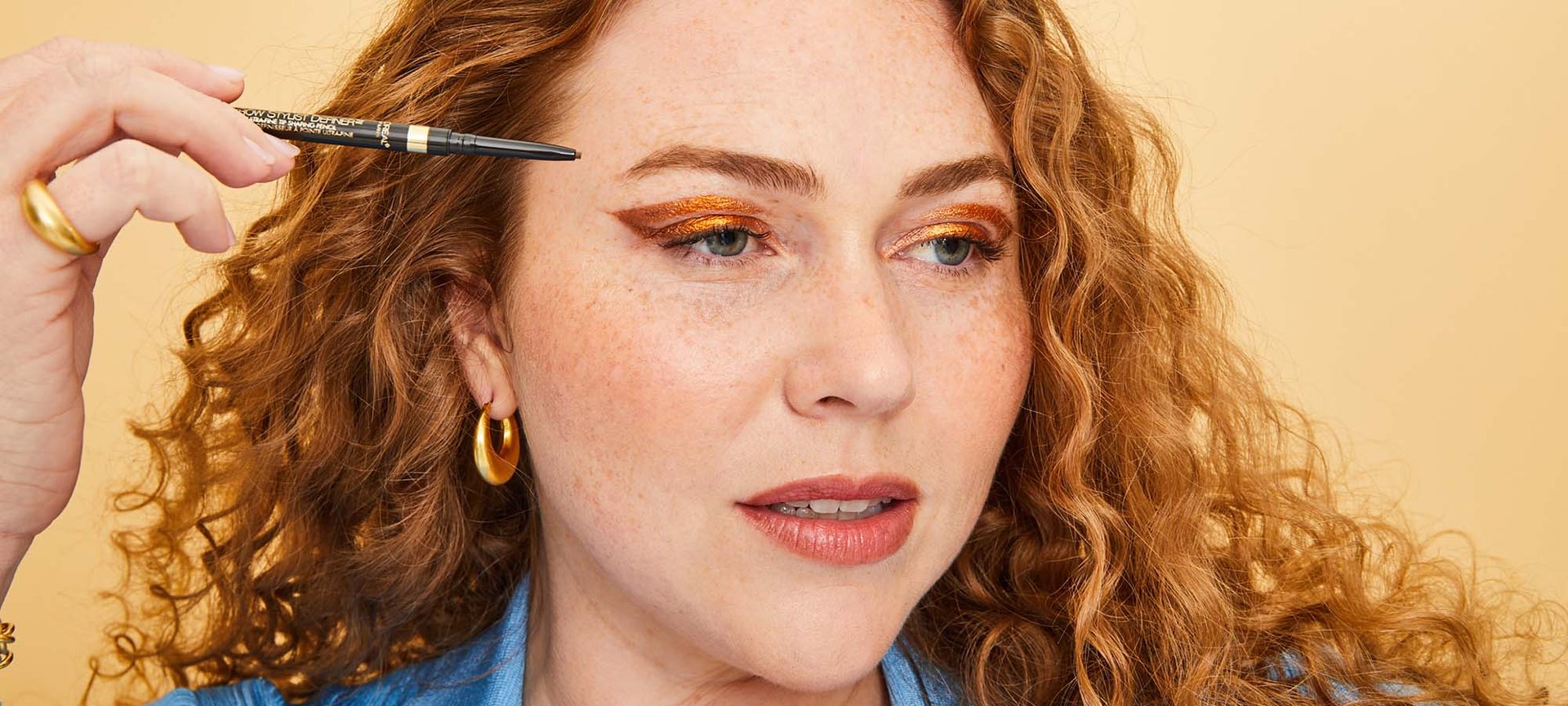 While coloring your hair is a great way to get a new look, all of the color change fun isn't solely for your mane — your eyebrows can get in on the hair color action too. If you've recently dyed your hair a lighter hue, now is the perfect time to try lightening up your eyebrows for an overall complementary look.
Brow lightening has been a popular eyebrow makeup technique used both on and off social media, and we are happy to share that you can recreate the look yourself without using any bleach. So grab a spoolie, prep your brows, and get ready to learn how to lighten your eyebrows with our tips and product picks.

Tips For Lightening Your Eyebrows With Makeup
Ready to give your brows a different look? You can do so by simply using a few key eyebrow makeup products. Read on to learn the two different ways you can do it.

1. How to Lighten Your Brows Using Eyebrow Pencil
When looking for eyebrow makeup that will help lighten the color of your brows, reach for a lighter hue that best complements your skin tone. Use the L'Oréal Paris Brow Stylist Shape & Fill Mechanical Pencil, which is a three-in-one mechanical brow tool that features a spoolie and a triangular tip. The tip will help you create short hair-like strokes to give the appearance of fullness and help get a precise and even outline. After filling in your brows, flip the brush and use the spoolie to comb through the hairs while blending out the product for a seamless finish.
If you want a longer-lasting option, grab the L'Oréal Paris Unbelievabrow Longwear Waterproof Brow Gel, which has a formula that lasts for up to 48 hours, and can be used to fill in and thicken your brows. This product will also help set your brow hairs and keep them from budging throughout the day. Lightly apply the product using the doe-foot applicator to fill in sparse areas, then, use the double-sided angled brush it comes with to outline and define the shape of your brow.
Editor's tip: Keep in mind that these makeup products can add a slightly lighter tone to your brows, not change the overall color. So don't expect to see a drastic color change.

2. How to Lighten Your Brows Using Concealer
Pick your regular shade of the L'Oréal Paris Infallible Full Wear Concealer up to 24H Full Coverage and use the applicator to smooth the product across the entire brow area. Next, use a spoolie to brush your brow hair upwards and into place, blending out the concealer evenly. Then use an eyebrow pencil like the L'Oréal Paris Brow Stylist Definer Waterproof Eyebrow Mechanical Pencil in a light shade to outline and shape your brows. Go back in with your spoolie to brush and blend out the product evenly, and you're all set.
Editor's tip: Be sure to set your eyebrows after filling them in to get a clean and defined look that'll last all day long. Grab a fluffy brush and set your brows with a powder, like the L'Oréal Paris Infallible Tinted Loose Setting Powder.
Tap the fluffy brush into the powder and lightly dust it across the eyebrows, let it sit for a few seconds, and then brush away any excess powder with your spoolie. This will further lighten your brows while also preventing the concealer from moving around.
Next: The Modern Way to Try the '90s Skinny Eyebrows Trend
Edited by: Témi Adebowale, Photographer: Chaunte Vaughn, Art Director: Hannah Packer, Associate Creative Producer: Becca Solovay, Digital Tech: Paul Yem, Photo Assistant: Matt Licari, Makeup Artist: Jonet Williamson, Hair Stylist: Akihisa Yamaguchi, Wardrobe Stylist: Alexis Badiyi, Wardrobe Assistant: Jazmine Alzado, Model: Shann Hitch
Discover more tips & tricks
Keep your skin happy
See all articles
Shop Featured products
Discover More