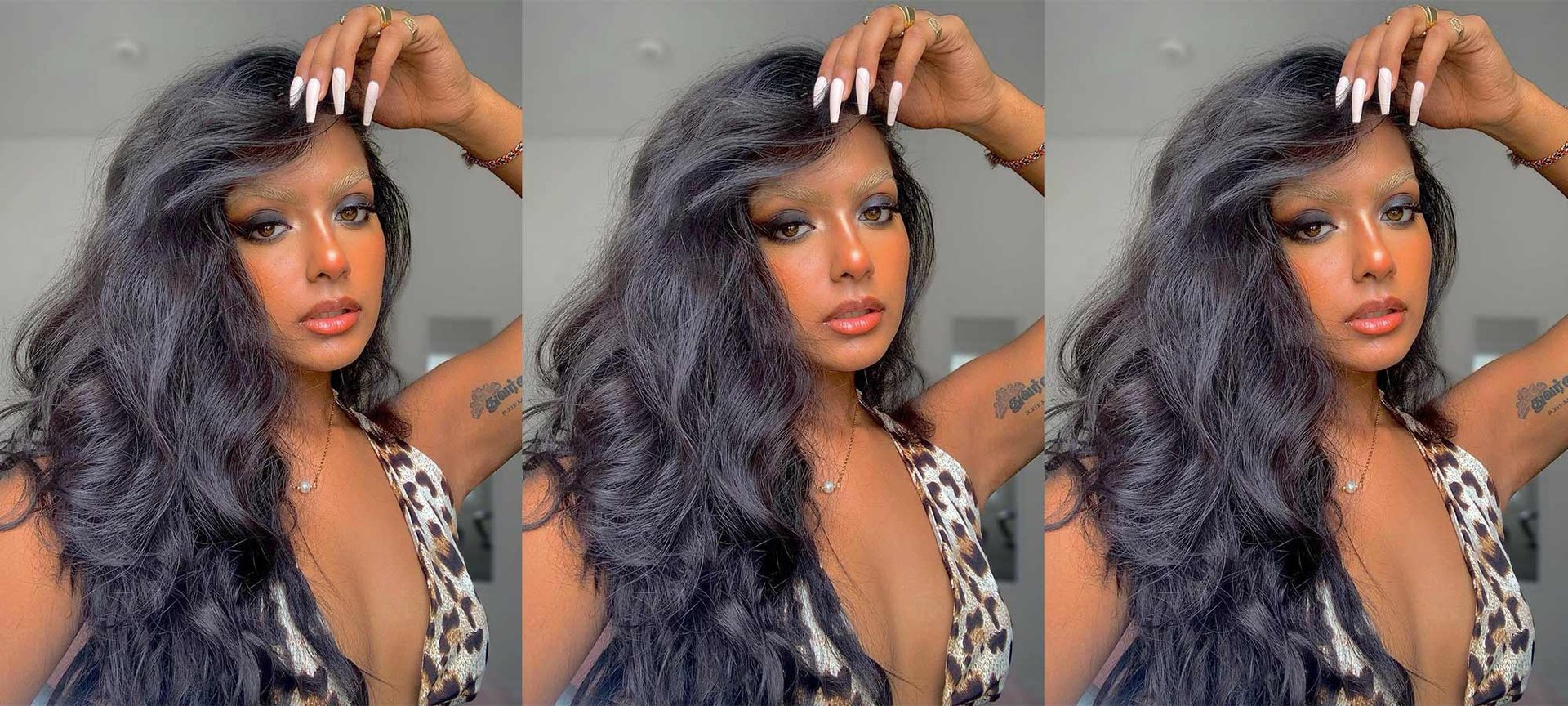 eye makeup
How To Fake The Bleached Eyebrows Look
It's almost too easy.
If you keep up with popular eyebrow trends, then you're probably familiar with all of the buzz surrounding bleached eyebrows. We're seeing bleached brows sported by celebrities, on the runways and all over social media. While the look might not be for everyone, there's no harm in stepping out of your comfort zone and giving it a shot一especially when there's an easy way to try out the trend without committing to permanently lightened brows. Here, we're sharing how to fake the appearance of bleached brows without bleaching your hair at all.

Step 1. Color Correct Your Eyebrows
This might sound like a strange first step, but stick with us. If you naturally have fairly light eyebrows, you can skip this step and move on to step two. But, if you have dark brows, you'll want to cancel out the darkness by coating the hairs in an orange or peach color. Just like peachy hues are used to correct dark circles, the same theory applies here. So simply apply a light coat of a peachy color corrector to your eyebrow hairs and comb the product through with a spoolie.

Step 2. Coat Your Brows In A Light Shade Of Concealer
This is the most important step in faking the appearance of bleached eyebrows. Rather than bleaching your brow hairs and risking a beauty mishap that's difficult to reverse, you'll simply coat your eyebrows with a light shade of concealer. Make sure you use a concealer that's longwearing and waterproof like the L'Oréal Paris Infallible Full Wear Concealer Waterproof, Full Coverage so that your faux bleached brows last all day.
Start by applying a bit of the concealer on the back of your hand and then evenly coat your spoolie in the product. Be careful not to pick up too much product or you'll risk having goopy brows. Then, brush the spoolie through your eyebrows making sure to carefully coat all of the hair. Start lightly as you can always add more if necessary. If you got concealer outside of your brows, clean it up with your foundation or makeup remover to ensure your brow shape looks clean and precise.

3. Set Your Eyebrows
The last step in achieving the look is to lock your brows in place. You'll want to set the concealer with a translucent powder to be extra sure that the product won't fade or transfer. Take a light dusting of the L'Oréal Paris Infallible Pro-Sweep & Lock Loose Setting Face Powder on a small fluffy brush and tap it onto your brows. And that's it一faux bleached brows in three easy steps.

Next: 7 Eyebrow Products For Your Best Eyebrows Ever

Photo Credit: IG/@shanas.touch
{ "@context": "https://schema.org/", "@type": "WebPage", "speakable": { "@type": "SpeakableSpecification", "cssSelector": ["speakable-content"] }, "url": "https://www.lorealparisusa.com/beauty-magazine/makeup/eye-makeup/how-to-fake-bleached-eyebrows" }
Discover more tips & tricks
Keep your skin happy
See all articles
Improve your routine
Show your new look more love:
makeup
{ "@context": "http://schema.org", "@type": "BreadcrumbList", "itemListElement": [ { "@type":"ListItem", "position": 1, "item": { "@id": "/", "name": "Home" } } , { "@type":"ListItem", "position": 2, "item": { "@id": "https://www.lorealparisusa.com/beauty-magazine", "name": "Beauty Magazine" } } , { "@type":"ListItem", "position": 3, "item": { "@id": "https://www.lorealparisusa.com/beauty-magazine/makeup", "name": "Makeup Tips For Every Look" } } , { "@type":"ListItem", "position": 4, "item": { "@id": "https://www.lorealparisusa.com/beauty-magazine/makeup/eye-makeup", "name": "Eye Makeup" } } , { "@type":"ListItem", "position": 5, "item": { "@id": "https://www.lorealparisusa.com/beauty-magazine/makeup/eye-makeup/how-to-fake-bleached-eyebrows", "name": "how-to-fake-bleached-eyebrows" } } ] }