eye makeup
7 Eye Makeup Looks You Can Do in 5 Minutes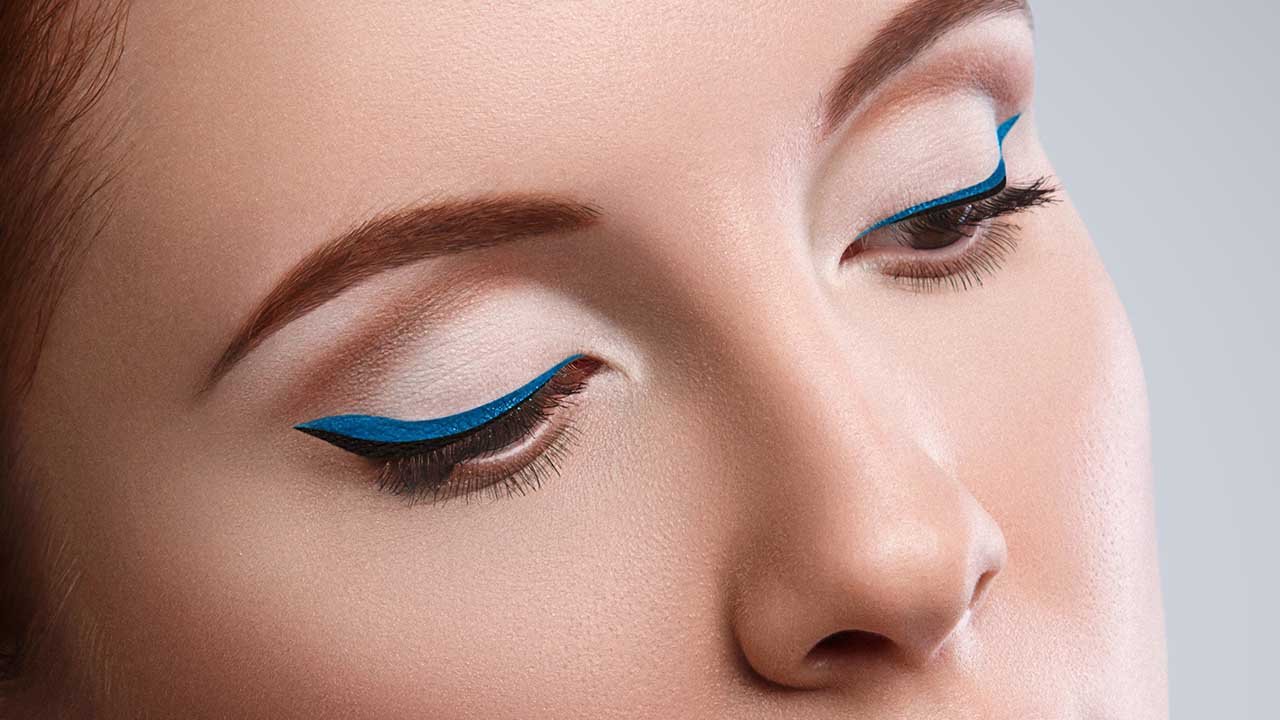 Want a show-stopping eye makeup look but don't have much time to spare? Not to fear, we've got you covered with these seven simple—yet stunning—eye makeup looks you can do in five minutes (or less!). No seriously, these looks are easy to master and quick to execute. Read on to learn how to spice up your eye makeup game in just five minutes. Grab your eyeshadow, eyeliner, and mascara and let's get going!
Eye makeup look #1: Two-toned eyeshadow
This look is super trendy at the moment and besides being simple to pull off, it can also be done in literally any color combo imaginable. For a two-toned eye makeup look, choose any two shades of eyeshadow—the idea here is to add depth and dimension, so pick one light shade and one dark shade that complement each other. Generally, shimmery shadows are easier to blend than matte shades, so you might choose shadows with a shimmer finish for your first time creating the look. An eyeshadow palette like the L'Oréal Paris Colour Riche La Palette Nude has plenty of different finish options to play around with. The L'Oréal Paris Colour Riche Pocket Palette Eyeshadow is another versatile option to consider.
Eye makeup look #2: Sultry, colored mascara
A few swipes of a colored mascara, such as the L'Oréal Paris Voluminous Mascara in Deep Burgundy, brings an instant pop of bold color to just about any look. Since burgundy is a warm hue, it makes sense that burgundy mascara pairs particularly well with warm eyeshadow shades, such as those found in the L'Oréal Paris Paradise Enchanted Scented Eyeshadow Palette. The pretty palette includes rose nudes, bronzed ambers, and pops of coral pink—oh, and it smells amazing too!
Eye makeup look #3: Bold, bright eyeliner
Instead of reaching for your regular black or brown eyeliner, why not mix things up with a pop of color, such as the L'Oréal Paris Infallible Pro-Last Waterproof Pencil Eyeliner in True Teal or Purple? Alternatively, how about a white eyeliner, like the L'Oréal Paris Infallible Never Fail Eyeliner in White. Think about it; it doesn't take any longer to apply than your go-to black or brown liner and the more often you practice, the quicker you'll get!
Editor's note: If you haven't given white liner a shot yet, you're missing out. Why? Because besides looking super chic on its own, it's also multipurpose. Read our articles 6 Ways to Use a White Eyeliner Pencil and 8 White Eyeliner Hacks to Try ASAP for all the details.
Eye makeup look #4: Dazzling jewel-tones
Swipe on a bit of vivid, jewel-toned eyeshadow for a dazzling statement look you can wear day or night. When it comes to jewel tones, there are tons of shade and color variations to choose from, such as amethyst-inspired hues (try the L'Oréal Paris Infallible 24 HR Eyeshadow in Perpetual Purple), garnet-inspired shades (try the L'Oréal Paris Infallible 24 HR Eyeshadow in Glistening Garnet), and even bright emerald-inspired colors (try the L'Oréal Paris Infallible 24 HR Eyeshadow in Golden Emerald). If you're new to jewel-toned eyeshadow or just can't decide which dazzling hue to try first, reach for a palette, such as the L'Oréal Paris Colour Riche Quads in Blue Haute Couture or Hollywood Icon. Just a few strokes on your upper lid is all you need for a fabulously-fresh look.
Eye makeup look #5: Natural, brown matte
Don't forget that the no-makeup, makeup look is always a good option, especially on weekdays at work, or days when you're just not really feeling a bold look. It happens! This look, while classic and quick to achieve, is anything but boring. Use a thin brush to apply a dark brown matte eyeshadow on the inner and outer corners of your eyelid, then use another small brush to fill in the gap with a slightly lighter brown eyeshadow shade. So subtle and pretty!
Eye makeup look #6: Sexy, smudged shadow
Trade your everyday liner for a creamy, dark eyeshadow and use a small brush to literally smudge it along your top and bottom lash lines. That's it, you're done! This edgy look is meant to look a bit undone, hence its name, so no touch-ups necessary.
Eye makeup look #7: Go Nude
There's more to nude eyeshadow than the natural look. How, you ask? Well, with a spectrum of nude shades, all it takes is a little imagination and five minutes to create a gorgeous nude smoky eye—a more delicate version of your favorite statement eye.
Have a few extra minutes and want to take your eye makeup game up another notch? Read our article 6 Colorful Eye Makeup Looks for more eye makeup inspo.
Discover more tips & tricks
Keep your skin happy
See all articles
Shop Featured Makeup products
Discover More