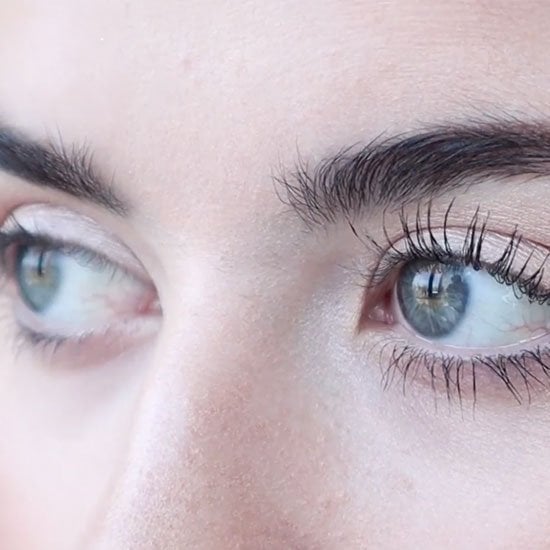 eye makeup
L'Oréal Paris Bambi Eye Mascara Review
Always on the hunt for a new mascara? We can relate. There's just something about this essential eye makeup product that has us constantly scanning the shelves of the makeup aisle for the latest tube to hit the stores. If that sounds like you, chances are you've stumbled upon our L'Oréal Paris Bambi Eye Washable Mascara, Lasting Volume—and you're curious about what this mascara has to offer. Keep reading for our L'Oréal Paris Bambi Eye mascara review, including a breakdown on the product and how to use it.
L'ORÉAL PARIS BAMBI EYE MASCARA REVIEW
Without further ado, allow us to introduce you to our L'Oréal Paris Bambi Eye Mascara. There are two versions of the mascara, a washable formula (the one we mentioned earlier) and a waterproof formula, the L'Oréal Paris Bambi Eye Waterproof Mascara, Lasting Volume. Now, onto the review. Let's talk, formula, color, application, and removal.
Formula: It's safe to say that most of us are looking for volume and length when it comes to mascara, and Bambi Eye hits all the right notes. Both the washable and waterproof versions of this mascara feature a velvety formula that glides on smoothly for lifted, elongated, and volumized lashes free of any pesky clumps. (Seriously, watch the video for an impressive before and after!) Bonus: Both versions are ophthalmologist and allergy tested and suitable for sensitive eyes.
Colors: Before you commit to a mascara, you probably want to make sure it has the range of shades you're searching for. After all, it would be a major pain to fall for a new tube only to not be able to find it in the color you need. The washable Bambi Eye formula comes in three colors: Blackest Black, Black, and Black Brown while the waterproof Bambi Eye formula has two colors: Blackest Black and Black.
Application: A mascara is only as good as its wand! Fortunately, this mascara has a unique, wide-eyed brush that features short and long bristles to separate and coat every lash. The result? Curled lashes and plenty of definition for a wide, open-eyed effect in just a few swipes.
Removal: What about when you want to take your mascara off? We'd say there's just about nothing worse than having to scrub off your mascara at the end of the day—plus it's bad for your lashes. Luckily, removing both mascara formulas is easy. The washable version can be removed with a bit of soap and water, while the waterproof version comes off with the help of a waterproof makeup remover.
HOW TO USE L'ORÉAL PARIS BAMBI EYE MASCARA FOR A WIDE-EYED EFFECT
Ready to pick up a tube of the L'Oréal Paris Bambi Eye mascara? Follow the steps below to learn how to put it to use to get the ultimate wide-eyed look.
Step #1: Start with Clean Eyes
Before applying makeup in general, it's important to start with a clean, makeup-free complexion. This is especially important when applying mascara, as any leftover residue can cause new layers of mascara to clump. To remove any traces of product, saturate a cotton pad with the L'Oréal Paris Micellar Cleansing Water Complete Cleanser Waterproof - All Skin Types and hold it over closed eyes for a few seconds, then gently wipe to remove.
Step #2: Color Your Lids
Let's talk eye shadow! First, color your lids in a neutral, shimmering hue, like the L'Oréal Paris Brilliant Eyes Shimmer Liquid Eye Shadow Makeup in Amber Sparkle. Then, it's time to brighten things up and start creating the illusion of bigger eyes. To do so, simply pop the L'Oréal Paris Brilliant Eyes Shimmer Liquid Eye Shadow Makeup in String of Pearls onto your inner corners, making sure to blend out any harsh lines.
Step #3: Line Your Eyes
Next up? Eyeliner! Use the L'Oréal Paris Matte Signature Liquid Dip Liner, Waterproof to create a precise, sharp line along your upper lash lines. Add a wing at the outer corner to make your eyes look wider.
Step #4: Apply Lash Primer
Lash primer is another must if you want to get the most out of your mascara. Just as makeup primer can help create an even base for your face makeup, lash primer will make applying an even coat of mascara that much easier. It will also increase the volume and length of your fringe. Pretty cool, huh? Take your pick from the L'Oréal Paris Voluminous Lash Primer or the L'Oréal Paris Voluminous Lash Paradise Mascara Primer/Base.
Step #5: Grab Your Mascara
It's time to apply your mascara! Comb the wide-eyed brush through your lashes, starting at the base and sweeping up to the tips. Apply a single coat or build on additional layers to achieve your desired lash look.
Next: Brush up on your mascara knowledge with Your Ultimate Mascara Guide.
Discover more tips & tricks
Keep your skin happy
See all articles
Shop Featured Makeup products
Discover More