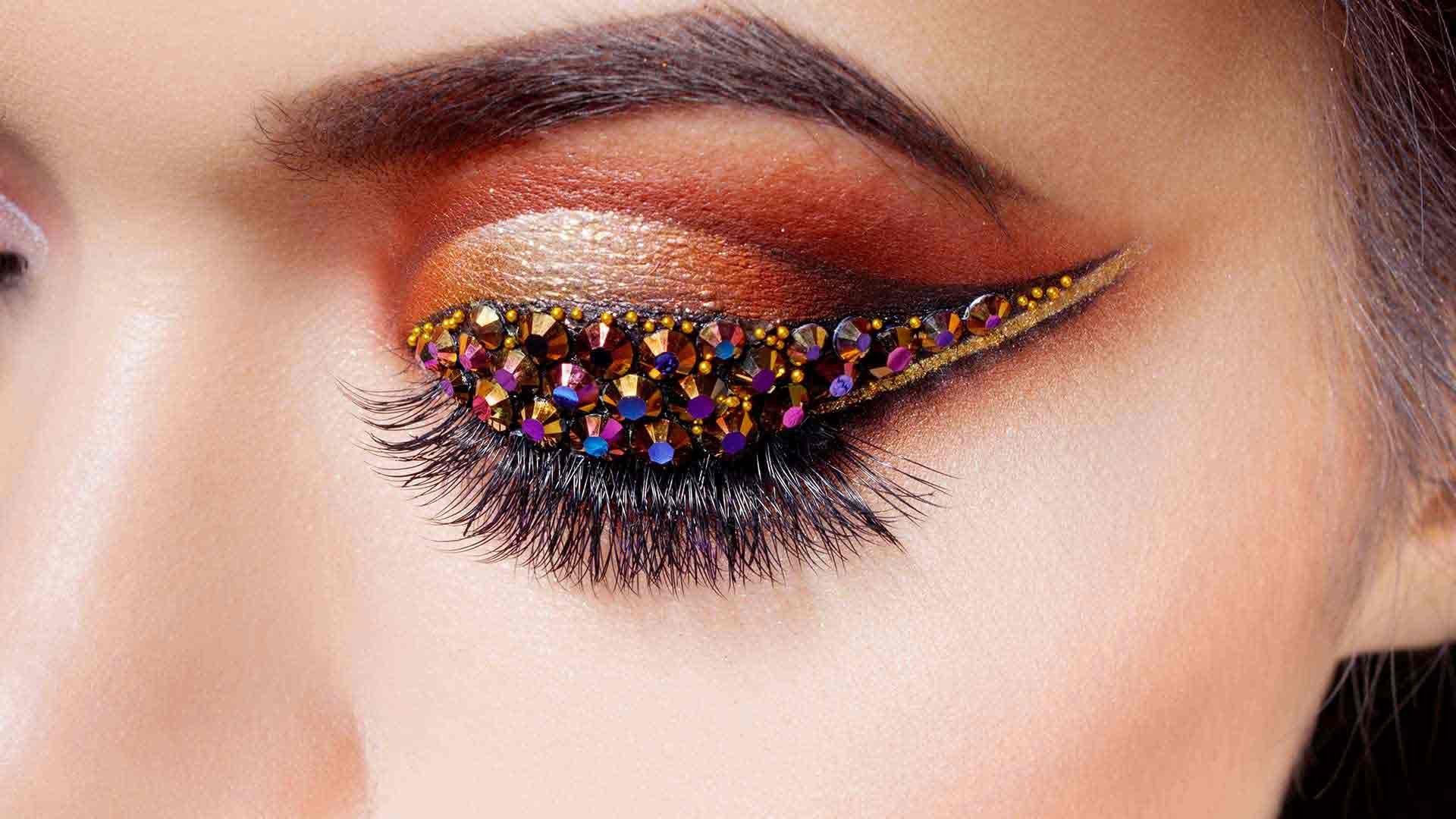 eye makeup
12 Cool Eyeshadow Looks Everyone Should Try
When it comes to exploring your creativity on the beauty front, makeup is second to none. A foolproof way to accentuate your beauty and enhance your features, the possibilities are truly endless. While you may have tried-and-true eye makeup looks that you flaunt regularly, it's time to step outside of the box with some cool eyeshadow looks.
Sure, you can always count on your everyday makeup looks to complement your style, but there's no better way to turn heads than with a cool eye makeup look. Whether you prefer bright and bold eyeshadow looks or muted options, you'll be sure to find a ton of cool eyeshadow picks that suit your needs. Have we piqued your interest? If so, keep reading for 12 cool eyeshadow looks that will spice things up.
1. PINK CUT CREASE WITH SHIMMER EYELINER
If you frequently browse through Pinterest, you may have stumbled upon the gorgeous pink cut crease with glitter eyeliner. The true epitome of cool, this trend features a cut crease with pink eyeshadow, topped off with shimmering white or silver winged eyeliner that sits right at your crease. Perfect for those who love to make a statement, this cool makeup look will rise to the occasion.
To start, simply create a pink cut crease as you usually would. Using a bent line brush, apply the L'Oréal Paris Brilliant Eyes Shimmer Liquid Eye Shadow Makeup in String of Pearls right along your crease. Extend the shade outward into a flick to create the winged effect. Voila!
2. FROSTED FELINE EYES
Cat eyes may be a bit tricky for you to master, but you can totally bring a similar look to life with frosted feline eyes. A spin-off of the popular trend, this look uses eyeshadow to create a dramatic winged effect with the right amount of sparkle. What's not to love?
Simply sweep the L'Oréal Paris Colour Riche Monos Eyeshadow in Grand Bleu onto your lids and lower lash line, making sure to extend the color at the outer corner. Then, dust the L'Oréal Paris Infallible 24 HR Eye Shadow in Silver Sky onto your crease and outer corner of your eyes. Next, line your lids with the L'Oréal Paris Matte Signature Liquid Dip Eyeliner, Waterproof in Black. Finish up with a few coats of the L'Oréal Paris Bambi Eye Washable Mascara, Lasting Volume, and your look is complete.
3. BOLD BOTTOM EYESHADOW
Looking to shake things up with your eye makeup? Bottom eyeshadow is a great place to start. A nice option for days when you want to rock a minimalist look, this trend will make your lower lids the star of the show. Best of all, it's super easy to get the look.
Start by brushing a neutral eyeshadow shade like the L'Oréal Paris Colour Riche Monos Eyeshadow in Paris Beach all over your lid. Follow up with a bold shade like Sunset Sheine on your lower lash line. Top it all off with a few swipes of the L'Oréal Paris Voluminous Original Washable Bold Eye Mascara, and call it a day.
4. GALAXY EYES
Want to bring your love for the stars and all things intergalactic to your eye makeup? It's time to get acquainted with galaxy eyes. This look consists of gorgeous shimmery shades and star-shaped embellishments or glitter that fits the cool-girl aesthetic perfectly.
To get the look, paint your lids with a neutral tan eyeshadow. Next, dust the L'Oréal Paris Infallible 24 HR Eye Shadow in Endless Sea all over your lids. Then, apply a rich purple hue like Burst Into Bloom in your crease and along your lower lash line. Blend evenly for a seamless transition of color. Top off your galaxy eyes makeup with star glitter around your crease and the outer edge of your eye.
5. RAINBOW EYES
Another one of our favorite cool eyeshadow looks is none other than rainbow eyes. This trend is a chic way to incorporate a myriad of colors into your look, meaning you don't need to worry about limiting yourself to one specific hue. Sounds like a makeup idea you'd like to try? Click through our article, How to Create a Rainbow Eyeshadow Look for a step-by-step routine.
6. WATERCOLOR EYES
Want to turn your eyes into a work of art? Consider it done with watercolor eyes! Featuring a combination of sheer washes of color that create an ethereal look, this trend offers colorful dimension that will leave you swooning. We also love that this look allows you to play with color and show off your blending skills. Ready to see what all the hype is about? Head on over to our article, How to Do Artsy Watercolor Eye Makeup, for inspiration.
MISMATCHED EYES
As you can see, cool makeup is all about taking your look to the next level! One look that's leading the pack? Mismatched eyeshadow. Ideal for those who don't shy away from bold trends, this look gives you the option to rock two different eyeshadow colors, without making them match. So, you can totally give your hands a break from heavy blending!
Simply color one lid with the L'Oréal Paris Infallible 24HR Eye Shadow in Purple Priority and the other with Glistening Garnet to seal the deal.
8. WINGED EYESHADOW WITH FACE GEMS
Your days of worrying about sculpting the perfect winged eyeliner look are over. Thanks to winged eyeshadow, you can create the same angular look with less fun. Follow along with this tutorial, How to Create a Winged Eyeshadow Eye Makeup Look, then complete the look with face gems in the color of your choice.
9. MERMAID EYES
Let's be honest: If you could transform into a magical creature, chances are good a mermaid would be at the top of your to-transform list. They're beautiful, enchanting, and are the perfect muse for your makeup. Yep, we love mermaid-inspired makeup—and you will, too. With colors like blue, purple, and teal at the center of your beauty look, you'll be sure to make some magic happen. Here are 9 Mermaid Makeup Ideas That Won't Make You Feel Like a Fish Out of Water.
10. COPPER EYES
Can't resist metallic hues? You're in luck! Copper eyes are one of our favorite cool eyeshadow looks. Bridging the gap between subtle warmth and glamour, this metallic brown shade is just what you need to give your peepers a glorious pop of color. Whether you're on the hunt for an everyday look or special occasion eye makeup, copper eyes are a versatile option that won't steer you wrong. Head on over to our article, 6 Pretty Copper Eyeshadow Looks for 2020, to get the ball rolling.
11. YELLOW & ORANGE EYES
If there is one eyeshadow combination that has been getting major attention lately, it's yellow and orange. Orange eyeshadow is already striking on its own, and when you pair it with yellow, you're bound to create a look that will turn heads.
Set the stage by smoothing an orange eyeshadow all over your lids. Then, use a yellow hue like the L'Oréal Paris Infallible 24 HR Eye Shadow in Eternal Sunshine to define your crease. Next, reach for the L'Oréal Paris Le Liner Signature Easy-Glide Mechanical Eyeliner, Waterproof in Noir Cashmere, to line your lids and enhance your eye shape. Layer on the L'Oréal Paris Voluminous Lash Paradise Washable Mascara to finish your look.
12. PINK & YELLOW EYES
Speaking of gorgeous color combos, we had to put pink and yellow eyeshadow on your radar. This lemonade-inspired duo offers a bright and playful vibe that will complement your spring and summer beauty looks to a T. With a slew of ways to rock this pair, we have a feeling that it'll become a favorite in no time. Here are 10 Pink and Yellow Eyeshadow Looks That Are So Pretty.
Discover more tips & tricks
Keep your skin happy
See all articles