eye makeup
Dynamic Duo: America's No. One Eyelash Primer and Mascara
December 11, 2019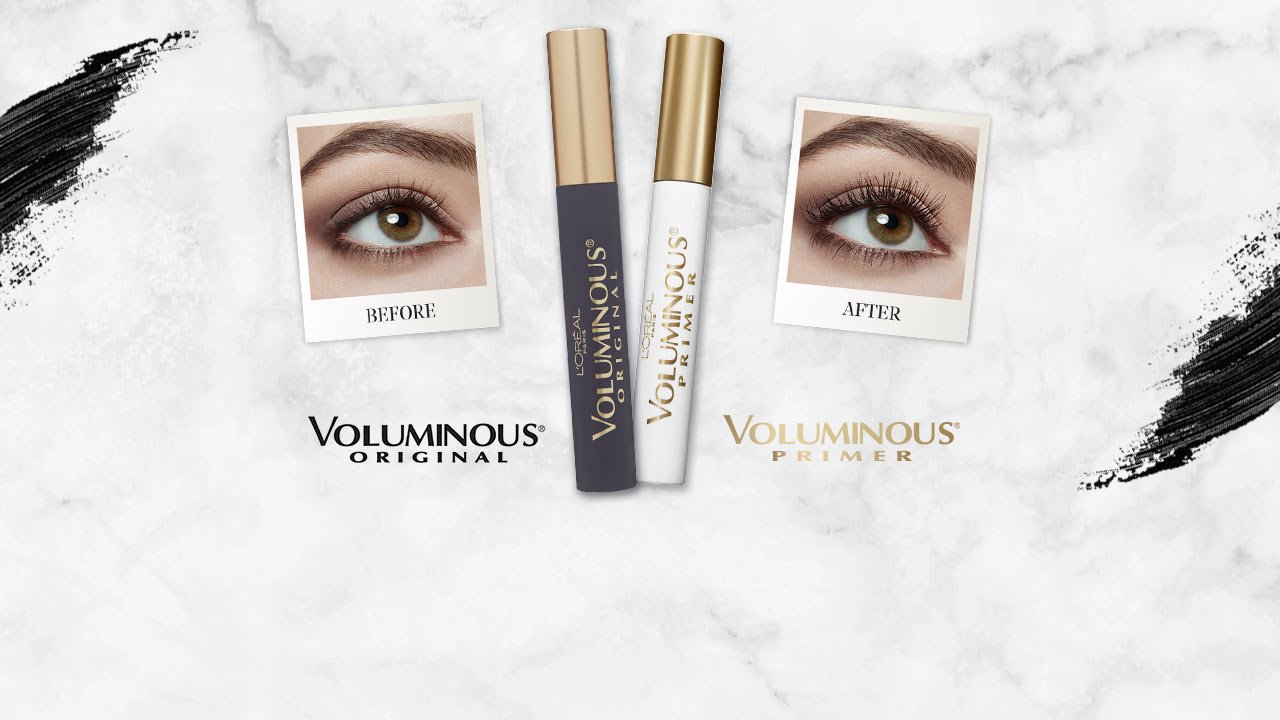 The quest for massive volume and lots of length is seemingly never-ending—or maybe you just haven't found the right mascara primer and mascara combo. You see, while a few coats of mascara can work wonders, it's when you pair an amazing mascara with a wow-worthy primer that the real magic happens. Which is why we want to introduce—or reintroduce—you to America's no. one eyelash primer and mascara*. The L'Oréal Paris Voluminous Lash Primer and Voluminous Original Mascara have earned spots in makeup bags around the country, and now we're sharing why you'll want to make room in your bag, too.
GETTING TO KNOW AMERICA'S NO. ONE MASCARA PRIMER
Just as you prime your lids before eyeshadow and your face before foundation, wearing a mascara primer can make all the difference in how your mascara applies and looks. The Voluminous Lash Primer features an innovative formula that conditions and volumizes lashes instantly, effectively expanding the limits of your lashes. Lashes will be delicately wrapped in a smooth layer of primer that will create an even base for and boost the effects of your mascara…which we're about to talk about!
GETTING TO KNOW AMERICA'S NO. ONE MASCARA
The L'Oréal Paris Voluminous Original Mascara has been dubbed a cult classic, and with good reason. Known as a makeup artist favorite as well as a must for the everyday mascara wearer, the mascara is uniquely formulated to resist clumping, keep lashes soft, and build lashes up to two times their natural thickness.
HOW TO USE THIS DYNAMIC PRIMER AND MASCARA DUO TOGETHER
What better to do than pair America's no. one mascara primer with the no. one mascara? It's only fitting that the two be used together for the ultimate lash look. Here's what to do.
1. Prime your lashes. Coat your lashes with the primer, starting at the base and moving the brush up to the tips. You'll know when your lashes are completely coated and ready for mascara thanks to the primer's white formula.
2. Follow with mascara. Place the mascara brush at the base of your lashes and gently sweep up to the tips. Try one coat for your casual no makeup, makeup look and two coats for more intense looks!
Next up: Still have lashes on the mind? Click through to our article, This Is Why Our Lash Serum Is a Must, to read about another lash-emphasizing essential.
(*L'Oréal USA calculation based on unit sales reported by Nielsen XAOC for 52 weeks ending 3.16.19.)
Discover more tips & tricks
Keep your skin happy
See all articles
Shop Featured Makeup products
Discover More