eye makeup
2 Liquid Eyeliner Pens to Line Your Lids with in 2020
January 03, 2020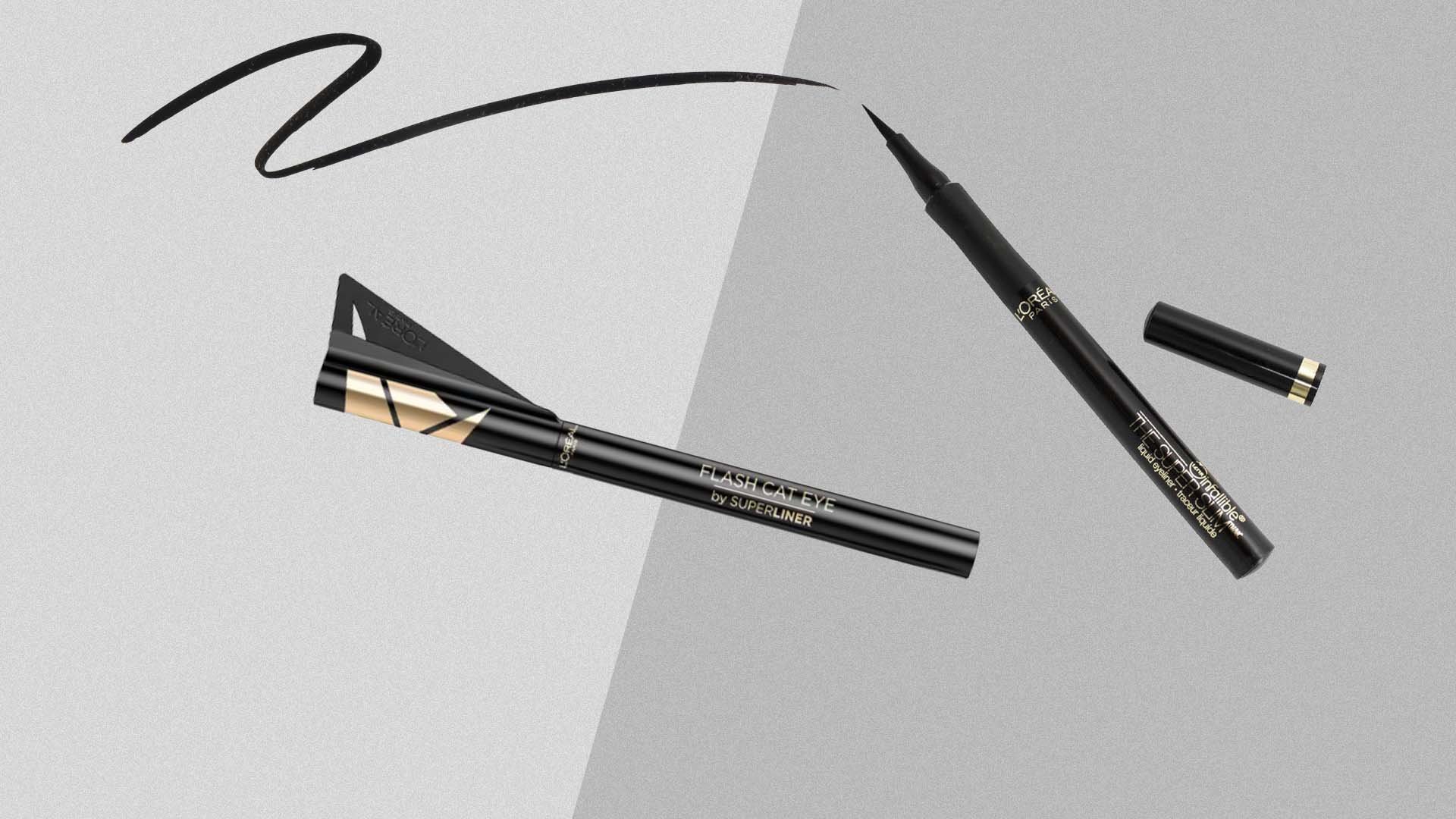 The New Year is a time for resolutions, fresh starts, and new makeup products. Yes, if you're a beauty junkie like us (and we're pretty sure you are), there's no better time than the start of the year to add a few new must-haves to your makeup bag. One product we'll be stocking up on? Liquid eyeliner pens! It's no secret that applying liquid eyeliner can be a challenge, which is why a convenient pen format has become a staple in our collections. If you've yet to try a liquid eyeliner pen for yourself or are simply in need of a new one for 2020, you've come to the right place. Read on to learn about our two best liquid eyeliner pens to line your lids with in 2020—and a few eyeliner styles to create with them.
OUR 2 BEST LIQUID EYELINER PENS
Like we mentioned, liquid eyeliner pens can make applying liner a breeze. Seriously—if you find yourself constantly reaching for a cotton swab and a bit of micellar water to clean up your lines, an eyeliner pen could be just what you need. Consider trying one of our two best liquid eyeliner pens, named below.
L'Oréal Paris Infallible The Super Slim Liquid Eyeliner: Have you ever applied liquid eyeliner, only to look up too soon and end up with an eyeliner imprint beneath your brows? We've all been there, and it's no fun. That's where this liquid eyeliner pen comes into play. With its quick-dry formula, you can flawlessly draw precise lines without having to worry about any unfortunate eyeliner transfers.
The pen's 0.4mm ultra-fine felt tip gives you total control, letting your liner glide on smoothly with a continuous and even flow. Bonus: The formula is smudge, drag, and skip-proof. Score! This liquid eyeliner pen is available in three neutral shades: black, brown, and gray.
How to use it: Apply along the top and bottom lash line beginning at the inner corner of the eye and working outward.
L'Oréal Paris Infallible Flash Cat Eye Waterproof Brush Tip Liquid Eyeliner: Is your favorite eyeliner look a classic cat eye? Join the club! If that's the case, you surely know that an eyeliner pen is one of the best ways to get the look. Even better, a liquid eyeliner pen with a handy-dandy winged eyeliner stencil. This pen comes with a removable stencil attached to its cap, allowing you to create the perfect flick every time. As for the formula, the liner is waterproof, meaning your cat eye will stay all day.
How to use it: Position the open part of the stencil at the outer edge of the eye, laying it flat against your skin. Then fill in the stencil to draw the wing. Remove the stencil and continue the line across your eyelid.
3 EYELINER STYLES TO TRY IN 2020
Let's put those liquid eyeliner pens to use, shall we? Here are three eyeliner styles worth giving a try in 2020.
EYELINER STYLE #1: DOUBLE WING
You know what they say, two wings are better than one—that's how the saying goes, right? Wing your eyeliner as you normally would, then use your liquid eyeliner pen to create a second wing beneath the first one, connecting it to your lower lash line. Be sure to take your time so your wings are precise and even!
EYELINER STYLE #2: TWO-TONED
We'll always be fans of playing with a bit of color. Line your eyes with a traditional black liquid eyeliner pen, then apply a colorful hue along the line for a two-toned look. This is a great time to break out the rose gold shade we mentioned earlier!
EYELINER STYLE #3: JUST THE CORNERS
Use your liquid eyeliner pen to precisely outline the outer "V" of your eye—don't fill it in! Use this same technique to outline the inner corner of your eye, creating another hollow "V" shape. Pair this look with nude eye shadow and a coat of mascara to make a statement.
Want more eyeliner ideas? Here are 21 Eyeliner Ideas You Can Definitely Do.
Discover more tips & tricks
Keep your skin happy
See all articles
Shop Featured Makeup products
Discover More