eye makeup
The Best Makeup Techniques for Different Eyeliner Styles
April 19, 2019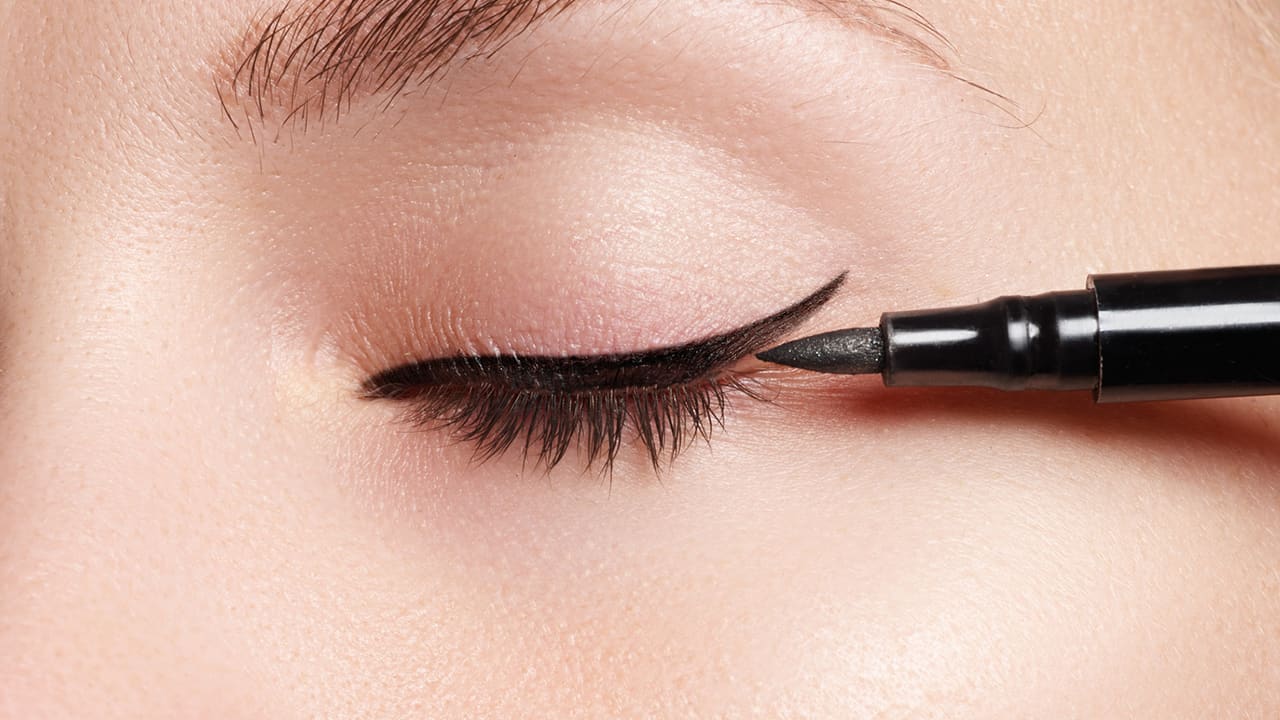 Some things are intuitive, but we can all agree that eyeliner is not one of those things. This advanced skill tends to be one of the hardest aspects of applying makeup to master, especially if you don't know all the best tips and tricks. If only there was a guide. Oh, wait… Whether you like smudged, skinny, winged, or waterline eyeliner, we're sharing the best makeup techniques for a variety of easy eyeliner styles—and a couple of not so easy ones—so you can create your next eye makeup look like a total pro.
EYELINER STYLE #1: SMUDGED EYELINER
Not only does smudged eyeliner offer an on-trend grungy vibe, but it's also a supremely easy eyeliner style. If you happen to mess up, just keep smudging and you've got nothing to worry about. It's all part of your slept-in look.
Makeup technique #1: Smudge out pencils
Smudging out pencil eyeliners is a classic makeup technique for a reason. These pencils even tend to come with smudging sponges on one end—talk about the perfect pairing. Just draw your line, then flip over to smudge.
Makeup technique #2: Use eye shadow
You can apply eyeliner without ever picking up a pencil or pen. All you really need is an eye shadow and a smudging brush. The L'Oréal Paris Colour Riche Monos Eyeshadow comes in a wide range of colors and finishes, so you've got plenty of options.
Makeup technique #3: Wear primer
Priming your eyelids isn't a technique reserved for eye shadow application—it can help with your eyeliner, too! Smooth on a primer before you pull out your pencil. You'll be able to smudge your eyeliner immediately after applying, but once it sets, you're good to go.
EYELINER STYLE #2: WINGED EYELINER
Cat eyes can be a lot of things. Retro, edgy, and classic—to name a few. Another descriptor that's undeniable? Difficult. Once you've mastered winged eyeliner, though, you can do it all. Try these makeup techniques to get there.
Makeup technique #1: Break out the tape
If you're struggling to create a cat eye, it's time to get crafty. All you'll need is basic adhesive or washi tape to help make clean, sharp lines. Place a piece of tape going from the outer corner of your eye up toward the ends of your brows. Paint on your liner as you please, then remove the tape. You'll reveal a crisp wing that's totally on point.
Makeup technique #2: Look down
So simple, but so worthwhile. Start looking down, rather than straight ahead or upward, when you're winging out your liner. Looking into a mirror that's below you will give you a view of your eyelid that's unobstructed by lashes and makes for much easier application. A super-sharp wing is easiest to create with either a gel or liquid liner. For gel fans, we recommend the L'Oréal Paris Infallible Lacquer Liner 24H. The smooth-gliding brush and gel formula allow for easy application and the ability to customize your line. Liquid liner devotees should pick up a felt tip liner, like the L'Oréal Paris Voluminous Lash Paradise Liquid Eyeliner in Black. The fine tip gives you total control, allowing you to smoothly draw a precise line.
Makeup technique #3: Correct with micellar water
As much as we hate to say it, no makeup technique is completely foolproof. Thankfully, when you do make a mistake, all isn't lost. If you aren't happy with your flick, it can be fixed. Saturate a cotton swab with the L'Oréal Paris Micellar Cleansing Water Complete Cleanser Waterproof – All Skin Types, then all you have to do is wipe away any mistakes.
EYELINER STYLE #3: WATERLINE EYELINER
"Waterline" may be a new term for your vocabulary, but that doesn't mean you should steer clear of this makeup technique. This thin line of skin between your eyelashes and eye opens up a whole slew of new eyeliner application options.
Makeup technique #1: Try tightlining
For a bolder eye and fuller-looking lashes, create an "invisible eyeliner" effect by tightlining your eyes. Tightlining requires pulling up gently (and we mean gently!) on your eyelid to expose the upper waterline, where the base of your lashes are. Make sure you use an eyeliner pencil that's safe for use on the waterline, like the L'Oréal Paris Infallible Pro-Last Waterproof, Up to 24HR Pencil Eyeliner.
Makeup technique #2: Close your eyes
Tightlining isn't only a trick for your top lash line, it also doubles as a way to line your lower waterline. Right after you've tightlined, close your eyes. Firmly shutting your eyes will transfer the color along your bottom lashes, completing your look with just one blink.
Makeup technique #3: Apply nude eyeliner
Don't forget, you aren't confined to black eyeliner. To make eyes seem bigger and brighter, grab a nude eyeliner. Line your lower waterline and the inner corner of your eyes for an eye-opening effect.
EYELINER STYLE #4: COLORED EYELINER
For those looking to stand out with their eyeliner choices, go for color. Adding a bold shade to your eyes makes for a completely chic look.
Makeup technique #1: Layer colors over white
Before you dive into using colors, try this tip. Draw your line in white using either the L'Oréal Paris Infallible Never Fail Eyeliner in White or the L'Oréal Paris Infallible Paints Eyeliner in White Party first, then add your color overtop. The color will appear even more vivid thanks to the white base.
Makeup technique #2: Create an ombré effect
Instead of relying on only one color, try two or three. Fade from one shade into another for a trendy gradient look.
Makeup technique #3: Place pigment on the lower lash line
For an unexpected pop of color, use neutral hues on your eyelid and leave color for your lower lash line.
EYELINER STYLE #5: SKINNY EYELINER
Sometimes you only want the slightest, subtlest touch of eyeliner. We're talking super-skinny. That doesn't leave much room for error, which is why you need all the tips and tricks you can get.
Makeup technique #1: Press against your lash line
To keep your line as thin as can be, draw as close to your lashes as possible using the L'Oréal Paris Infallible The Super Slim Liquid Eyeliner. Pressing your liner into your lashes will help stabilize your hand for a steady, skinny line.
Makeup technique #2: Draw a dotted line
There's no reason you have to line your eyes all at once. It's actually easier if you work in sections. Draw a dotted line along your lash line first. Then, all you have to do is play connect the dots and you have a seamless, skinny line.
Makeup technique #3: Use a stencil
If your liner always seems to end up oversized, try using a stencil. Place a stencil as close to your lashes as you can, then line. The stencil will force you to color inside the lines and keep your eyeliner from getting too thick.
Once you have these easy eyeliner styles down pat, get the 4-1-1 on all things eyeliner by heading over to our article, The Ultimate Guide to Eyeliner.
Discover more tips & tricks
Keep your skin happy
See all articles
Shop Featured Makeup products
Discover More